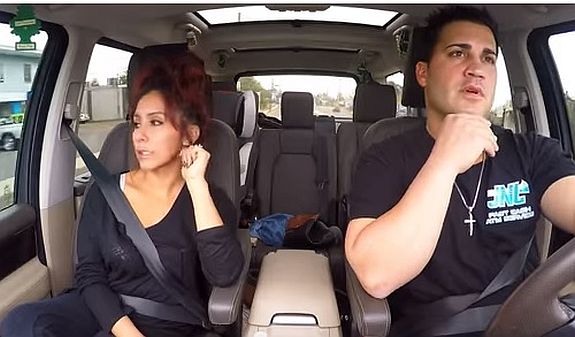 For the past few months, the tabloids have been buzzing that Nicole "Snooki" Polizzi and her husband Jionni LaValle have (or plan to) split, but the Jersey Shore couple is now attempting to put the divorce rumors to rest.
Jionni posted a message on his Instagram on Tuesday explaining that he and Nicole are not splitting up. He also explained that the reason he's been keeping a low profile in recent months is because he doesn't want to be a reality TV star anymore.
(Fans will remember that Jionni had no problem cashing those reality TV show paychecks for years. He not only appeared on 'Jersey Shore,' but also was a main character on 'Snooki & JWOWW' and 'Nicole & Jionni's Shore Flip.' It appears, though, that he's had a change of heart recently.)
"Hey guys I'm going to visit this subject one time and one time only so…" he began his Instagram message. "I am choosing to not be on TV because I simply do not like it."
After assuring fans that he and Nicole are "doing great" and are happily raising their two kids together, Jionni explained that the reality TV game is not for him, and that his mug will not be making an appearance on the soon-to-come 'Jersey Shore' season.
"You will not see me on [Nicole's] reality show," Jionni wrote. "Being a reality star is never something I wanted to be when I grew up. I own my own business and I work hard at it and that's what I do. My wife is a reality star and she works hard at that, that's what she does. We are NOT divorced."
Nicole, who married Jionni in November 2014, echoed her husband's sentiments in the comment section of his Instagram post.
"I love you beyond words & so lucky to have you," she wrote. "As long as we know what we have, screw everybody else…You're my world."
The divorce rumors really started circulating last month, when Nicole posted Christmas photos of her and the kids that Jionni was noticeably absent from. She attempted to squash split rumors in the comment sections of the photos at the time. In recent weeks, she has posted more photos that feature Jionni, probably in an attempt to shut up the split rumors.
This is not the first time the couple has faced split rumors. Back in 2015, Jionni was reportedly linked to an email address that was subscribed to the affair website AshleyMadison.com. (The emails were exposed when the website was hacked. Ol' Josh Duggar was another famous person on the list of website subscribers.) Nicole later addressed the story, calling it "absurd."
(Photos: FYI, Instagram)