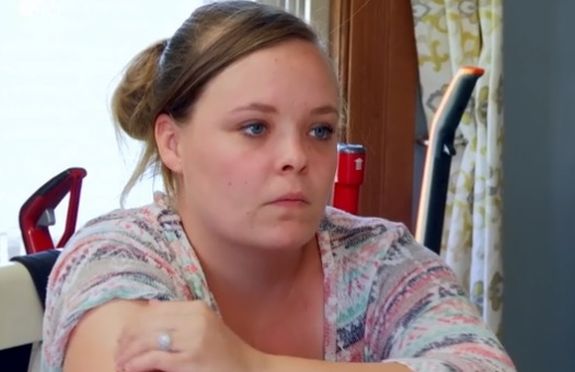 It looks like big changes are ahead for Catelynn Lowell and Tyler Baltierra in 2018.
According to Radar Online, now that Cate is home from The 'Hab after a six-week stay to help her anxiety and depression, she plans to continue on the sobriety path and also hopes to lose weight and get a little healthier in the process. (The Ashley can't confirm this so please file it as a "report.")
While 'Teen Mom OG' fans have seen Cate struggle with her weight in the past, a source says that her husband Tyler Baltierra plans to join Catelynn on her post-rehab and weight loss journey this time around, as he is also looking to make some healthy changes.
"He said he's going to be with her every step of the way in terms of her working the steps, staying on top of her therapy session and not missing any days of her outpatient treatment," Radar's source said.
"Tyler will be joining her when it comes to losing weight! He's admittedly gained a bit of weight over the past year and he's unhappy with his appearance. He's been wanting to lose weight for a while now, so they're making major changes as a family."
Over the past few seasons of 'Teen Mom OG,' viewers have criticized Tyler for not being supportive of his wife's attempts to lose weight. (Who could ever forget Tyler on-camera proclamation that he "don't want no heifer for a wife!" as Catelynn snarfed down a giant quesadilla in front of him.)
The source added that while in treatment, Cate detoxed from marijuana (which she admittedly used as a crutch for her anxiety) but that she is also sober from alcohol now, too.
As The Ashley previously reported, Catelynn entered an Arizona treatment facility on November 17 after she admitted to experiencing suicidal thoughts. On December 30, she returned home to Michigan.
(Photo: MTV)