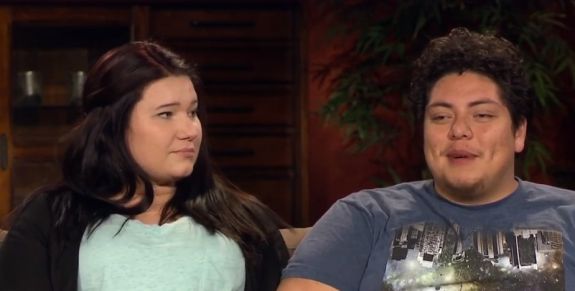 It's been a long time since we've seen Kody Brown and his gaggle of unhappy women on Sister Wives, but finally TLC is bringing us a new season of the polygamous pit of misery that is the life of the Brown Family.
To kick the new season off, we are treated to a little recap of the previous season. As you may remember, Maddie became the first Brown daughter to get married, but Mykelti was right on her heels, as her boyfriend Tony had just proposed. The couple was eager to get hitched, despite only dating for a few months. Mariah came out as gay, and Kody and Meri basically admitted that they can't stand each other.
We start this episode off with Tony's family coming to have dinner with Mykelti's family. Of course, Christine is frantic that Tony's family will be disapproving of their polygamous lifestyle. Everyone is making sure to continue to point out that Tony's family is Mexican, and that his parents speak "poquito" English. Start your engines, guys, we are about to see some really bad high school level Spanish coming our way this episode.
Donde esta la biblioteca?!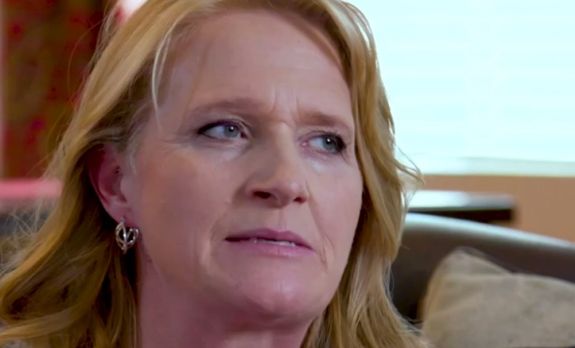 Christine is nervous that, due to the language barrier, everyone will just be sitting there, snarfing down their Stouffers lasagna and watching Kody twirl his hair because no one will understand each other.
"It's the mixing of the cultures, and blending of things," Mykelti tells us.
They are all acting like Tony's family has been living in a hut in Mexico for their entire lives, and will be getting their first glimpse of life in America.  Tony already told everyone that his parents and grandparents have been in the United States for decades, yet everyone is acting like they will be coming in wearing sombreros and riding burros.
At least Kody didn't order some of his "background kids" (aka the offspring that never get airtime) to dress up like a mariachi band in order for Tony's parents to feel "more at home," so there's that…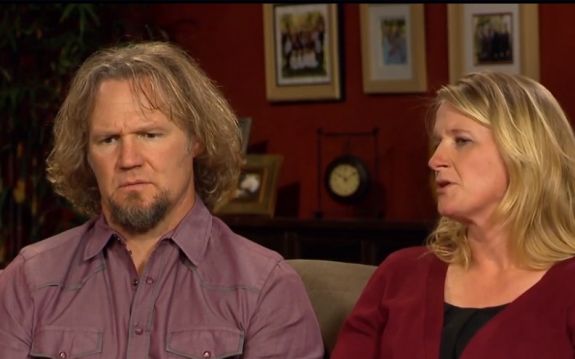 All of the parents agree that Tony likes to push people's buttons. That's basically code for "does his best to be an ass at every possible opportunity."
Tony said some of his family thinks it's pretty cool that Kody is a polygamist. When the world "idol" is mentioned, Kody is just over the moon. He puffs up his shoulders and struts around the kitchen proclaiming himself to be "macho."
Tony's family is in for a real let-down when they get a load of their "idol."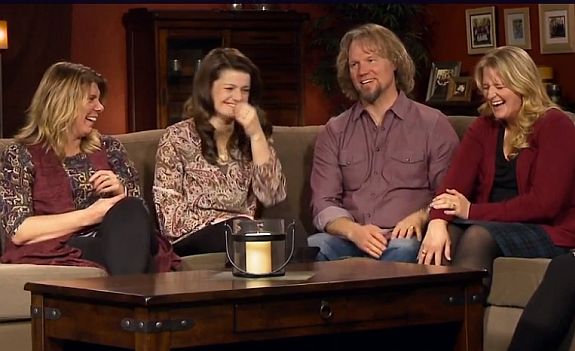 During the setup for the dinner, Kody, the polygamous idol of our generation, gets mad because no one took his seating suggestion.
He's getting all huffy and sweaty, and is yelling at Mykelti and Christine, proclaiming that some of the dinner guests are too big to sit that close to each other. (He specifically points out that Tony and his [Muppet-like] brother Lido are "way too big" to sit next to each other.)
Kody is pouting, complaining that the seating arrangement was arranged by "an emotional woman not an engineer."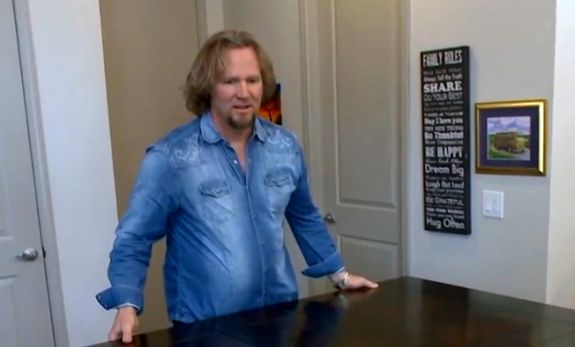 Tony's family arrives while the Browns are all screaming at each other about where to put the tables and chairs.
Christine is the hostess of this event so she made a special drink. The drink is called a "Tokelti" and it is a mix of Tony and Mykelti's favorite flavors (coconut water and orange juice.)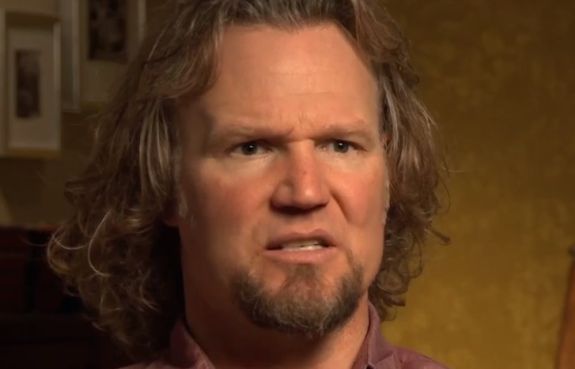 Tony does not drink the Tokelti. He is probably waiting for the VIP beverages to be brought out, because we all know that only the finest food and drink can pass through the lips of Tony, King of the Mooches.
Christine asks Tony's mother to tell her some stories of when he was a child. Tony's mother, Maria, says that Tony always got into trouble as a kid. Christine says Mykelti was also a trouble-maker.
Christine tells us that Mykelti wants children immediately after she's married but that she and Tony have a "financial plan" they are going to try to stick to first. We don't get to hear much more about this "financial plan" but there's a chance that it somehow involves Christine taking out a second mortgage on her house.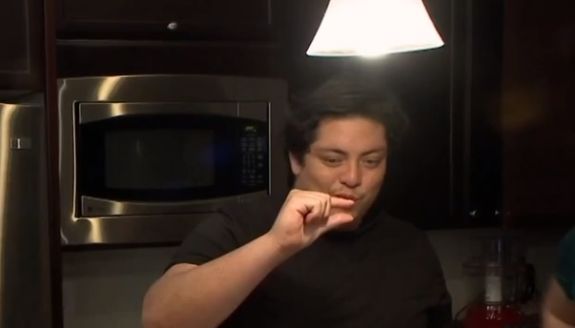 After both families squeeze elbow-to-elbow and slop down their lasagna and Tokeltis, the women retreat to the kitchen to clean up as Tony and Kody and some of the others relax in the living room. Tony tells everyone that Kody is lucky to have four wives because they should all be in the kitchen cleaning up after him.
Kody agrees and they toast to having been born with a penis. Tony tells Mykelti that he is "very OK" with the women-folk doing all the housework and taking care of their men.
Mykelti looks like she can feel the lasagna chunks rising as he says this.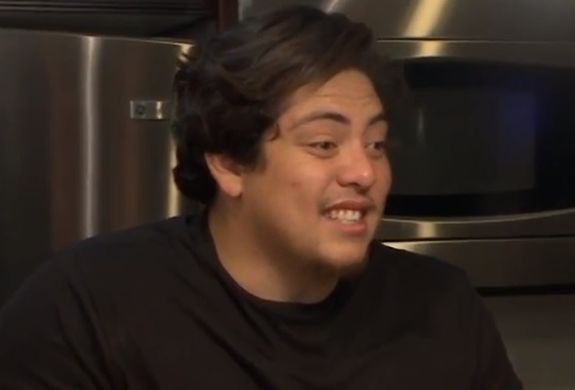 Not to be outshined, Meri decides she needs a plotline for this season, since, as we all know, that whole "catfish" storyline is more tired than Kody's Hair Club for Men charge card.
She decides to "secretly" (aka with a big crew of cameramen and production staff) go visit a bed and breakfast in Utah that was once her grandmother's home. Meri tells us that she's been obsessed with this house for years and that she wants to buy it. She takes Christine's mother Annie with her to check it out.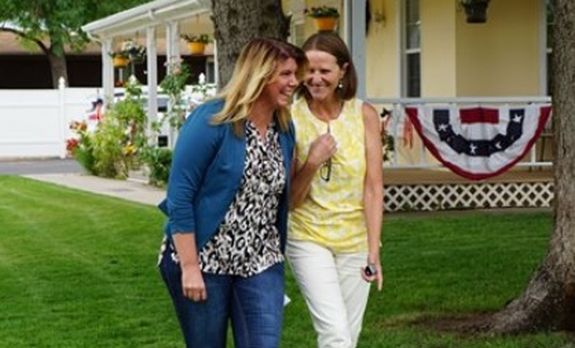 Meri has explained her interest in the home to Annie, but not to anyone else in the family. Meri says she wants to buy the place and run it as a bed and breakfast and a wedding venue.
"If we had this place, it would be a perfect place for any of our 17 more kids to get married," Meri says.
Meri says she really wants to do this but she has to run it by the other adults in the family first because—darn it—her finances are still all tied up with the family. Meri decides to run the idea past Robyn first because she's the least likely to tell Meri she's a lunatic.
Meri excitedly explains her idea to Robyn, who just sits there very quietly and tries to be supportive.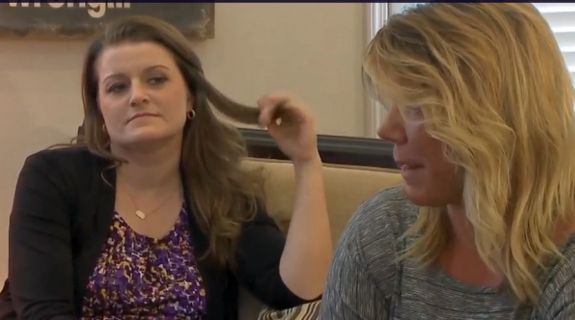 While they are talking, Mariah walks in and joins the conversation. Mariah is still quite the treat. She is barely through the door before she starts shooting dagger eyes at her mother and acting like a bratty 12-year-old. It's nice to see that Mariah hasn't changed since we last saw her. (In fact, she looks like she literally has not changed since we last saw her. She looks like she's covered in a coating of grease or something. Hit the showers sometimes, Mariah, good Lord!)
Naturally, Mariah is there to be a Debbie-Downer and shoot down anything that could possibly make her mother happy.
"I just don't get it," she tells her mother. "Do you even have the money?"
Meri says she would need the family's help financially and that Christine's mom, Annie, would run the day-to-day operations of the place. Mariah just rolls her eyes and retreats to her bedroom to play Alanis Morissette tunes and write angst-filled poems in her journal.
Next, the family takes Tony and Mykelti to look at a wedding venue. Because this is The Wedding of the Century, Mykelti and Tony announce that they are expecting about 400 guests. Naturally, Kody is shocked.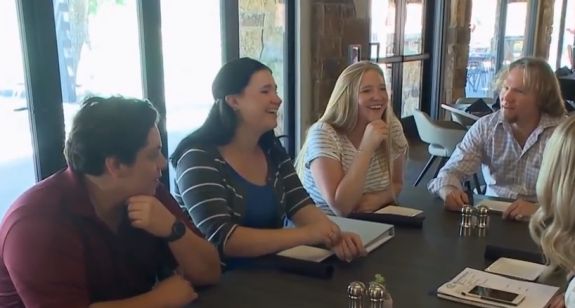 "I was never consulted here. This is sounding outrageously expensive," he says.
Sorry Kody, it's the Tony show now. You're just paying for it.
Mykelti starts to get nervous about how much this will cost her parents (because, naturally, Tony expects Mykelti's family to pay for this fiesta). Tony isn't worried because he ain't paying.
"People have big parties all the time," he tells his bride-to-be.
Um yeah…people who have jobs.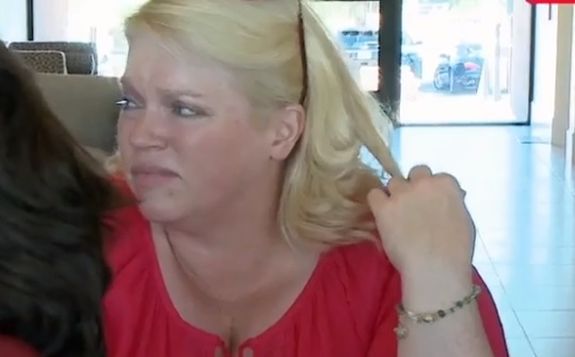 Tony says that he and Mykelti will not have alcohol at their wedding since they don't drink.  He said in his family (which he describes as "Mexican Catholic"), it is traditional for attendees to bring their own alcohol to weddings but he's going to have to advise them to leave their alcohol at home.
Come on, Tony. They're gonna need a six-pack to put up with Kody all night. Have a heart.
Unlike Madison, Mykelti doesn't ask her dad to officiate her wedding. She decides to ask her boss at the pawn shop, Chris, to do it. Kody doesn't seem to mind. After all, he'll probably have to get a job working overtime in the Weinerschnitzel drive-thru just to pay for this "Mexican vintage not-too-fancy but at a country club" wedding for 400 people. Who has the time to write a speech?!
Mykelti and Tony announce that a regular plated "chicken or beef" meal isn't right for their wedding. Instead, they want to go with "something simple," like having tacos handmade for 400 people. Mykelti estimates that their grubby friends will all consume at least "10 tacos each" so that means that they'll need 4,000 tacos. You know, something simple.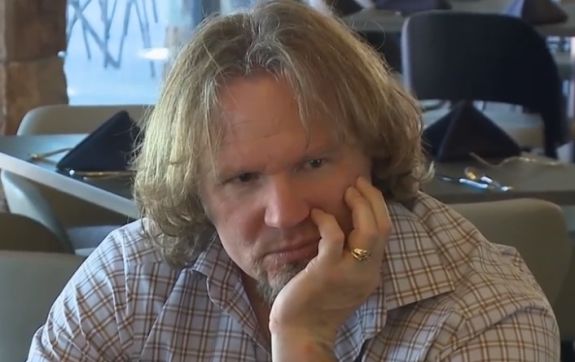 Kody looks like he is going to cry at the thought of it. The catering lady squashes Mykelti's dream of having special taco makers brought in to make the tacos, because they don't allow outside food at their venue. Mykelti and Tony are angry, but the catering lady assures them that they are able to make the 4,000 tacos they'll need for The Wedding of the Century.
Tony tells Mykelti that he wants the tacos and he doesn't want any of those "white people" tacos either.
"I want tacos with real steak!" he demands. "You know, the good stuff in life…"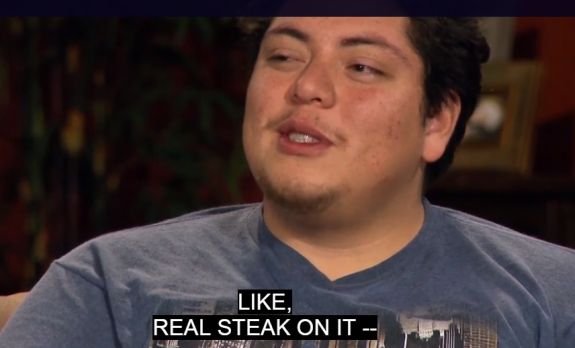 Christine and Kody are freaking out, trying to figure out how the hell they are going to pay for this wedding. When Christine points out to Mykelti that what she wants is going to cost an obscene amount of money, Mykelti replies, "I know" while Tony sits there smugly.
Mykelti and Tony are also expecting Kody & the Krew to shell out money so that they can have life-size piñatas made to look like them. No, seriously. Mykelti explains that they will take turns beating the piñata that looks like their spouse at the ceremony.
Something tells me that Kody and the wives will want to be the first in line to beat the "Tony" piñata…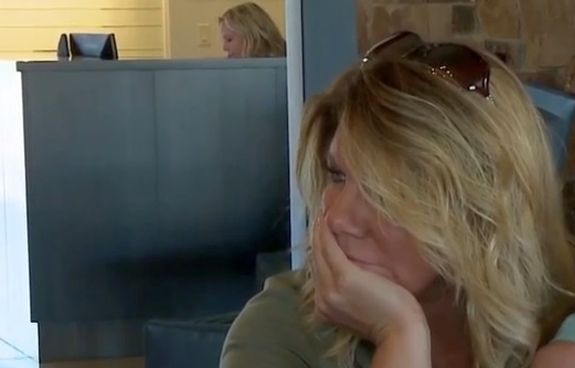 Later, Kody and the wives tell the camera that Mykelti and Tony are being unrealistic.
"That boy is outrageous!" Christine proclaims. (Where's a Tokelti when you need one?! It would be perfect to throw in Tony's smug face!)
Meri, sensing that the Brown Family Budget will soon be diminished due to the purchases of thousands of tortillas and a shipping crate full of cojita cheese, decides she better stake her claim to some of the money. She sits all of the adults down to tell them about her plan to purchase the bed and breakfast.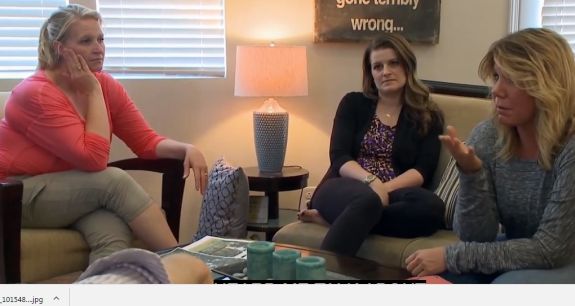 While Christine seems excited about the venture, Kody and Janelle look completely exasperated by the whole thing. You can almost see poor Janelle mentally crunching numbers, trying to see if they have even paid off Meri's stupid wet bar before jumping into yet another one of her Big Ideas.
Kody doesn't even try to hide his disdain for the idea. He immediately tells Meri that he's against the idea because a bed and breakfast is "not a big money maker." (Unlike, of course, that polygamy-themed jewelry company Robyn started.)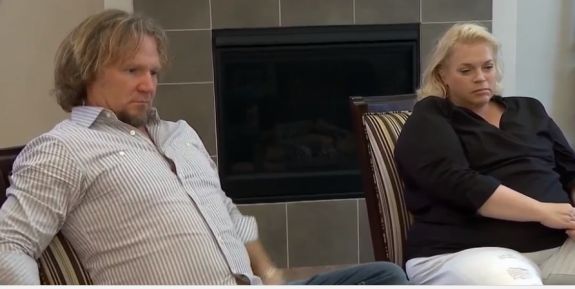 Eventually, Janelle seems to realize that if she just buys Meri the stupid bed and breakfast, she'll finally stop yapping about that stupid catfish incident and be out of her hair for weeks upon weeks on end!
Janelle gets on board, but Kody still needs some convincing. Ever the business mogul (sorry, I can't even type that with a straight face), Kody demands to see a "business plan" before agreeing to let Meri use the money that's already been designated for bride and groom piñatas.
"It seems like I'm the only sane person here!" Kody tells the cameras after he realizes all of his wives are into Meri's idea.
That's a scary thought.
That's all for this week's 'Sister Wives' episode! Until next week…
To read our other 'Sister Wives' recaps, click here!
(Photos: TLC)