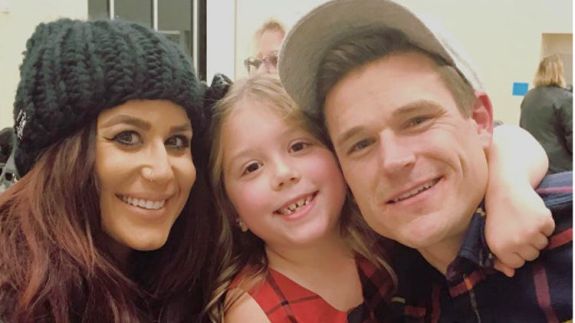 Chelsea Houska's daughter Aubree is the newest member of the DeBoer family!
As The Ashley exclusively told you yesterday, the Teen Mom 2 mom was victorious in her court battle with Aubree's father Adam Lind earlier this week. A judge approved the motion Chelsea filed in December to have Aubree's last name changed from "Lind" to "Lind-DeBoer."
The Ashley's sources tell her that Aubree is absolutely thrilled about her new name!
"Aubree is so happy that DeBoer was added to her name," a friend of Chelsea told The Ashley on the condition of anonymity. "Over the last year or so, especially after [Cole and Chelsea's son] Watson was born, Aubree has repeatedly asked Chelsea and Cole why she's the only one in the family who doesn't have 'DeBoer' as her last name. She understood she has a different dad, obviously, but she kind of felt left out being the only one with a different last name."
The friend added that it did not really come across that way on 'Teen Mom 2,' but there have been several scenes with Aubree talking about her last name that have been filmed that didn't make it on the show.
After the name change was official, the friend said Chelsea and Cole wanted to let Aubree know in a special way.
"They surprised her with a cake that had 'Aubree Lind-DeBoer' on it," the source said. "Aubree was so thrilled and it was adorable."
The friend was not sure if they cute moment was filmed for 'Teen Mom 2' or not, but the crew has been at Chelsea's place lately so it's likely it was captured on tape.
From what The Ashley hears, Adam is not happy that Aubree's last name has been changed. Over the years, he has always been adamant that a name change would never happen, even telling The Star Glam in 2016 that "Aubree will ALWAYS be Aubree Lind, her last name will not change."
Aubree's name is not the only change that was made at the January 8 hearing. Click here to read how Adam's visitation with Aubree will be changing.
(Photo: Instagram)