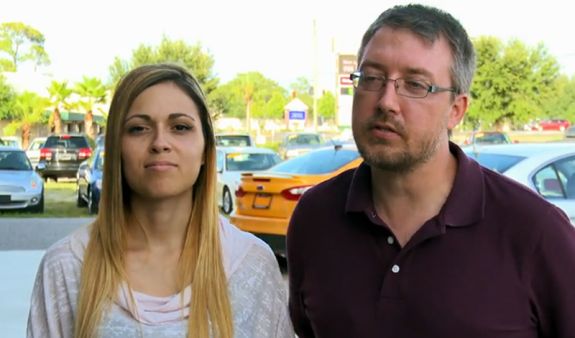 Another 90 Day Fiance couple is calling it quits!
Jason Hitch and his wife Cassia Tavares, who appeared on the second season of the show, have announced that they are divorcing after three years of marriage.
In a new interview with Starcasm, Jason says he did his best to fix the marriage, which has been in trouble since early 2017.
"I tried everything last year to save whatever we thought we had," he said.
Apparently, even the perks of being a pseudo-celeb couldn't save the couple, who met via Facebook while Cassia was living in her native Brazil.
"We saw and hung out with the likes of Jim Brickman, Johnny Mathis, Christopher Cross, Bill Engvall, Michael Bolton, and Steve-O," Jason said, adding that he also took Cassia to plenty of random concerts and on several trips.
"Around her birthday I took her to Melbourne, Florida, for an Army couples retreat, but nothing worked," Jason said.
He also told Starcasm that Cassia went back to Brazil in December, but was planning to come back this month to attend college classes.
Jason added that, after a while, he was the only one trying in the marriage.
"[Cassia] flipped a switch and that was it," he said. "There was nothing I could do."
Jason has also been on social media talking about the split, telling one fan that he paid for Cassia's college classes and bought her things, but that she was no longer in love with him. Although Jason said he believes Cassia once loved him, she hasn't "in the last 12 to 18 months."
In his social media comments, Jason wrote that he has not given up on love. He wrote that he plans to "get the ink dried on the [divorce] papers, get my promotion. Get my deployment. Work on my Beach Body" and then get back out in the dating world.
Cassia and Jason fans probably aren't surprised by the latest turn of events. The couple has separated before and Jason was even arrested in January 2017 and charged with domestic battery after an altercation with Cassia. Cassia eventually dropped the charges and Jason later told The Ashley that it was all a "misunderstanding." (You can read more about that here.)
Overall, the couples from "90 Day Fiance" have found success in their marriages. However, several couples from Season 2 have already headed to divorce court including Danielle Mullins and Mohamed Jbali, whose nasty split has played out on TV and on social media for over a year. Chelsea Macek and Yamir Castillo, also of Season 2, are officially divorced as well. Their split was finalized in December.
(Photo: TLC)