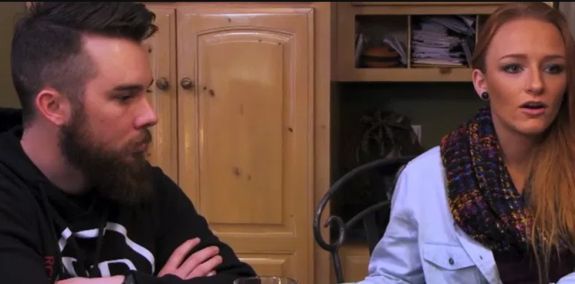 In a new sneak peek clip of next week's episode of Teen Mom OG, Maci Bookout and Taylor McKinney reveal that they are planning to expand their family yet again. However, the conversation quickly turns sour when Maci exposes a secret that Taylor is not comfortable talking about on-camera.
Even though Taylor obviously doesn't want to discuss it, Maci tells the show's producer and film crew that she suffered a miscarriage in 2017.
The conversation started out with Maci and Taylor discussing their plans for their family, which already includes Maci's nine-year-old son Bentley (with Ryan Edwards), and two kids with Taylor (daughter Jayde, 2½, and son Maverick, 1½ ).
"We are not having another baby," Maci tells Taylor in a sneak peek clip of next week's episode of the show. "You really want another child, like for real?"
Taylor tells his wife that he loves kids and would be open to both adopting a kid and having another biological one. Maci reveals she wants to adopt within the next year or two, and both she and Taylor agree that they'd like to adopt a child that's around four to six years old instead of a baby.
"If you seriously want to have another baby then I'll do it, but I still want to adopt too," Maci says in the clip. "But if that's really what you want, like naturally, then I want to do it now."
Maci then tells Taylor that he's "forgetting something," and at first he doesn't seem to know what his wife is talking about. It suddenly clicks and he gets very quiet and excuses himself to the bathroom. Although Taylor obviously doesn't want to discuss on-camera whatever Maci's referring to, Maci has no problem telling the producers about it while Taylor is gone.
"I had a miscarriage," Maci tells the producer, confirming that it happened in 2017.
She then tells the producer, "Her name is Dandy, Dandelion."
Taylor is not happy that his wife has shared such personal news with the production crew.
"I think it's important for people watching that we talk about it," Maci tells Taylor.
Taylor then reveals that those closest to them don't even know about the miscarriage.
"I'd like to talk to our parents about it first," he tells Maci.
Maci did not reveal when exactly she miscarried, or how far along in her pregnancy she was when it happened.
Watch the sneak peek clip below:
To read The Ashley's recaps of previous 'Teen Mom OG' episodes, click here!
(Photo: MTV)