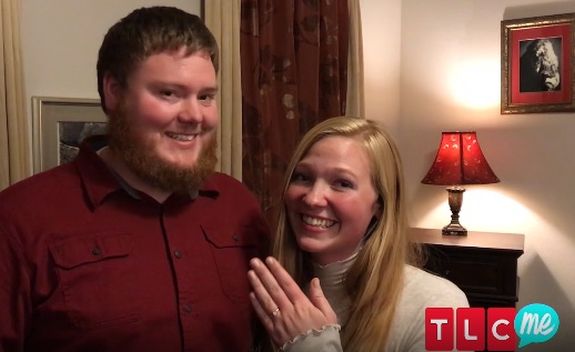 A Sister Wives star is heading down the aisle and, luckily, this time, it isn't Brown Family patriarch Kody!
Aspyn Brown, who is Kody's eldest offspring with Wife No. 3, Christine Brown, announced on Thursday that she is engaged to her boyfriend, Mitch Thompson.
According to TLC, Mitch proposed to 22-year-old Aspyn while they were on vacation in Seattle. (According to Aspyn's Instagram photos, the vacation took place in late December.)
In a video announcement, we get our first glimpse of Mitch, who has yet to appear on an episode of 'Sister Wives.'
"We've been dating for a long time," Mitch says as Aspyn flashes her engagement ring. "I just kind of knew that marriage was the next step."
"When Mitch asked me to marry him I was super excited and very happy to be engaged to him," Aspen says. "I was expecting it a little bit but it was all perfect."
The couple revealed that they are looking forward to moving in together.
"So excited!" Christine tweeted about the engagement. "A perfect match #wedding #soulmates"
"I am sooooo excited! Congratulations Aspyn and Mitch! You two are made for each other!" Robyn Brown tweeted.
Two of Aspyn's younger sisters are already married. In June 2016, Madison Brown married Caleb Brush. In December of that year, Mykelti Brown married Tony Padron. (The current season of 'Sister Wives' is focusing on the planning of Mykelti and Tony's ridiculously over-the-top wedding.)
In September, Aspyn's older brother Logan announced his engagement to his longtime girlfriend Michelle Petty.
Since we don't know much about Mitch, The Ashley has sleuthed out a bit of background info on him:
He hails from Seattle but lives in Utah.
Aspyn and Mitch have not yet revealed where they plan to make their home, but Mitch is currently living in Lehi, Utah. That is over five hours away from the Brown Family Cul-de-dac Compound in Las Vegas. He is originally from Seattle, which is likely why he proposed to Aspyn there.
Mitch isn't his real name.
Mitch goes by a shortened version of his middle name, Mitchell, but his first name is actually David.
He's a carpenter.
Perhaps Mitch can build Kody a new deck (or even a new wet bar for Meri!?) because he appears to be a carpenter by trade.
He's well-connected to the families within Aspyn's parent's religion.
TLC stated that Mitch is a "longtime family friend" of the Brown Family and it appears that is true. His family is close to other prominent families within the Apostolic United Brethren (AUB) religion, including the Allreds (which is Christine's maiden name), the Jessops and the Blackburns. It is not know, however, if Mitch is part of the AUB religion. In past interviews, though, Aspyn has stated that she does not want to live polygamy like her parents.
Watch Aspyn and Mitch announce their engagement in the video below!
(Photo: TLC)