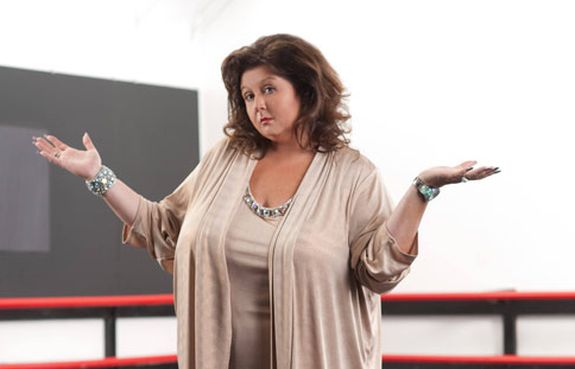 Abby Lee Miller is a changed woman on the inside and the outside, judging by the first photo she posted of herself from inside the prison she entered last summer!
Earlier this week Abby took to Instagram to share a group photo that showed her in prison garb with a group of friends. While Abby's reported 100-pound weight loss was likely the first thing fans noticed, the former Dance Moms star also included a message explaining how being in prison has also changed her as a person.
(Abby has since deleted the post from her Instagram account, but you can see the photo she posted by clicking here! Perhaps you're not allowed to post selfies from prison?)
"Sometimes in life you make mistakes," Abby wrote in the caption of the deleted photo. "I trusted the wrong people and didn't pay any attention to things I should of. I'm more than sorry for the mistakes I have made. My world flipped upside down when I had to enter prison. I did so with grace.
Fans of the show know Abby to be hot-headed and a bit abrasive but in her Instagram post, the reality star denies rumors that she's bustin' those same moves in the big house.
"The stories you read about me being a princess are untrue. I have made friends with both inmates and staff, I've tried to better myself, participated in anything offered to me and I am a better person for this experience," she wrote.
Abby also addressed rumors of her early release next month, stating that she is not sure she is getting out of prison on February 20, as the media has reported.
"However, I am feeling hopeful, but no dates have been confirmed at this time," she wrote.
Abby began a sentence of 366 days last summer in a Southern California correctional facility. She is reportedly being released early due to good behavior.
With the cancellation of 'Dance Moms'  last fall, Abby seems to be looking ahead to future endeavors: she shared with her followers last month that she had passed her real estate class and received her personal finance class diploma while behind bars.
"I am feeling great and ready to turn over a new leaf," Abby's deleted post stated. "Thank you so much to everyone for your support especially my nearest and dearest I love you all ( and yes this is me in prison)."
(Photo: Lifetime)