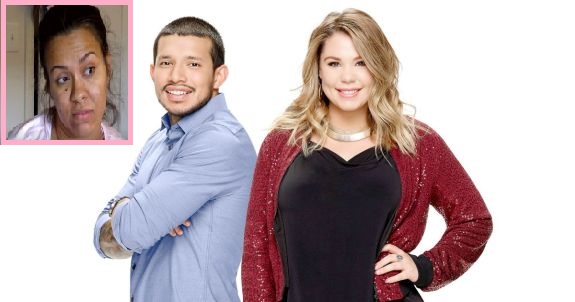 Exes Kail Lowry and Javi Marroquin are never, ever getting back together…but they are at least on good enough terms that Javi appeared on Kail's Coffee & Convos podcast on Thursday. The divorced Teen Mom 2 stars chatted it up about everything from their own failed relationship, to co-parenting their four-year-old son Lincoln, to Javi's recent breakup with their fellow 'Teen Mom 2' co-star Briana DeJesus.
Once Briana heard that Kail and Javi were chatting about her, she was none too pleased and, naturally, posted some scathing tweet-and-deletes to let everyone know how she felt.
Before we get to that, though, let's review what was discussed on the podcast.
Javi on getting back together with Kail:
Javi confirmed that he will not be whispering sweet nothings (and/or romantic Drake lyrics) into Kail's ear ever again.
"I just think that there's a lot of history between us that [neither] one of us will ever let go," Javi said. "Even if we were to try again in the future it wouldn't work because I know the type of person I am and the type of person she is. We argue. It just wouldn't happen."
He added that it wouldn't be "healthy" for them to get back together.
Kail on getting back together with Javi:
Kailyn agreed that the pair will never reunite.
"I couldn't have said it better," Kail said. "I don't think we could get back together."
She said that although they are good at co-parenting, they are not right for each other romantically.
"Javi argues out of passion," Kail said. "Javi is a habitual arguer and a 'never letter goer.'"
The pair both agreed that starring on a reality television show "played a huge factor" in their break-up.
Javi on his failed relationship with Briana:
Javi discussed his recent break-up with Kail's nemesis, Briana. Javi said dating someone your ex-wife works with is "trouble waiting to happen."
Well, duh.
"I'm trying to learn from my mistakes and not repeat those mistakes so moving forward, I'm not gonna mix that," Javi said. (I suppose this means we can forget about Javi hooking up with Leah Messer, eh? Farewell, Le-vi, we never knew ye!)
(Updating this to clarify: This is a joke, people. Leah is the only single 'Teen Mom 2' cast member that Javi hasn't hooked up with. They never actually hooked up.)
Despite the fact that he admitted dating Briana was a mistake, he did leave the possibility of a reunion with Briana on the table.
"I don't know what the future holds," he said. "There is a lot we have to discuss and talk about before we make any other decisions… But if we do get back together, I would hope we can all get along."
Kail on the possibility of her getting along with Briana someday:
"It would never happen. We would never get along," Kail told Javi. "You allowed her to disrespect me to my face, also on camera, also in text messages. When I said what I had to say in a nice way you defended her and not me. We raise a son together; you don't raise a son with her."
As stated above, Briana was very unhappy that Javi chose to talk about their relationship and breakup, especially to someone she hates. Before deleting her Twitter account (again) Briana blasted Javi and Kail.
Javi scolded his ex for acting immature.
"Come on, you're better than this," he tweeted to Briana. "I know a different Bri so I'll never turn my back on you like I promised. You don't do fake s**t but you're on here…you have my number, we've always talked about everything."
"Apparently not if I found out about the podcast by someone else," Briana responded. "U let her play the both of us by going on air and that's exactly what she wanted and u feed into it. So let me talk my s**t just like she did."
Briana's tweets have all been deleted, but here's a fun sampling of some of her spoutings aimed at Kail and Javi.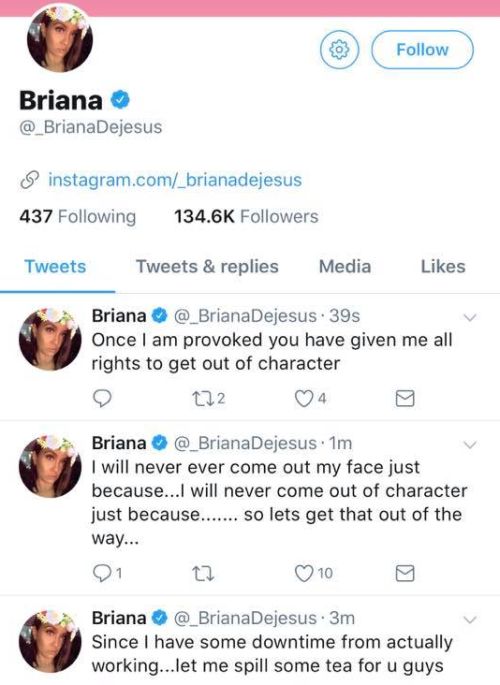 One thing's for sure: the next 'Teen Mom 2' Reunion taping will be full of drama, based on Briana (and Jenelle Evans') tweets.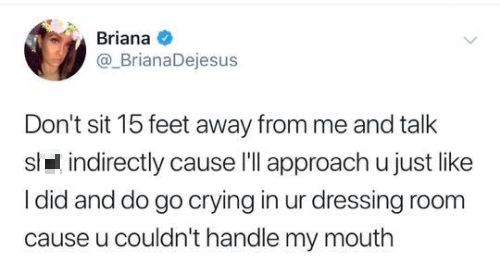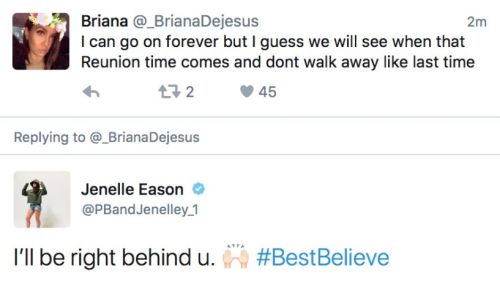 To read about Briana and Kail's dressing room brawl at the last 'Teen Mom 2' Reunion taping, click here!
(Photos: Twitter, WEtv, MTV)