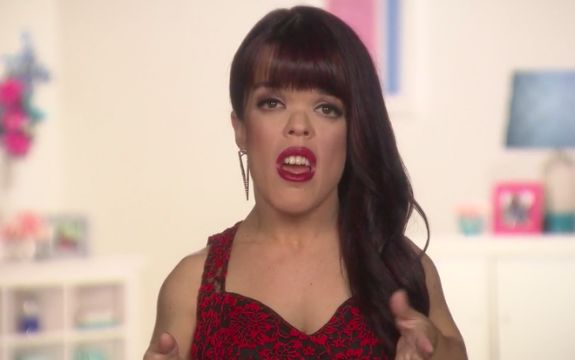 UPDATE! Briana has confirmed she is leaving 'Little Women: LA!' Scroll to the bottom of the story to read her statement.
Little Women: LA will return for a seventh season, Lifetime confirmed today, but it appears that the cast will be short one of its regular "women."
TMZ reports that Briana Renee Manson has quit the show– at least for the next season–to put her focus on her children as she goes through a messy divorce with her soon-to-be-ex-husband Matt Grundhoffer. 
"[Briana] chose not to sign back on at the end of Season 6," the site reported. "We're told Bri already knew she'd be filing for divorce from husband Matt Grundhoffer, and she didn't want it to play out on camera."
Briana and Matt announced in November that they were separating but last month the public got wind of how bad things really were between the couple when Briana filed for a domestic violence restraining order against Matt. In the paperwork, the 'Little Women: LA' star claimed that Matt verbally abused her, and was frequently drunk. She even stated that during one terrifying incident in April 2017, a drunken Matt allegedly threatened to kill himself and "kill everyone in the house." (Read more about that here.)
A judge granted Briana's restraining order request, demanding that Matt stay 100 yards away from Briana and their son Maverick. (Briana currently has full custody of Maverick for the time being.) Briana has also filed for divorce.
TMZ reports that the show's producers are not planning to replace Briana, but will instead be focusing on the show's other six main cast members. The upcoming seventh season will contain the show's landmark 300th episode.
According to Lifetime, 'Little Women: LA' Season 7 will premiere in March.
Briana confirmed her departure from the show on Friday, via a message posted to her Facebook page.
"I want to start off by saying the biggest thank you for all the unconditional love and support from my loyal loves!" Briana wrote. "You have been there every step of the way, and my journey has just begun! It is true that you will not be seeing your favorite little fierce mama next season; as I have chosen to not make a return. I am embracing my new life chapter. I will continue to focus on my kids first and foremost, optimum health of mind and body, and my new music career. I am grateful to have been part of such an life changing and experience… onward and upward!"
(Photo: Lifetime)