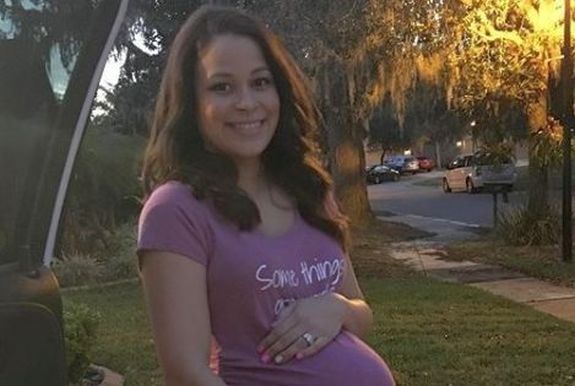 Plenty of girls who starred on 16 and Pregnant have gone on to have a second, and even third, child, but on Friday, Jennifer Del Rio became the first girl from the show to welcome a fourth baby!
The Season 3 star, who is now 24 years old, posted on her social media accounts that she had just given birth to a daughter. Jennifer and her husband Luis Gutierrez named the baby Anabella Cherie.
"We have a daughter!" Jennifer captioned a photo of Anabella's birth announcement. The baby weighed in at 6 lbs., 15 oz. and measured 19.5 inches long.
Jennifer announced her pregnancy back in June, and was thrilled in August when she learned that she was expecting a baby girl, after having three boys. She has been documenting her pregnancy on her social media accounts, as well as her YouTube channel.
Jennifer's episode of "16 and Pregnant," which first aired in April 2011, is memorable because she was one of the only girls from the show to have twins. (Her sons Josh and Noah are now seven years old.) Fans also recall the episode because of the domestic dispute between Jennifer and her baby's father, Josh Smith, that took place on the side of the road and was captured on film. Josh has since signed away his parental rights to the twins. Jennifer's own father legally adopted the twins about two years ago.
In 2013, Jennifer married Luis Gutierrez and gave birth to her third son, Sebastian, a year later.
Jennifer is not the only "16 and Pregnant" girl who will be welcoming a baby in 2018. Her Season 3 co-star Jamie McKay is currently pregnant with her third child. Other former "16 and Pregnant" stars who are expecting babies this year include Markai Durham and Lizzie Sickles (both of Season 2), and Season 1's Amber Portwood (who now stars on Teen Mom OG).
Watch the video below to see the insanely adorable moment that Jennifer found out she was having a girl:
(Photos: Instagram)