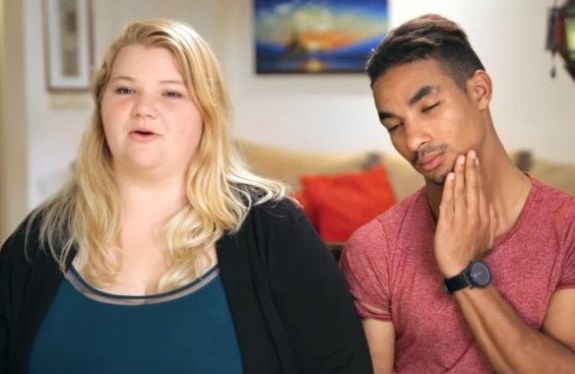 After a ton of drama, several trips overseas and, of course, several years spent documenting it all on reality TV, 90 Day Fiancé star Nicole Nafziger is finally marrying her longtime fiancé Azan Tefou!
Starcasm is reporting that Nicole recently shared a bunch of social media photos posing with her mom while they were out shopping for a wedding dress. (The photos have since been deleted.) Sources for the site are now saying that Nicole is packing up her things and heading to Morocco to marry the man of her dreams within the next few weeks.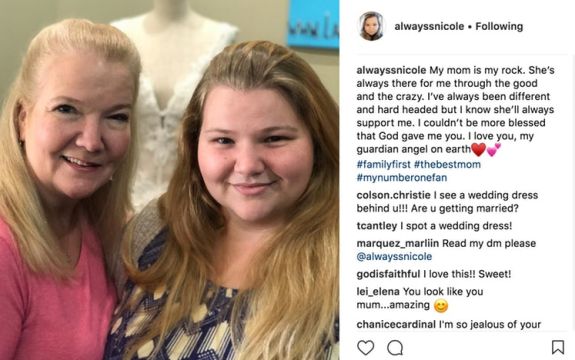 "Nicole is planning to return to Morocco where she will marry Azan and then wait out the process on a CR-1 visa," Starcasm reports, adding that noted "90 Day Fiance" YouTuber Keith Brooks has confirmed this as well. According to Keith, TLC will not be documenting Nicole's trip to Morocco for "90 Day Fiance"; however Starcasm's sources are disputing that claim.
"TLC (and Sharp productions) is filming Nicole and cameras will be there when (or if) she and Azan walk down the aisle."
(There's no way TLC will miss capturing the moment where Nicole is huffing and puffing her way over a sand dune in a wedding dress while Azan berates her to exercise more! That is reality television gold.)
Anyway, Starcasm could not confirm if Nicole's young daughter, May, will be going with her to Morocco or not.
Getting hitched in Morocco and getting Azan to the United States will be no easy task for Nicole, though. Starcasm says Nicole would have to apply for the CR-1 (Conditional Residential) visa after the couple marries.
Wikipedia describes a CR-1 visa as, "an immigrant visa that allows a spouse of a U.S. citizen to enter the U.S. as a Conditional Reside (hence the abbreviation, 'CR'), if they have been married for less than two years. A sponsor files for a CR-1 visa by submitting a petition for Alien Relative, form 1-30. To be eligible for a CR-1 spousal visa, the U.S. petitioner must be a U.S. citizen or lawful permanent resident who is at least 18 years old. The petitioner must also be legally married to the alien beneficiary and meet certain minimum income requirements set by the USCIS."
Signing on for another season of "90 Day Fiance" (or one of its spin-offs) would certainly help Nicole and Azan meet those "certain minimum income requirements." Starcasm states that, "90 Day Fiance" cast members don't make a lot of money for appearing on the show the first time around, but if they appear in additional seasons/spin-offs, their income increases dramatically. YouTuber Keith reports that Nicole is now making between $3,000- $5,000 per episode filmed, and Azan is likely making about the same.
Watch what "90 Day Fiance" YouTuber Keith Brooks had to say about Nicole and Azan's wedding:
(Photos: TLC, Instagram)