Dr. Miami has carved up yet another Teen Mom star!
Briana DeJesus was back for her second turn under the plastic surgeon's knife on Thursday, undergoing a tummy tuck, liposuction, a Brazilian Butt Lift re-do and a breast lift with exchange of her breast implants. All of the procedures were broadcast (in all of their guts and glory!) on Dr. Miami's Snapchat, and were also filmed for the upcoming season of Teen Mom 2.
'Teen Mom' fans who tuned in to watch Briana get sucked and tucked got a surprise when they saw Bri's ex-boyfriend (and 'Teen Mom 2' co-star) Javi Marroquin appear on the doc's Snapchat account alongside Briana. Javi had previously been so against Briana getting her plastic surgery broadcast on Snapchat that it was one of the reasons the couple split last month.
As The Ashley previously told you, the 'Teen Mom' stars receive their plastic surgery from Dr. Miami for free if they allow him to broadcast it on Snapchat. Still, they must pay for their anesthesia and a few other expenses related to the surgery. Javi was upset about his then-girlfriend going under the very public knife because he was worried about how it would affect his career in the military.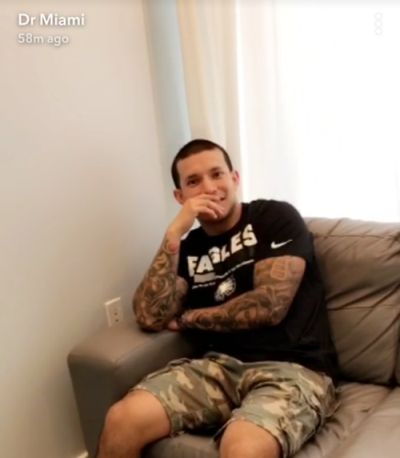 Javi's presense in Dr. Miami's office was shocking to fans (as well as his ex-wife Kail Lowry, who was not happy about the situation) because Javi had said the day before on Twitter that he was heading to Los Angeles to get his teeth whitened (as you do).
Anyway, Briana underwent a procedure to fix the Brazilian Butt Lift that Dr. Miami gave her in January 2016. ('Teen Mom 2' fans frequently teased her about her misshaped caboose, claiming it looked like she was wearing a diaper.) According to Dr. Miami, about 1,000cc's were removed from Briana's butt.
"This will be more proportional to her new body," Dr. Miami said while he sucked out Briana's butt fat.
What a day to be alive!
Briana also opted for a breast lift and an exchange of her breast implants. (She had previously undergone two boob jobs.) He took out her 450cc breast implants and exchanged them for implants that were about 250cc less. According to Dr. Miami, this will bring Briana's cup size from a double D to a full C.
She also underwent a tummy tuck on Snapchat. (Fans were able to literally see Briana's insides, which is always…um, fun. The Ashley refuses to post any photos of blood and guts, though, sorry.)
Dr. Miami has carved up plenty of 'Teen Moms' over the years. In addition to working on Briana twice, he has also performed surgeries on Bri's sister Brittany DeJesus, and 16 and Pregnant star Lindsey Nicholson (who underwent a boob job in which Dr. Miami gave her the largest breast implant size legally allowed in the United States).
He also worked on Kail Lowry in 2016, and was due to perform a boob job and liposuction on her last week; however, Kail bailed out of the surgery at the last minute.
"I had anxiety for a while about it and when I got [to Miami] I realized surgery is a quick fix but the results I'm looking for are attainable through hard work and effort, so that's what I want to do," Kail told The Ashley exclusively, adding that she is going to try to get the results she wants by changing her diet and working out.
During Briana's surgery, Dr. Miami constantly brought up the fact that many of the results that plastic surgery provides can not be obtained by working out, especially when you are trying to recover from a pregnancy.
"Husbands and boyfriends need to be sensitive and aware about these things," he said at one point during the surgery. "It's easy to go say 'go hit the gym' but you didn't just have a baby… a lot of these problems can't be fixed in the gym."
The Ashley has attempted to make Briana's before and after photos as "safe for work/ your stomach" as possible, so here we go: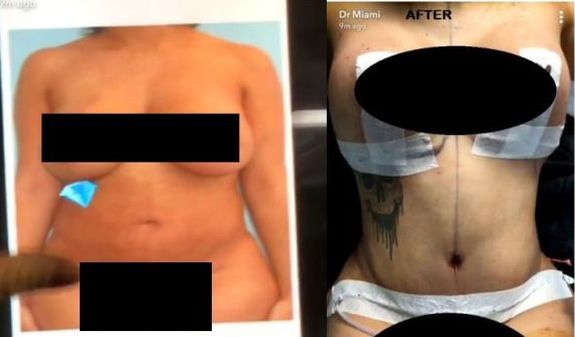 (Photos: Snapchat)