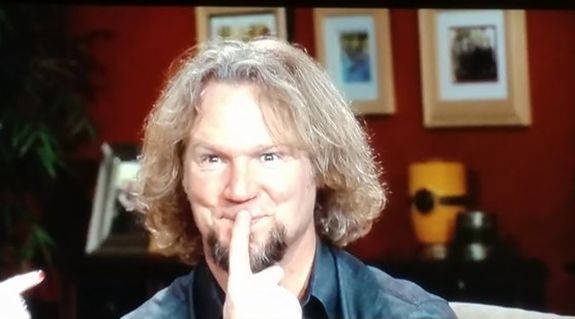 This week, on Sister Wives, the days are rapidly approaching until The Wedding Of The Century, when Tony and Mykelti will finally say "I do" and slip their wedding bands onto each other's taco-sauce-coated fingers.
Before we can venture into the wedding-themed parts of the episode, though, Meri is doing her best to further complicate the family for her own selfish gain. As we all know, Meri is desperate to buy some random house in Utah that used to belong to her great grandparents. The house is currently being run as a bed and breakfast, so Meri told Kody & Co. that she'd like to purchase it and run it for income (at least until she is able to dominate the financial world via her leggings-hawking business, of course).
The sister wives were on-board with Meri's idea (because, I mean…anything to get her out of the state for a couple of weeks a month). Kody was not sold on the idea, but Robyn had promised Meri she'd talk him into it (most likely by giving Kody a few pity humps).
However, the episode begins with Meri telling us she's got a new idea that makes even less sense than her previous one! She still wants the house, of course, but now she has decided that, instead of running it as a bed and breakfast, she'll just buy it and let her mother live in it. She gathers Kody & Co. in her house and tells them her new idea.
Meri is kind of shocked that Kody and the sister wives aren't thrilled with the idea of buying an overpriced house in the middle of nowhere and basically letting Meri's mom squat in it. Go figure.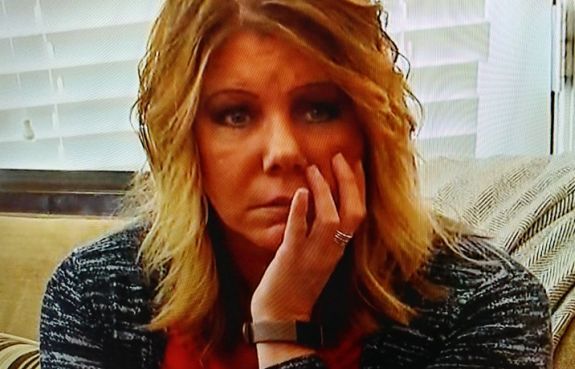 Janelle, always the voice of logic and financial wisdom in this family of nitwits, is just trying to understand what the hell Meri is thinking.
"So you would just want to buy it and not try to produce income off of it?" Janelle asked, perplexed. "It would seem to me that you would probably need some kind of income coming off of it, in order to justify the expense."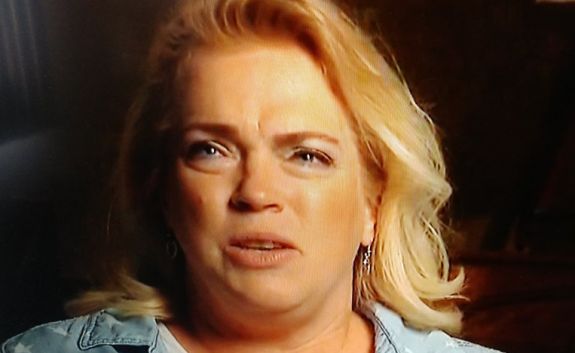 Christine is also confused, but she doesn't mince words.
"This is kind of dumb," Christine tells Meri.
Um…Christine, I'm gonna let you finish, but you are also the one who is planning to sing at your daughter's wedding despite the fact that your voice is the musical equivalent of someone hacking up phlegm. You can't really say anything else is a dumb idea at this point.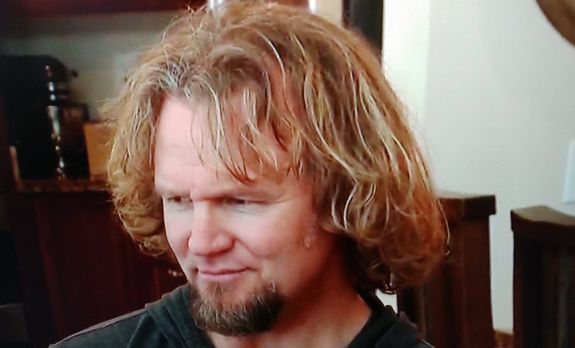 Kody asks Meri how her leggings sales business is working out. He most likely wants to know because he 1) wants a pair so he can feel those buttery soft stretch pants against his legs and 2) wants her to use her leggings funds to pay for this stupid house.
Meri says she thinks she's making enough money hawking stretchy pants to pay the mortgage on the house, but she's not sure just yet.
In the confessional, Kody lets us know what he really thinks.
"What I'm not telling Meri right now is that we are not supporting her mother when we've still got children to support," he says. "I don't want to set her off."
So, basically, Mamacita better find a place to live on her own dime!
For once, Kody makes total sense and it's kind of scaring me. It just feels unnatural.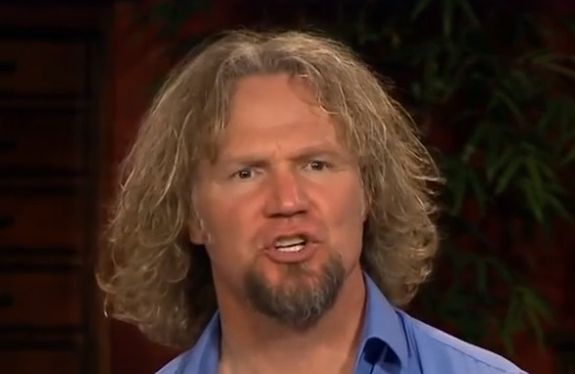 Kody tells Meri he has another idea. He suggests she take her leggings fortune,  buy the empty lot across the street from the bed and breakfast, and build a house for her mother to live in there.
And…there's the Kody we know and loathe, back with his stupid ideas! All is right in the world again.
Naturally, all the wives think that's a terrible idea. Meri tells Kody that she doesn't want to buy some random parking lot and pitch a tent for her mom to live in: she wants her house and she wants it NOW!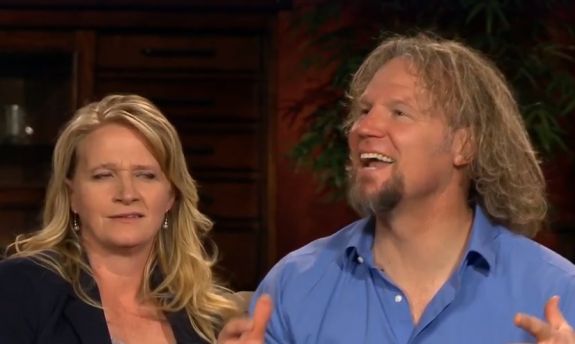 Meri decides that Kody will get on board with her Big Idea if he just goes to see the house.
"I just want him to share something with me that's something I'm excited about it," Meri says.
Kody obviously doesn't want to do it. He looks like he'd rather attend all 10 of Christine's singing lessons than spend two hours in the car with Meri on the way to see the stupid house.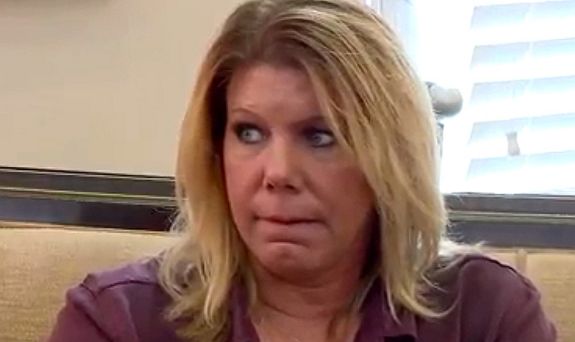 In confessionals, they both talk about how terrible their relationship is right now.
"We're like a divorced couple living on the same block with each other," Kody says.
Ummm…isn't that exactly what you are? You got divorced and live in houses next door to each other.
"We're bound by so many things, but we are not necessarily bound by a loving relationship right now," Kody says.
Finally, because he knows that Meri will eventually whittle him down, he agrees to go with her to see the house. There's even a moment of genuine happiness between them.
"I didn't realize it meant so much to you!" Kody tells her, smiling. "I'll go with you!"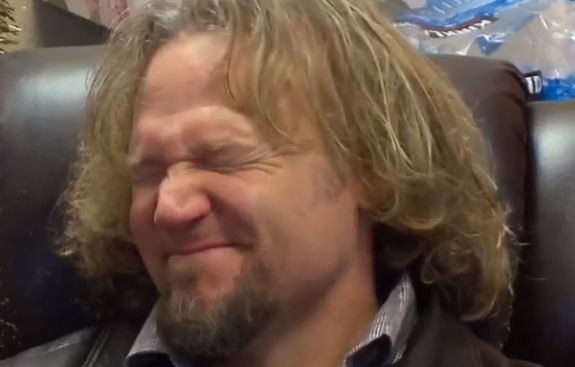 He says he wants to go see their marriage counselor with Meri before they go see the house. That's probably safe; they can work out their problems before climbing into a car together. We don't want to see them on the evening news, stopped somewhere in Southern Utah after Meri beat Kody with a stack of patterned Halloween leggings or something.
Safety first!
Later, at Christine's house, everyone is getting ready for Mykelti and Tony's wedding, which is happening that weekend. Christine announces that she has fulfilled all of Mykelti's demands and is now on her way to Utah to meet up with Mykelti. Aspyn has been in Utah for a few days, so when Christine arrives, they all meet up at a nail salon. They've also invited Tony's mother and sisters to come along.
(Luckily, Tony is not present at the nail salon. We hardly needed to see him in a pedicure chair with his big ol' hoof up in the air, telling everyone about how Mexican pedicures are better than white people pedicures.)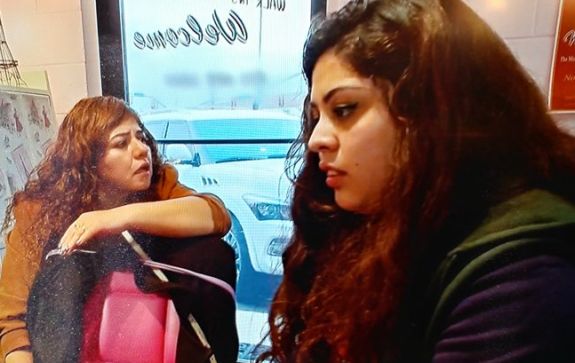 While getting her claws filed down, Mykelti tells us that she got into a fight with Tony last night because he's stressed out about her flower-making. Because she is so interesting, Mykelti has elected to forgo having regular flowers at her wedding. Instead, she has forced her mom, friends and sisters into making all the flowers out of fabric. For the past nine months, she's basically turned her family into sweat shop workers, producing fake flowers for her bouquets and centerpieces.
Aspyn is NOT ABOUT THE FLOWERS. You can tell she's completely over the whole thing, but is trying to be nice because, well…Mykelti is kind of scary and she will also have a bat at the wedding to beat the piñatas.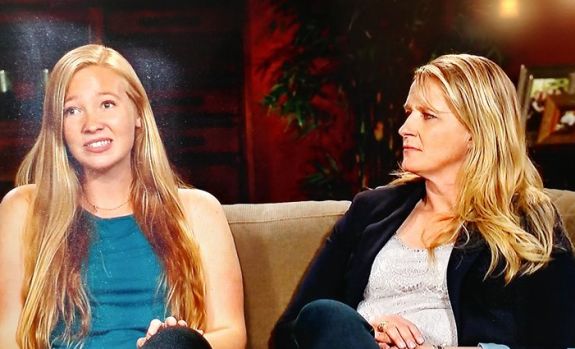 Kody, too, thinks the flower-making venture is ridiculous. He thinks it's inconsiderate of Mykelti to ask her family to create 7,000 flower petals. Kody, of course, didn't help at all with the flowers, but he's still angry that the crafting has taken away at least some of his attention.
Later, Christine goes to meet with the guitarist for Mykelti's wedding. If you feel your ears bleeding that's Christine practicing her singing solo for the wedding. All the other wives have been lying to her and telling her how great of a singer she is. It's almost cruel. Christine thinks she's the Celine Dion of our generation, but she's still worried about Tony's reaction.
"Tony's a harsh critic," she tells us. "He's going to tell me if I suck."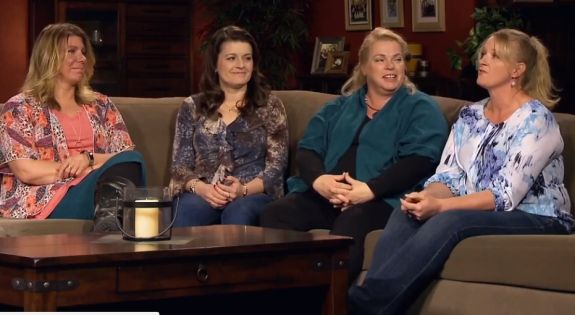 Christine screeches out a few bars, and the poor guitarist looks like he just witnessed a murder. In a way, he kind of did, given that Christine straight-out butchered that song. The guitarist looks like he wants to tell her she sucks but he's holding back.
"Um…is that the right key?" he keeps asking.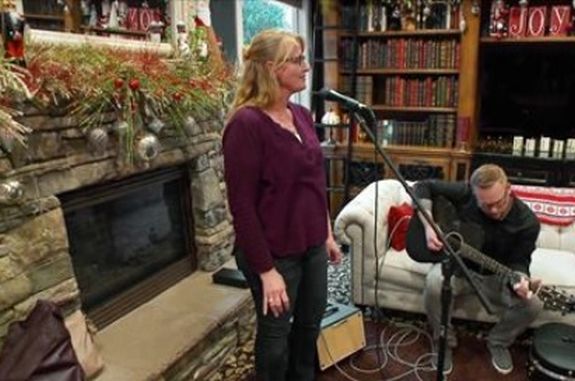 Christine says her goal is to make Mykelti cry with the song.
Oh, don't you worry, Christine. People will be crying when they get a load of this catastrophe. It hurts a lot when you have your eardrum busted!
Later, everyone is filling the piñatas up with candy. Tony's piñata is full of Mexican candy because…in case you didn't know…Tony is Mexican.
"We're filling hers with generic, white people candy," Tony says of Mykelti's pinata. "The Halloween stuff."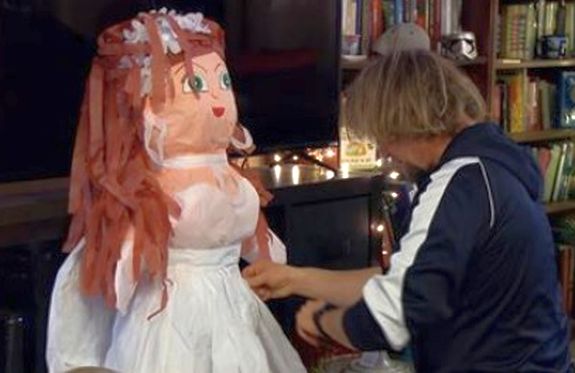 Janelle says she's "weirded out" by Mykelti and Tony beating the piñatas that look like each other. (She's probably also not thrilled about having to foot the bill for them, either.) classy
"In this enlightened age where we talk so much about domestic abuse I'm like uhhh," she says.
Kody tells them he thinks it's "classier" if they let the kids beat the piñatas, but Tony disagrees.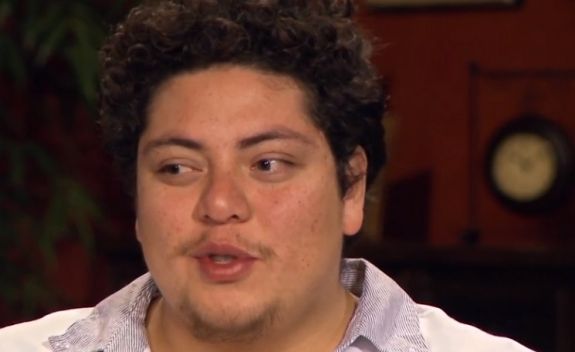 "It's gonna go- I beat hers, she beats mine, small kids, big kids," he says.
I really never want to hear Tony utter the phrase, "she beats mine" ever, ever again. Also, I have a feeling by the time the roll these piñatas out, everyone is going to want to take a few whacks at the Tony piñata.
Now it's time for Christine to present Mykelti with the flowers she made out her chopped up wedding dress. Christine makes sure to tell Mykelti how wonderful she is for doing this, and for once, Mykelti is very touched by the gesture.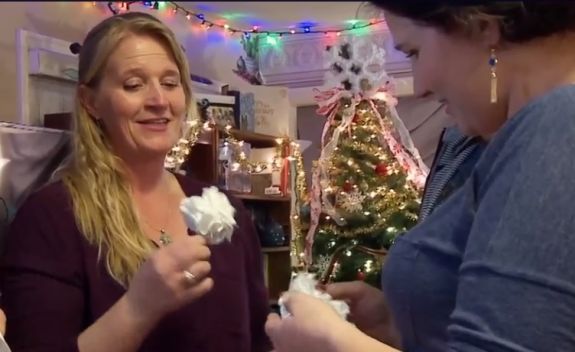 Sensing that her future mooch-in-law will get all butt-hurt if Mykelti gets a gift and he doesn't, Christine buys a claddagh ring for Tony to wear. (All of the Brown wives wear a ring like this, as does Kody.) Christine says that the ring symbolizes her welcoming Tony into the family.
"It's a claddagh ring," she tells him.
"A claw ring?" Tony bellows.
Tony is confused, but hey…free stuff rules…so he takes the ring and jams it on his big, greasy finger.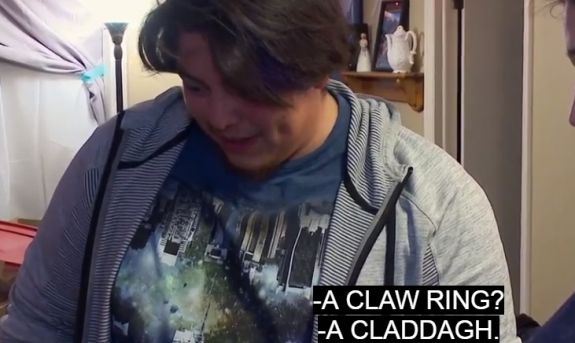 The next day, Kody, Christine, and Tony's parents go to meet the officiant of the wedding. Christine tells us that Mykelti is going to insist that the ceremony be outside even though it's probably going to be freezing and raining.
Nothing says class like a mob of soaking wet people stuffing soggy street tacos into their gullets, am I right?!
Back at Mykelti's apartment, Aspyn asks Mykelti and Tony how they are doing and if they're connecting.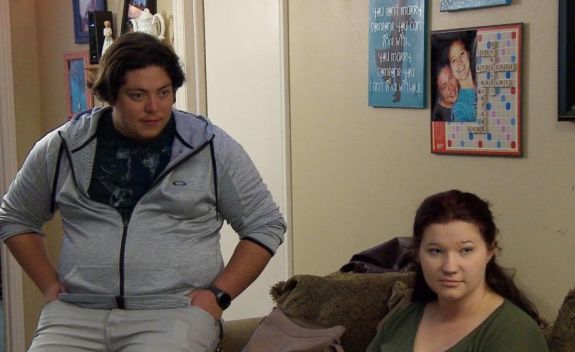 "When she says connecting she means verbally. Tomorrow night you can connect physically," Christine adds.
Be right back. Gotta go yak up my tres leches cake.
Kody decides to take this opportunity to talk to Mykelti and Tony about their sexuality. (This is the guy who told Mykelti that if she kisses a guy, she will be sucking in all of his hormones, 'member?)
Kody sits down in an desk chair that looks like it was found in the abandoned lot across from Meri's bed and breakfast, and tells them that none of the wedding stuff matters. He says, in the end, it won't matter if they have real steak tacos, or enough handmade flowers or what not.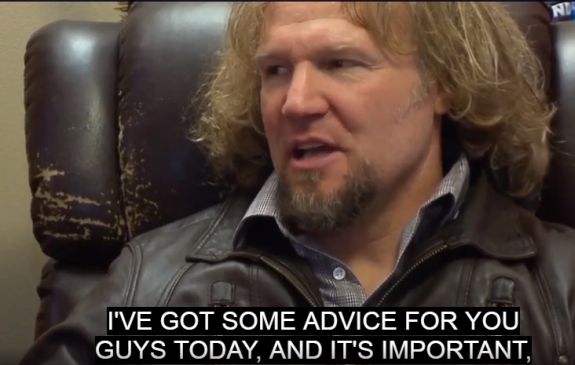 Kody tells them if they have intimacy that will be a good foundation for sexuality. He admits that he "failed to feel intimacy" with any of his four wives, stating that he didn't really get to know his wives until later on their marriages.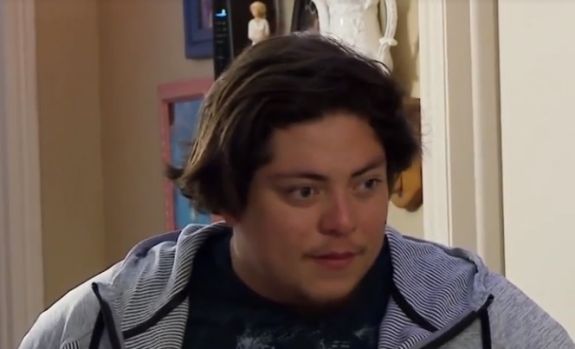 He tears up at the thought of Mykelti and Tony getting down and dirty.
Next week, we get to see The Wedding Of The Century take place, in all its street-taco-eating, piñata-beating, pouring rain glory!
To read our previous 'Sister Wives' recap, click here!
(Photos: TLC)