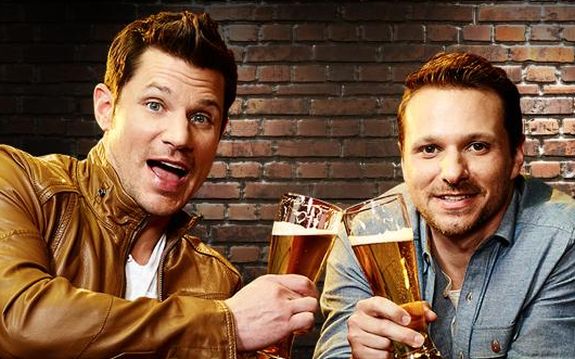 Just three years after opening Lachey's in Cincinnati, Nick and Drew Lachey have announced it's last call at their sports bar and restaurant.
The development of the brothers/ Dancing with the Stars alums' hometown bar was documented on the A&E reality show Lachey's: Raising the Bar back in 2015, but the show was nixed after only one season. Now, it seems that the bar itself is following suit, as it was announced this week that the bar would be closing its doors for good on February 11.
News of the shutdown comes just two months after Lachey's Bar manager, Ellie Richardson, was shot in the face after leaving work on Thanksgiving. While Ellie survived the attack, her recovery has involved multiple surgeries which have been detailed on an Ellie Richardson Recovery Facebook page.
On December 15 (the most recent update on the page) followers were told the surgery to repair the left side of Ellie's face had gone well and that she would be going home that night. The man who reportedly shot Ellie, 36-year-old Lavoris Hightower, turned himself in at the beginning of December.
The same night as Ellie's attack, Keith Anderson, a bouncer at Lachey's Bar, was robbed while helping Ellie. Keith said he was warming up his car when he heard the gunshots that wounded Ellie and went to help her. While speaking to police, someone jumped in Keith's car and drove off. While the car was eventually found, $900 of Christmas toys Keith had purchased for his kids were gone along with a laptop and photos of his children.
Despite the recent (very) unfortunate happenings at Lachey's Bar, if anyone in the Cincinnati area is still hoping to throw one back with Nick and Drew before the doors close for good, the brothers will be at the bar this weekend as a final farewell.
While the Lacheys have not stated that the Thanksgiving events led to bar's shutdown, Drew did post on Instagram about the closure.
"As you may have heard, @nicklachey @foureg and I have made the very difficult decision to close the doors of @lacheysbar after this coming weekend," he wrote. "While this is a sad moment for us we also feel blessed to have had the opportunity and want to thank everyone that supported us and made this dream come true for the past 3 years."
Nick also posted about the bar's closure. In the photo caption of an Instagram photo showing him and his two sons in a booth at Lachey's, Nick reflected on how much the bar meant to him.
"It's been an incredible 3 Years full of lifelong memories," Nick wrote. "Thank You Cincinnati for helping me realize a dream and the chance to share it with multiple generations of Lacheys and Lachey fans. We will be closing its doors after this Saturday night. Let's make some more amazing memories this weekend and send her out in style!"
Watch a clip from 'Lachey's: Raising the Bar' below:
(Photos: A&E, Instagram)