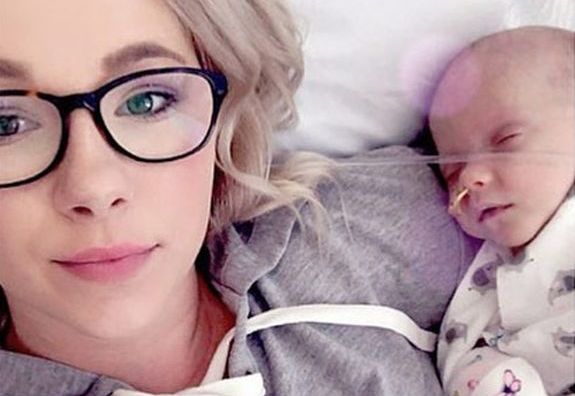 The infant daughter of former 16 and Pregnant star Lindsey Nicholson continues to battle health problems, three months after her premature birth.
On Thursday, Lindsey posted a heartbreaking update about her daughter Paisley's health struggles. (As The Ashley previously told you, Lindsey gave birth to Paisley and her twin brother Jackson prematurely at just 29 weeks, 4 days gestation.) While Jackson was able to go home, Lindsey was sad to report that Paisley is back in the hospital after a period at home, due to her having serious complications of the liver.
"Paisley isn't doing well," Lindsey posted on Instagram. "Her liver is failing, causing her to have failure to thrive. We have absolutely no idea why her liver is doing this. We are in the process of figuring it out. Whatever it is, it is extremely rare."
Lindsey stated that Paisley would undergo a liver biopsy on Friday in hopes that her doctors would be able to figure out what was causing her issues. On Friday, she posted a photo of Paisley as she was preparing to undergo anesthesia.
Lindsey is also the mother of six-year-old Aniyah, whom she gave birth to during her "16 and Pregnant" episode. Aniyah's birth father is no longer in her life and Lindsey's husband T.J. formally adopted Aniyah after marrying Lindsey in 2015.
The former reality TV star asked for prayers for her baby and her family.
"This has been extremely difficult on myself, my husband and Aniyah," she wrote. "Thank you to everyone who has reached out.  Nobody wants to see someone they love more than anything in the world suffering. My heart is breaking for my sweet P. No baby should have to go through this. I've got to see who is truly there for myself, my husband, and my children this week."
A GoFundMe page has been set up to help Lindsey and her family deal with the medical costs her twins' treatments have brought on. If you'd like to make a donation, click here.
(Photo: Instagram)