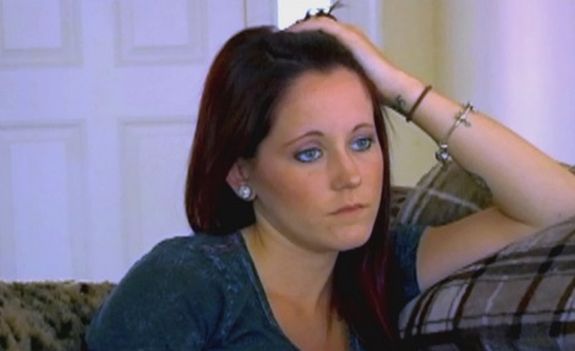 Jenelle Evans is down one social media advertising deal this week after a promotional video she posted sparked a wave of criticism loud enough to shake the sod on "The Land!"
In an awkward, robotically recited video ad for Blue Apron, the Teen Mom 2 star attempted to sway her 2.8 million followers to sign up for home meal prep kit company, which she was working with on a new ad campaign. However, after droves of Jenelle's critics took to social media to let Blue Apron know just how they felt about the brand employing the controversial 'Teen Mom 2' star to promote their product, the company cut ties with Jenelle.
Here's a little taste (pun intended) of the backlash the company received for employing Jenelle:
"I will pass on Blue Apron now that I know you support Jenelle Evans."
"By the way Blue Apron, Jenelle's husband called her son a little b***h on camera and your company associates with them? WTF IS WRONG WITH YOU?"
"Sorry @blueapron, I will NOT buy anything from your company since you have Jenelle Evans advertising for you."
"I guess @blueapron will allow anyone to promote their product, even someone who's child was born with drugs in their system. Thanks but no thanks."
"Marketing 101: properly vet the people you might hire to promote your business/products. I mean who are you hiring next? ISIS?"
In response to the multitude of negative comments, Blue Apron announced it was cutting ties with Jenelle:
"Thanks for reaching out. We will no longer be advertising with Jenelle," the company's official Twitter account wrote in response to many of the nay-sayers' comments.
Jenelle's husband, David Eason, was not happy about what went down, so he took to his newly created Twitter account to defend Jenelle and throw a little shade at the recipe delivery service.
"@blueapron All these Fake accounts talking about Jenelle and you really take it seriously? Now we see where your priorities are. Simple math- there are more followers than haters…. keep you cheep food and ill keep shopping at The Pig @MyrtleBeachPig @pigglywiggly."
He was also angry that the company seemingly failed to let Jenelle know that she had been given the boot.
"@blueapron Instead of sending us an email you reply to fake accounts about cutting Jenelle off?" he added. "Now we see where your priorities are…"
David's tweets have since been deleted.
Although we won't likely see Jenelle hawking meal prep kits any time soon, she can still be seen on social media peddling weight loss teas, push-up bras and her own line of clothing.
She has yet to publicly comment on the Blue Apron debacle.
Watch Jenelle's ill-fated commercial for Blue Apron below:
So bad. Clearly didn't think this one out. Serving for 2 so what does the rest of the family eat? pic.twitter.com/J8FiRug386

— Ms Anon Mafioso™ (@Anon_Mafioso) February 8, 2018
(Photo: MTV)