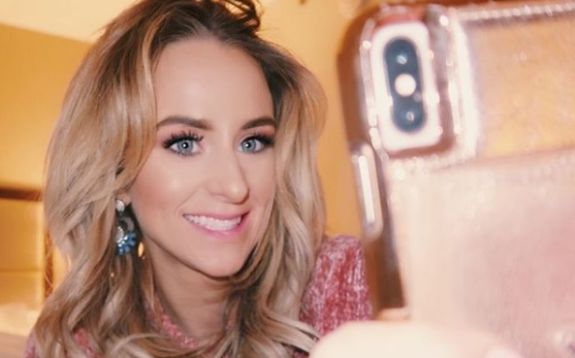 Kail Lowry welcomed a very special guest on her Coffee Convos podcast earlier this week: her (notoriously interview-shy) Teen Mom 2 co-star, Leah Messer!
Leah flew to Georgia to chat with Kail and her podcast partner Lindsie Chrisley about everything from her ex-husband(s), to her daughter Ali's health, to her current relationship status!
The podcast episode will be posted next week, but The Ashley has pulled out some of the juicier tidbits for you to feast on until it's out…
On her current relationship status:
"I am single AF!" Leah said. "I just now started getting back out into the dating world."
Leah confirmed that she used to be on Tinder, but got off of it.
"Someone told me that [being on Tinder] is like putting 'DTF' [which stands for "Down to F**k", by the way] on your forehead and I'm not that type of person, so I got the hell off of Tinder, and I'm never getting on any other type of dating app!"
"It's difficult [being single with three kids]," Leah said. "It's really challenging trying to date."
She also said that living in West Virginia isn't helping her dating life.
"I don't think my 'forever' is in West Virginia," Leah said.
On the rumors she's getting back together with her ex-husband, Jeremy Calvert: 
"No," Leah said at first. "I think he knows that. I mean, we're friends and we get along great for Addie."
When Kail asked Leah if there were any "hookups" going on between her and Jeremy, Leah definitely hesitated.
"Jeremy is a great person to co-parent with," Leah said. "If we have a disagreement we can work through.
"I guess at first maybe I considered [getting back together with Jeremy]," Leah said. "Like, 'If we are getting along this great, why not try it again for Addie's sake' but at the end of the day we weren't happy. We didn't do well together but we do great as friends."
Later in the interview, however, Leah admitted that she and Jeremy have played "hide the pickle" from time to time since their divorce, especially recently. In fact, Leah confirmed that her flings with Jeremy will be a topic on the next season of 'Teen Mom 2!'
"[We filmed about] us being like 'We should just get back together' and about us hooking up," she said.
On the current state of her co-parenting relationship with her ex-husband Corey Simms and his wife Miranda:
"Corey and I don't have that friendship," Leah said. "It's like, 'We have kids together and there are strict rules, and that's all we deal with. With Jeremy it's like 'Whatever goes…'"
Leah also discussed how she's getting along with Corey's wife Miranda who, years ago, she was in a brutal feud with. (Who could ever forget "The Great 'Monkey' Saga?!")
Leah said things between her and Miranda are better these days.
"Yeah we get along," Leah said of her former nemesis. "I don't really see her very often or communicate with her. Like, we're in a group text but I really don't [interact] with her much."
On the best and worst parts of being on a reality TV show: 
"I think what I like most is being able to share my story with other people and it makes a difference in their life," Leah said.
Being on TV is not all it's cracked up to be, however, according to Leah.
"People have opinions on how you should live your life," Leah said. "We all learn the hard way.
"Filming isn't always easy," she continued. "[A dislike] is having lots of people in your house [while filming]. I enjoy the crew and you get to know people and have relationships with them. But sometimes you need your space."
On her reaction to the last 'Teen Mom 2′ Reunion (in which Jenelle Evans' husband David Eason pulled out a knife while filming a party and began popping balloons):
Leah said she was not happy with all the drama that went down when the 'Teen Mom 2' cast came together in October to film the Season 8A Reunion. (As The Ashley exclusively told you, Leah got dragged into a verbal fight that went down between Briana DeJesus and Kail in the makeup room!)
"The reunion was a mess!" Leah said.
"My friend [who went with me] was terrified [after David pulled out a knife]," Leah added. "She was right there and she thought one of the producers was going to get stabbed in the face, which is not OK! I don't even remember if it was because they were not serving any more alcohol or…but we were there for work! I mean, you can have a few drinks socially but, it's not that appropriate."
After Kail declared that she doesn't want her kids around David, Leah stated that her kids will "never go back to a Reunion." (Aleeah was the only one of Leah's daughters who was present at the last one.)
On the current state of her daughter Ali's health: 
Leah confirmed that her daughter Ali, who has a rare form of muscular dystrophy, has been struggling with her health. She got emotional while discussing her daughter.
"She's doing alright," Leah said of Ali. "She's had some challenges here recently…[having to do] with her diagnosis but she's doing alright."
On what fans will see during her segments of the next season of 'Teen Mom 2':
"Viewers can expect to see some ups and downs with Ali," she said. "And, I guess the Jeremy stuff."
Kail and Leah also confirmed that they will be going to Hawaii together during the next season of the show. In addition, Leah's appearance on the podcast was also filmed for 'Teen Mom 2.'
To listen to other episodes of the Coffee Convos podcast, click here!
(Photo: Instagram)