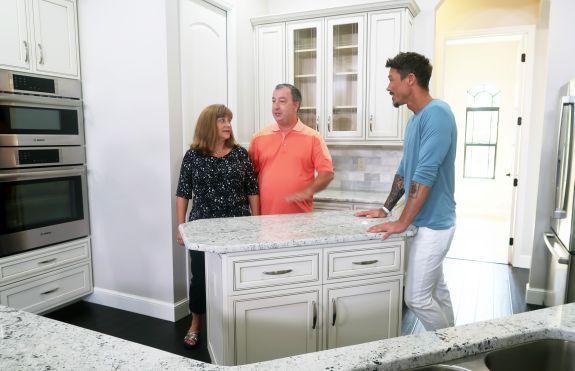 A new show on HGTV is taking a look at people who ready to live large—thanks to a recent lottery-related windfall –and are looking to use their new riches to purchase the houses they've always wanted!
My Lottery Dream Home will follow lottery winners as they use their lotto winnings to buy their dream mansions. The lotto winners will meet with host David Bromstad to find and purchase their "first opulent property."
"When it comes to spending a million bucks, I'm your man," David says in a press release circulated by HGTV last month. "Six numbers change these winners' lives forever, and I live for taking them on the search of a lifetime to find their dream home."
In Episode 1, David will visit North Port, Florida, to meet with lottery winners Tom and Renne, who are looking to leave their modest two-bedroom home to tour a celestial ranch property.
"We're rich! We're rich," Renne yells as they tour the home.
"Never in a million years would we even look at this," says Tom. "Holy smokes!"
"Can you believe we can afford this?" Renne asks her husband.
"What? It's only $5.5 million," he replies.
David thinks he can help the couple find exactly what they're looking for.
"I was able to show Tom and Renne three really fantastic properties that they hadn't previously considered," he said. "I loved being part of this amazing journey."
You can even tour some of the dream homes from the show by clicking here!
The first of the show's 14 episodes will premiere February 9 on HGTV.
(Photo: HGTV)