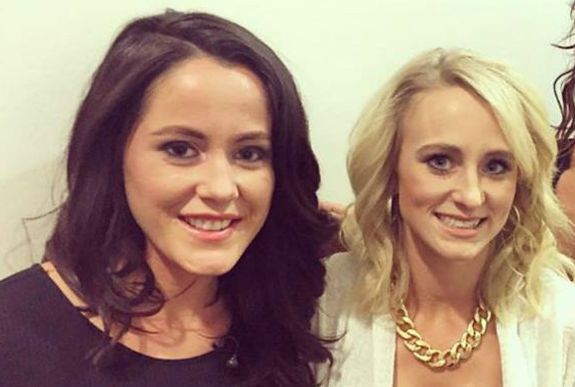 Jenelle Evans came out verbally swinging at her Teen Mom 2 co-star Leah Messer on Monday, accusing Leah of being "dramatic" and warning her co-star to keep her name (and the name of her husband David Eason) "out of her mouth!"
Jenelle was apparently fuming when she found out that Leah had spoken about David during an appearance on Kail Lowry's Coffee Convos podcast last week.
(The Ashley wrote about the conversation and Jenelle admitted on Twitter that she found out about it via The Ashley's article.)
On the podcast, Leah declared that she was "terrified" during the last 'Teen Mom 2' Reunion when David pulled out a knife and began slashing balloons. Leah also admonished David for drinking too much while filming a New Year's Eve party scene with the rest of the cast.
"I don't even remember if [David was mad] because they were not serving any more alcohol or…but we were there for work!" Leah said on the podcast. "I mean, you can have a few drinks socially but, it's not that appropriate."
Kail declared that she would never allow her kids to be around David, and Leah agreed that her kids would no longer attend Reunion tapings.
Jenelle was not happy when she found out what Leah had said, and she used Twitter to make it known. She came at Leah in a series of tweets.
"Hey Leah, last time I recalled… the kids weren't at the New Years party we were 'working at,' Stop being so dramatic," Jenelle tweeted. "My name or my husband's should never come [out of] your mouth, but for a podcast and ratings?! Of course. #Fake"
Kail and Jenelle have been at odds for years, and Jenelle implied Kail had convinced Leah to side with her. When a fan suggested that the girls should "learn to get along," Jenelle pointed the blame at Leah and Kail.
"Yeah tell [Leah] that," Jenelle replied. "Whatever Kail tells her to do she does it LOL.
"Kail uses anyone she can to gain whatever she can," Jenelle added. "Remember that."
After retweeting a tweet that declared that "no one listens to podcasts anyway," Jenelle suggested that she get her own podcast to spill secrets about her co-stars.
"Why is my life your everyday topic for your show?" Jenelle wrote. "Maybe I should be the one with a show then…"
Briana DeJesus–who has frequently feuded with Kail herself on Twitter– also jumped into the online fight.
"F**k em," Briana told Jenelle of Leah and Kail.
At press time, Leah and Kail had yet to respond to Jenelle's tweets.
If you want to read the article that started the drama, click here!
(Photo: Instagram)