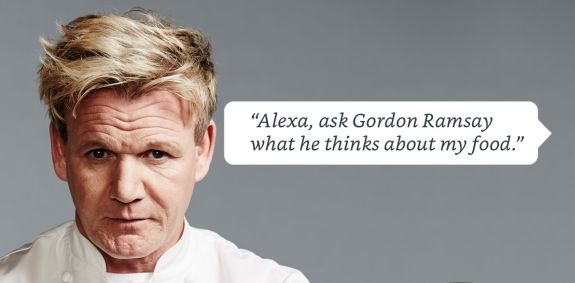 Have you ever been cooking dinner and thought to yourself, "I wish Gordon Ramsay was here to tell me how much my cooking sucks?"
Well, you're in luck. That's now a possibility, thanks to a new Alexa Skill.
The famously grouchy chef and star of Hell's Kitchen and Kitchen Nightmares can now be beamed right into your kitchen to make you feel like you're on one of his reality TV shows.
The free skill for Amazon Alexa is simple to use: just tell your Alexa what you made for dinner and Gordon will give you his best critique of the food.
One YouTuber put the Gordon Ramsay skill to the test. After making (what he thought was) a nice turkey sandwich, he asked Alexa what Gordon Ramsay thought of his dish.
"How can you do this to food and f***ing sleep at night?" Gordon replied.
The skill has been a big hit with users so far.
One Amazon reviewer declared the Gordon skill to be "hilarious" because "no matter what you ask Gordon to try out he will always be truthful and honest. Ask him how my Super Bowl party feast is and he is sure to tell you how f**king great it is in his own special way."
"So funny," another user wrote in a review. "I think this was a great idea and a great new way to incorporate funny and popular sound with Alexa!! Definitely recommend. Beyond gut wrenching and as funny as it can get. Hysterical!"
The gruff reality star –who once famously put two pieces of bread on either side of a chef's head and declared it to be an "Idiot Sandwich"—says he's happy to bring some fun into the kitchen.
"I can't wait for everyone to have fun with this new skill for Amazon Alexa. I'll review any dish you throw at me." Gordon said in a statement. "We all need to lighten up in the kitchen sometimes, don't we?!"
To get the Gordon Ramsay skill for Alexa, click the photo below: