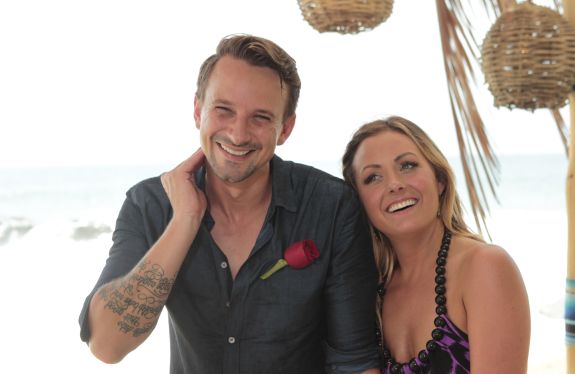 Bachelor in Paradise couple Evan Bass and Carly Waddell became the proud parents of a baby girl on Thursday!
People broke the news that the couple, who met on the show's third season, welcomed daughter Isabella Evelyn at 1:58 p.m. on February 15. The baby weighed in at 6 lbs., 8 oz. and measured 18 ¾ inches long.
"It was a perfect birth, no problems at all," Evan told the magazine. "We were supposed to induce her today but Carly's water broke 15 minutes before our alarm went off so Bella is setting her own birthday! Carly is recovering well and the baby has had her eyes open for hours. I cried a lot during the birth! We are smitten and cannot stop kissing, cuddling and adoring her."
Evan and Carly got married (in 'Paradise,' naturally) in June 2017 and discovered that Carly was expecting while they were in Mexico, right after their wedding. The positive results came via a Mexican pregnancy test.
Carly and Evan have been documenting Carly's pregnancy on social media.
"ISA-FREAKING-BELLA IS HERE AND SHE HAS CHANGED MY LIFE," Evan tweeted on the day of his daughter's birth. "Also Carly is a freakin boss and just made the birth look easyyyy —Love y'all!"
"Y'all – she's perfect," he wrote on Instagram. "Isabella Evelyn Bass. My heart is toast. Like toast with jelly cuz my dang heart is shook. I love her I love everyone I love love. Thanks for the encouraging words. (Also, hahaha can ya believe this is even happening. Who would've thought?!?)"
Isabella is the first child for Carly and the fourth for Evan, who has three sons from a previous relationship.
This is the second child to be born to a 'Bachelor in Paradise' couple. In August 2017 Jade Roper and Tanner Tolbert— the only other couple from the show to get married– welcomed a baby girl named Emmy.
See the cute first pictures of Baby Isabella and her family below:
(Photos: ABC, Instagram)