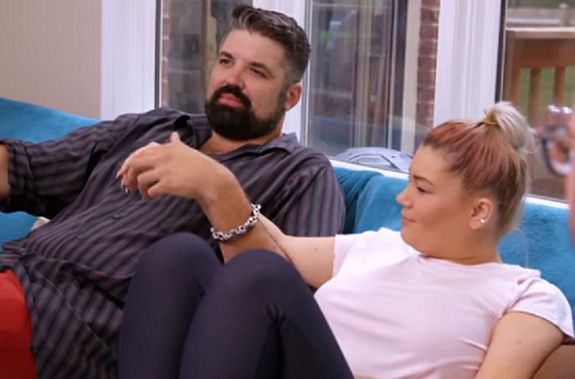 Amber Portwood wants the world to know that she's "so happy" with her boyfriend (and soon-to-be second baby daddy) Andrew Glennon!
The Teen Mom OG star praised Andrew on Twitter earlier this week in what appears to be a reaction to a scene that recently aired on the show. During the tense clip, Amber is shown yelling at Andrew because he disagreed with her about finding out the gender of their unborn child. (She even busted out her signature argument phrase, "I'M DONE!" for the occasion.)
Amber was also seen screaming at her ex, Matt Baier, in a just-released clip from the upcoming season of Marriage Boot Camp Reality Stars: Family Edition.
Amber used the opportunity to let the show's fans know that things with Andrew aren't nearly as dramatic as they were with Matt, despite what they saw in the 'Teen Mom OG' clip.
(Warning: Amber's Porta-Potty mouth is not censored in the clip below.)
"No matter how crazy I get I still love my man," Amber wrote on Twitter about Andrew. "I don't scream at Andrew lol…we're so happy together."
Amber then praised Andrew while also simultaneously insulting Matt, whom she accuses in the 'Marriage Boot Camp' clip of hitting her.
"[Andrew] doesn't hit me or cheat on me so yeah I treat him like a real man," Amber wrote. "If you are a liar and cheater yeah bless your soul lol and get out of my way.
"Thank god I have a good man to lean on now!" she continued. "No more drama and no more screaming! I don't like men who are liars and cheaters so if I'm a bitch for standing up for myself then so be it…I'm very happy with myself; however I found a man that is my rock…"
As The Ashley previously reported Andrew knocked Amber up just weeks after they started dating. The couple recently revealed that Amber is due to give birth to a baby boy on May 18. They plan to name the baby James after Andrew's late father.
(Photo: MTV)