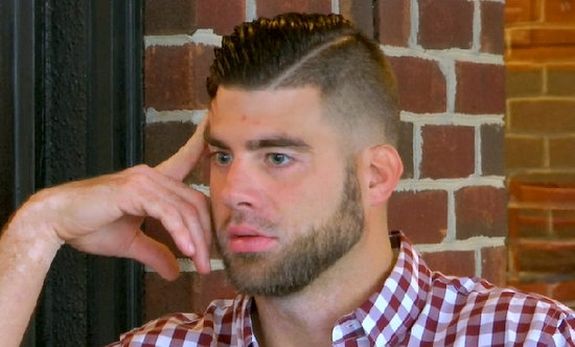 David Eason has only had a Twitter account for a few weeks, but he's already managed to anger a nice chunk of Teen Mom 2 fans with his social media rantings.
On Monday David took things to a whole new level when he went off on transgender and gay people in a series of hateful tweets, comparing members of the LGBTQ community to dogs and stating that they are the way they are due to bad parenting!
David initially began posting tweets defending his right to own guns. (He did, after all, post a photo of Jenelle holding an assault rifle on the same day that the Florida school shooting took place.) Somehow, though, the Twitter conversation shifted from guns to David's thoughts on gay and transgender people.
(Some of his original tweets have been deleted, but others remained on his Twitter account at press time.)
When someone pointed out that David's parenting skills could use some fine-tuning, David unleashed his anger on the LGBTQ community.
"And just what makes you think you have the right to tell me how to be a parent?" David replied. "Because you think you know me? Lmao why don't you go tell the homo and transgender parents to start teaching their kids better morals? Oh I forgot that's supposed to be normal."
When another Twitter user replied to David's comment, stating that she had a transgender child, David again implied that people are transgender because of the way they were brought up.
"You need to learn some parenting skills," David tweeted at her.
Unfortunately, the rant didn't stop there. When another Twitter user asked David if he planned to teach his three children to hate gay and transgender people, David revealed that his kids would not be allowed to be gay or transgender or be around people who were.
"I'm going to teach them not to associate with them or be that way…If you lay down with dogs you get up with fleas," David replied.
(Of course, David's comments are incredibly ironic, considering his own wife, Jenelle, admitted to hooking up with her best friend, Tori Rhyne, for years. In fact, there are many photos floating around the Interwebs of Jenelle and Tori hooking up. In 2013, Tori posted a video in which she described one of her sexual encounters with Jenelle in graphic detail. Be aware, the video contains a lot of profanity.)
Anyway, David's rant continued when someone told him he had a lot of hate in his heart, and that he hoped God would have mercy on David's soul.
"God will have mercy on me but not those who are an abomination," David replied.
When someone called David "homophobic," the 'Teen Mom 2' dad seemed to not understand what that term meant. He replied as if 'homophobic' meant that someone was accusing him of being scared of gay people.
"Homophobic? You really lost it now, I'm not scared of s**t especially a homo," David told the person. "Never said anything about being scared of homos."
When a person on Twitter told David that her daughter is a lesbian and that his words were offensive, David came back with another hateful remark about lesbians having kids.
"Well if she is lesbian than she wont be able to have kids right? Or she could adopt some troubled children and confuse them even more right?" he told her.
"I would rather be totally radical than to walk around acting like I'm perfect," David wrote later.
This is not the first time that David has gotten himself into hot water regarding this topic. During the last 'Teen Mom 2' reunion special, David was caught on camera using a gay slur to try to insult Dr. Drew Pinsky.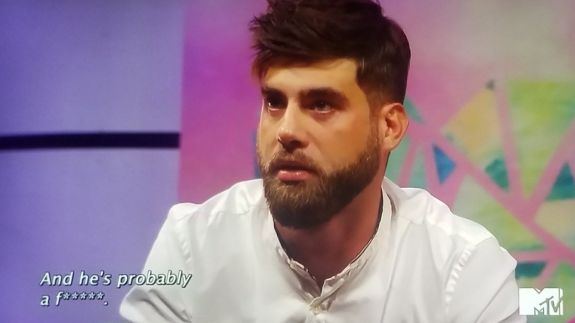 "He's probably a fa**ot," David said of Dr. Drew.
David's Twitter rantings are very similar to what Counting On star Derick Dillard said last year in regard to transgender reality TV star Jazz Jennings. After Derick voiced his negative feelings about Jazz and other transgender people on Twitter, TLC– the network that airs 'Counting On'– revealed in a statement that it would no longer feature Derick on its TV shows. (Derick later stated that he left the show and was not fired.)
The Ashley has reached out to MTV to see if the network had any comment on David's rant.
Jenelle has yet to comment publicly on what her husband wrote.
The Ashley will update this story when more information is available.
To see how the other 'Teen Mom' franchise cast members reacted to David's tweets, click here!
UPDATE: As of Monday night, Jenelle and David had both deleted their Twitter accounts.
(Photos: MTV)