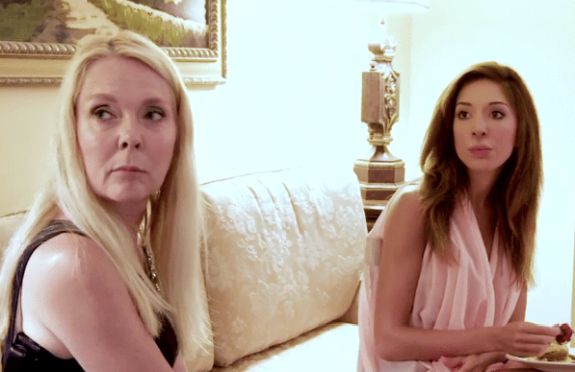 Debra Danielsen is speaking out and hoping to put some distance between herself and the controversial statements her daughter, Farrah Abraham, made on Thursday night.
As The Ashley previously told you, Farrah was stopped by TMZ while in Los Angeles and, while answering their questions, admitted that she and her nine-year-old daughter Sophia have naked photos of each other on their phones.
The former Teen Mom OG star's statements did not go over well, and Farrah attempted to justify what she said by stating that it's completely normal for her to have naked photos of her pre-teen daughter because "my mother has pictures of me, being a baby, running all over the yard naked," Farrah said.
In an exclusive statement to The Ashley, Farrah's mom says that's not true at all!
"I have no photos of Farrah naked ever," Deb told The Ashley, "especially outside in our yard! Our neighborhood would never be a place for that especially when she was small. The only place we were naked was in the bathroom– which is normal when you are having a shower or beauty treatments."
Debra added that the location of the home Farrah grew up in was in a busy area, so she wouldn't have let her daughter run around naked in the yard– even when she was little, as Farrah claimed.
"Our house is across the street from the fire station, public library and a Catholic church," she said.
Debra also commented on another statement that Farrah made in her TMZ interview. Farrah, while talking about the pending lawsuit she has against Viacom and the producers of 'Teen Mom OG,' Farrah was confident that she would win.
"I've never lost any lawsuit I've ever been," Farrah stated.
Deb said there's a good reason for that.
"Farrah has never been in a lawsuit," Deb told The Ashley.
(Photo: MTV)