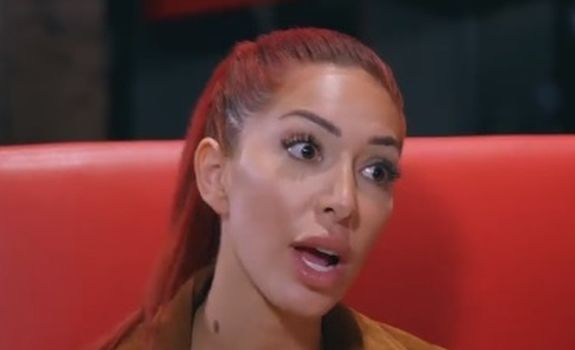 Farrah Abraham may not have a job on Teen Mom OG anymore, but she does have a new man!
E! News broke the news that the fired 'Teen Mom' is now dating actor/Hollywood stuntman Aden Stay. They made no attempt to hide their "love" as they lunched in a paparazzi-filled Los Angeles restaurant on Wednesday. Farrah confirmed the relationship to E! and basically busted out a statement that was very similar to the one her ex-'Teen Mom' co-star, Amber Portwood, gave when she went first public with her boyfriend Andrew Glennon, declaring this relationship to be "love at first sight."
"I don't want to say too much, but I know what love at first sight is and this is that. I can't believe I'm even saying this as I literally thought I'd never have that feeling about someone ever again after Sophia's father [Derek Underwood] passed away.
"I simply can't express how lucky of a woman I am and I feel," Farrah added. "It was like love at first sight."
Farrah is already declaring her and Aden to be…wait for it…a "Power Couple." Sigh.
"Aden is smart, a great father, working in entertainment and films for over 15 years," Farrah told E! "We're a great team and power couple. I met him in Beverly Hills and literally had a feeling as soon as I saw him…this is my man!"
Farrah told Entertainment Tonight that Aden is oblivious to her reality TV past.
"[It's] truly a blessing to meet an amazing man who doesn't watch my past shows or listen to untrue and negative press," Farrah said.
Farrah's ex-boyfriend, Simon Saran, has yet to comment on Farrah's new dude; however The Ashley was able to dig up some general facts on Aden.
Age: 40 (This makes him 14 years older than Farrah, by the way.)
Job: Aden is actually employed, working as a stunt performer on movies such as "Jumanji: Welcome to the Jungle" and "Pitch Perfect." He also has "multiple businesses outside of entertainment including a construction company," according to E!
He studied business at the University of Las Vegas and opened two business in Hawaii, including a Mexican restaurant.
Family: He is a dad to two little girls, Logan and Madison, who live in Hawaii with their mother. He appears to be on good terms with their mother.
Farrah told E! she had yet to meet Aden's girls, but she looks "forward to having our children meet soon in Hawaii where he lives."
Aden has already met Farrah's daughter Sophia.
Exes: He previously dated actress Rebel Wilson. He was her date for the 2017 MTV Movie Awards, which Farrah actually attended with her daughter Sophia.
Of course, this is Farrah, so it's unknown if her relationship with Aden is real, or if it's simply a publicity stunt. After all, Farrah has been known to "fake" relationships in the past. In 2013, she claimed to have been in a relationship with her adult film co-star, James Deen, but James adamantly denied that.
Earlier that year, she also was accused of faking relationships with Carson Underwood and DJ Brian Dawe in attempts to get them to go on Couples Therapy with her. (She went on the show solo after the men both refused to appear.)
Anyway, to see "totally candid" photos of Aden and Farrah together, click here.
To read what Farrah's ex-boyfriend, Simon Saran, had to say about Farrah's new relationship, click here!
(Photo: MTV)