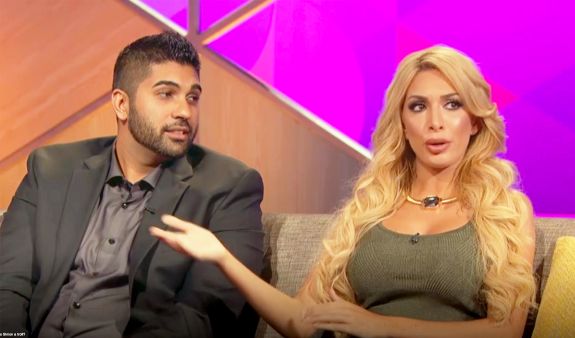 Farrah Abraham just went public with her new boyfriend, Hollywood stuntman/actor Aden Stay, gushing about how it was "love at first sight" between them. Aden has yet to publicly comment on his new relationship, but Farrah's ex, Simon Saran offered his two cents on it!
Simon, who dated Farrah off-and-on for several years (and several seasons of Teen Mom OG) told The Ashley that Farrah, who was recently fired from her MTV gig, may be a good match for 40-year-old Aden.
"Good for her," he told The Ashley. "She needs an older man in her life. Plus she needs the financial support from him. Guys like that are more willing to give [that]."
While Simon didn't elaborate as to why Farrah needed "financial support," he did state that he's happy for his ex.
"I wish them the best," he said.
Farrah and Simon haven't had much public interaction since they got into a nasty Twitter spat last July. In September Farrah told E! News that her daughter Sophia forbid her to talk to Simon.
"I'm not allowed to talk to him because Sophia doesn't like him," she said.
As The Ashley previously told you, Farrah met Aden– who is a divorced father of two–in Beverly Hills and was happy to tell multiple outlets how great he is. The couple posed for paparazzi pics (as you do) after lunching in Los Angeles on Wednesday.
(Photo: MTV)