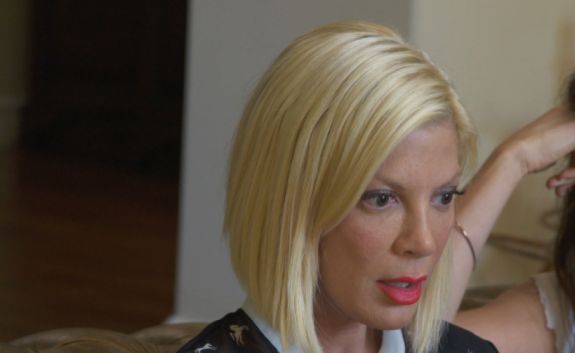 There's (more) trouble in Tori-land!
Police were called to the home of Tori Spelling and her husband, Dean McDermott on Thursday morning due to what police confirmed to be a domestic dispute.
The incident happened early Thursday morning, with the caller (believed but not confirmed to be Dean) stating that the True Tori star was being "very aggressive and going through some sort of mental breakdown."
The Blast reports that, in the audio of the 911 call, the caller described Tori as "mentally ill."
The call on Thursday morning marks the second call this week made to 911 from Tori and Dean's home. Page Six reported that Tori had called 911 herself on Wednesday night to report a break-in at her home. However, it turned out that the "intruder" was just Dean coming home.
On Thursday morning, Dean was photographed pacing the pavement while speaking to police. After the police left, Tori's "gusband" (gay husband) Mehran Farhat showed up to comfort her. Multiple media outlets are reporting that Tori was not taken the hospital.
One day before Tori's alleged "breakdown," she had been hanging with Bachelor alum Corinne Olympios and filming a segment for "Secrets of the Sauce." Corinne says that Tori discussed being overwhelmed by having had so many kids in a short time. (Tori and Dean are the parents of five children: 10-year-old Liam, nine-year-old Stella, six-year-old Hattie, five-year-old Finn and one-year-old Beau.)
"She actually sat there quiet for a little bit," Corinne told TMZ. "Then the host of the show that we were all shooting for came in and then we all started chatting….maybe [having that many kids] is just really stressful on her, I don't know, but she seemed OK.
"She had made a joke about how she was sticking around [the set] a little longer so the husband could take care of the baby a little longer," Corinne added. "Maybe she was just, like, feeling stressed out at home, I'm not sure."
Motherhood may not be the only thing Tori is stressed about, though. She and Dean have been in the press for several years due to their financial issues. In April of 2017, the IRS drained the couple's bank accounts over back taxes. In September, Dean was reportedly so behind in paying his $1,500-a-month child support payments to his ex-wife, Mary Jo Eustace for their son, Jack, that he was almost jailed.
In November, Tori was ordered to appear in court over a $220,000 loan she and Dean had defaulted on.
Tori and Dean's reality TV show, 'True Tori' hasn't aired since 2014. Tori guest-starred on various reality and talk shows in 2017, but hasn't had an acting role since 2016.
While Tori hasn't posted to her social media accounts since January, Dean wished their son, Beau, a happy first birthday via Instagram on Friday. He did not make any mention of the incident that occurred at their home the day before.
(Photo: Lifetime)