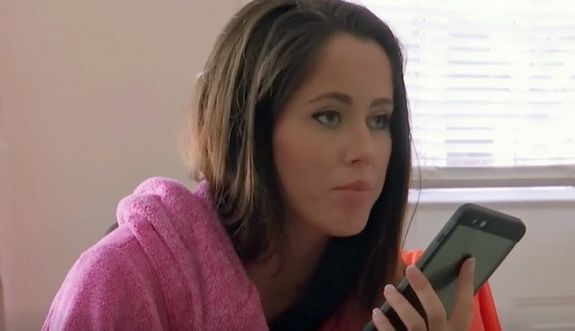 It's been over a week since David Eason was fired from Teen Mom 2 and, so far, his wife, Jenelle Evans, has remained silent on her own employment status and her future with the network. This has caused some fans to wonder if she was given the boot, too.
In an effort to right the wrong info that's being churned out by various tabloids/clickbait sites, The Ashley is answering your questions regarding the status of Jenelle's spot on 'Teen Mom 2.'
Q: Did MTV fire Jenelle?
According to all of The Ashley's behind-the-scenes sources, the answer to this question is NO! Jenelle was not fired by MTV, Viacom or the producers of 'Teen Mom 2.' She is still employed and still has a spot on the show. David was indeed fired and will no longer appear on 'Teen Mom 2' or be allowed to attend the show's reunion tapings.
"Anything in regard to the Jenelle situation is being kept pretty hush-hush," one source tells The Ashley. "But she is not fired, 100 percent, no matter what's being put out there online."
Q: Did Jenelle quit the show?
Again, the answer is no.
"Jenelle has given the [producers] no indication that she's planning to quit if and when the show gets renewed for another season," a source told The Ashley. "She did not quit when David was fired, as some sites reported."
Q: Is Mackenzie McKee replacing Jenelle on 'Teen Mom 2?'
Again, no.
The Ashley broke the news several weeks ago that MTV was considering replacing fired 'Teen Mom OG' star Farrah Abraham with either Mackenzie McKee (of 'Teen Mom 3' fame) or Mackenzie Edwards (the wife of Ryan Edwards). Neither girl was going to replace Jenelle.
As to whether or not Mackenzie is replacing Farrah on 'Teen Mom OG,' The Ashley can only say that it's almost guaranteed to be happening. However, as Roundup readers know, The Ashley will not confirm something like this to be true until her own sources confirm it, or MTV does. Despite the fact that this has been circulating on various news sites as confirmed, it has not been confirmed by MTV, and The Ashley's sources say they haven't heard it's for sure, either.
The Ashley believes, again, as she did several weeks ago that Mackenzie McKee will be getting the spot, but she will not post it as fact until she gets 100 percent confirmation.
Q: What's been happening with Jenelle since David got fired?
As The Ashley told you last week, Jenelle was getting the cold shoulder from the show's producers and crew, and that those associated with 'Teen Mom' weren't even returning her calls and texts when she was scared her job was in danger.
The Ashley's sources tell her that this continues to be the case.
"In a sense, Jenelle is cut off from communication for the time being," one source tells her. "[Production] is hoping that freezing Jenelle out will make her realize she needs 'Teen Mom 2' more than the show needs her and that will put them in a better place to negotiate if another season is in the works.
"I think they are hoping that the girls will see that the show can go on without them, and they can be replaced," the source added.
Another source tells The Ashley that last season's tumultuous 'Teen Mom 2' Reunion taping was the last straw for the producers.
"Finally, after all these years, the show's bigwigs said, 'Enough!'" the source said. "They love the drama but are tired of the girls' entitled and rude behavior and have made the decision to start really cracking down on them and putting a stop to it. They want a better work environment for everyone. Farrah's firing was already in the works, but that's another example. They are just tired of the girls running the show and they are trying to take back some control, finally, which is a godsend to the show's crew."
(Photo: MTV)