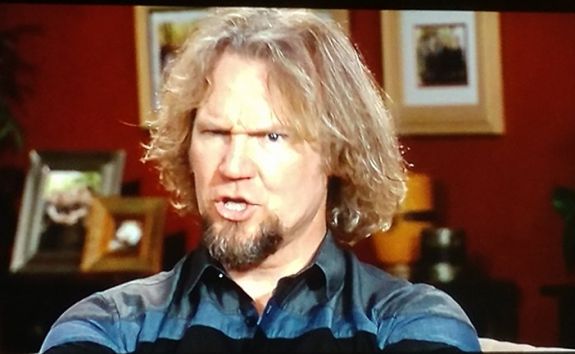 The protest fun continues this week on Sister Wives!
On the last episode, Janelle, Meri and Mariah hit the streets last episode to let people know "they're here," but this week, nearly the entire Brown clan clomps over the state line to Utah to argue that Kody should be allowed to sleep with as many 'wives' as he wants!
Since this is a Very.Special.Episode of 'Sister Wives,' given that the Browns are "risking arrest" for being polygamists in Utah, TLC has busted out the Very.Dramatic.Music. Hold on to your claddagh rings, guys, because this episode is going to be intense!
We start out with Kody gathering the sister wives together to discuss the lawsuit that they previously filed against the Utah state attorney for "coming after them" for being polygamists. The Supreme Court has decided not to hear their case and Kody is pissed. He is storming around with his hair flying behind him.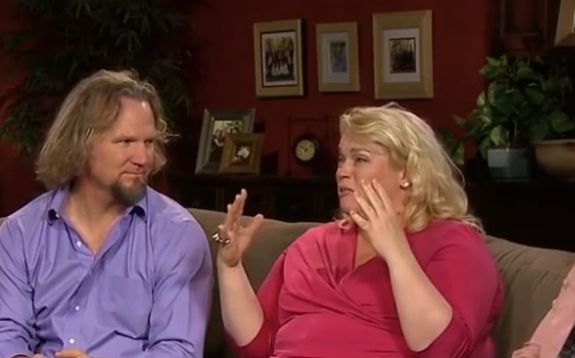 He demands that that everyone meet him in Christine's "library" immediately. (Um, why is Kody acting like he lives in the mansion on the Clue gameboard? Christine's "library' is basically a room with like five books and a conference table from Big Lots.)
Kody is all red-faced and sweaty as he tells his wives that someone came after them and tried to arrest them.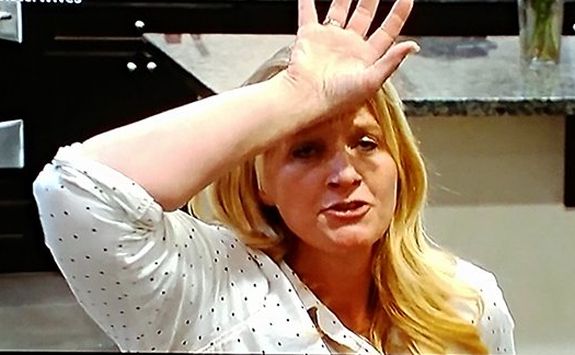 OK…let's stop for a minute here. When the hell did anyone try to arrest Kody and the sister wives? Do you think for one minute if that honestly happened, the TLC cameras wouldn't have swarmed the scene, capturing every single second of the arrest attempts? They've resorted to regurgitating catfish storyline from 2015 and staging sister wives fights in therapy sessions just to keep this show afloat.
Do you really think they would have missed a chance to let us watch the police attempt to haul Meri off in handcuffs, all while she screams that the handcuffs don't match the Lularoe leggings she's wearing?! I think not.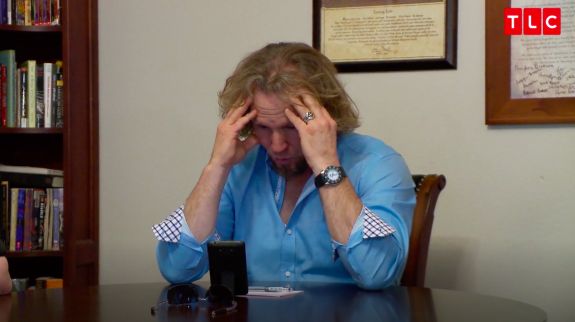 To prove to us how badly the Brown family has been persecuted over the years, we are treated to a look back at the start of 'Sister Wives' when Kody and the gang were being investigated for polygamy after going public on the show.
"That's why we left Utah," Christine says.
Janelle, who is the only one of these knuckleheads who seems to actually pick up a newspaper every once in a while, makes a suggestion as to how they can right the wrongs that have been done to them.
"There's a lot that political activism can do," Janelle says. "This is the 21st century and this is America."
Still, she doesn't seem thrilled to have to go to another protest.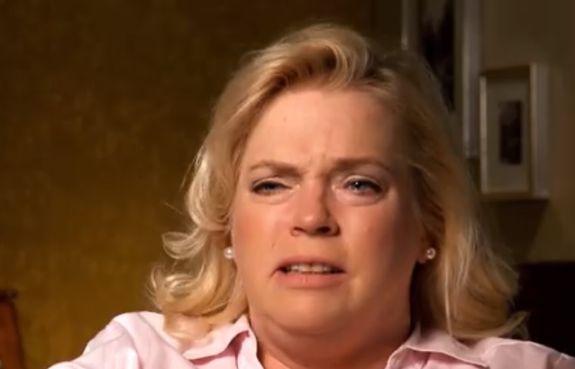 Robyn handles the situation in her signature way: she bursts into tears. Sobyn Robyn moans that her family can never return to Utah without being in fear of being arrested.
Kody says his friend is organizing a march to protest a new bill that Utah is trying to pass that would make it illegal for someone to live with multiple people whom they call their husband or wife. Violators of the law would go to prison.
Christine doesn't really want to do the march because she is afraid of getting arrested. Kody, as per usual, doesn't give a flying hoot what his wife thinks.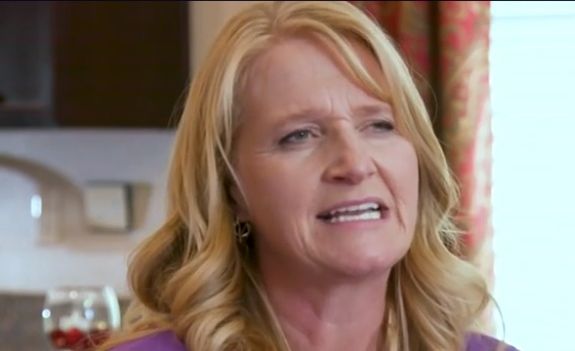 Kody reveals that this friend is Joe Darger. ('Member him? He and his twin wives plus one more were featured on the My Three Wives TLC special a few years back.) He is planning to hold this protest at the Utah state capitol building.
Kody feels that it's imperative that his family join the protest. In fact, he is insistent that they all hoof it over to Utah to do the march so that polygamy isn't illegal anymore, and polygamists– and he–can run for office if they want to.
W…T…F…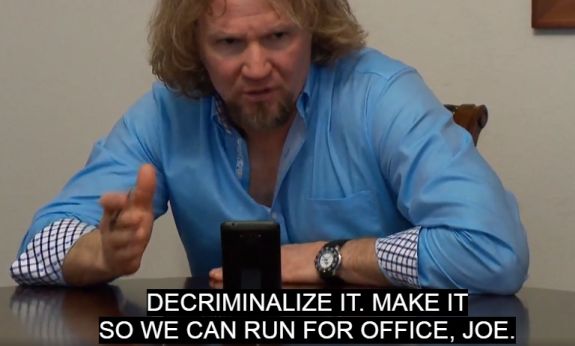 It's time once again for Kody to demonstrate his "smarts." He has clearly been paying attention to the "Word of the Day" on his Ziggy calendar and he is ready to show his wives what he's learned.
"It's like a live or let live country…or it's supposed to be," Kody says. "So why is polygamy still marginalized? Because one section of polygamy has a sexual abuse problem? Prosecute the sexual abuse then and leave me out of it."
Kody says he's "aching for his civil liberties."
The family decides to pray about it, while Christine breaks out in crying shrieks about how they must go to the march, due to Kody's assorted aches, even though she doesn't want to.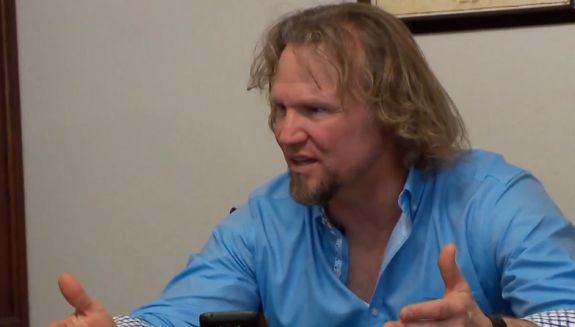 Later, Robyn also breaks down in tears, calling herself a "fierce woman."
"Nobody's mocking your tears here," Kody tells her.
Um….
Her name rhymes with Sobbin'! For goodness sakes, you can't lob that softball in front of The Ashley and expect her not to hit it! Come on!
Robyn cries and says she can't go to the march because she has young children who will be left to fend for themselves should she and the rest of the crew get thrown in the slammer. Kody will just have to quench his aches without her!
Kody & Co. gather the kids together and ask them to go to the march with them. Paedon (who is the really tall "Background Kid" we rarely hear from) says he doesn't want to go.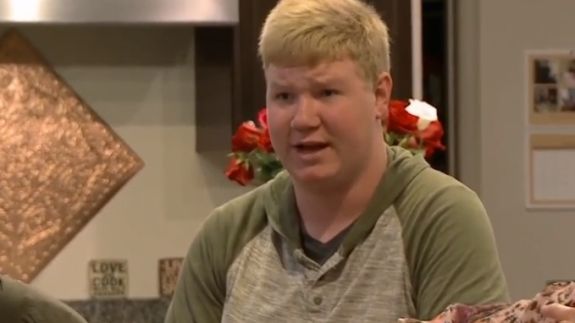 Paedon finally get a few minutes of precious airtime.
"I just don't want to, there's not a reason," he says. "I just really don't want to."
Christine is kind of shocked that her son doesn't want to go, and I'm not sure why. I mean, does anyone actually want to spend hours in a car trapped with Kody (not to mention Christine, who seems quite prone to road trip singing and…we all heard how that goes…)
Christine tries to guilt him into going, but Kody says he doesn't want to force anyone to go. Paedon eventually reveals that he's still mad that he was forced to leave Utah and move into the Cul de Sac of Broken Dreams in Vegas because of all this crap.
Maddie's husband, Caleb, says they will go to the protest to support the family even though they don't personally believe in polygamy. It's only fair, given that the family is literally supporting him and his pregnant wife at the moment.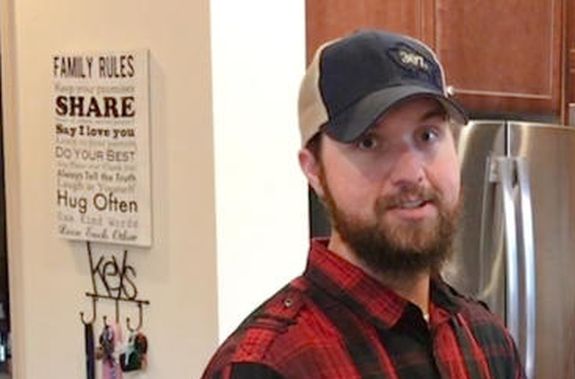 As the sister wives get ready to leave, they draw up paperwork to give Robyn temporary guardianship of their kids in case they get arrested. It's actually a very smart idea and there's no way in holy hell that Kody thought of it. (My bet's on Janelle!)
"I love that I can trust Robyn completely to take care of my kids," Christine says. "If they see how much I trust Robyn with my kids, do you think that would change (the legislators) minds?" she asks.
Nope.
"We've been felons for 100 years and there's more of us now than there was then," Robyn says. "We are populating."
Yes, the sperm of Kody has been fruitful. Excuse me while I go vomit up my real steak street tacos for saying that.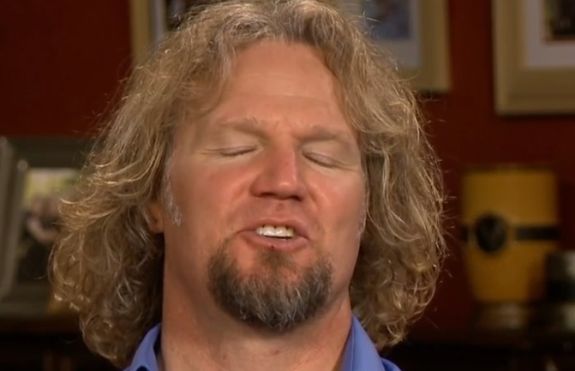 Later, it's the day before the march and Kody, Meri, Janelle, Christine and various kids are headed to Utah.
Kody explains to us that it's not fair that all polygamists get judged by the few bad apples like the FLDS and Warren Jeffs. Robyn is, of course, sobbing her eyes out as she stays behind and watches her family "head into the battle zone."
Good Lord. They're acting like Kody & the Crew are heading to Normandy to fight the Nazis or something. Between Robyn sobbing, and the dramatic music piping in, I'm half expecting Tom Hanks to strap on his Private Ryan gear and lead the Browns to the fighting grounds.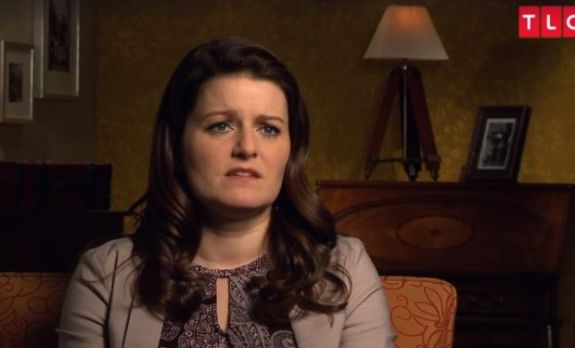 Once they arrive in Utah, the Browns meet with other polygamists to get prepared for the march. Kody is still worried they might get arrested.
"We're not just your Average Joes just showing up," he says proudly.
Joe Darger asks anyone if they have any ideas for songs to sing during the protest and I'm waiting for Christine to volunteer to sing "Let Me Call You Sweetheart" for the crowd.
The next day is the big march. It's raining, and Kody arrives with his hair moist and spindly, looking like Sammy Hagar after a four-day bender. That's enough to scare any law-maker into shape!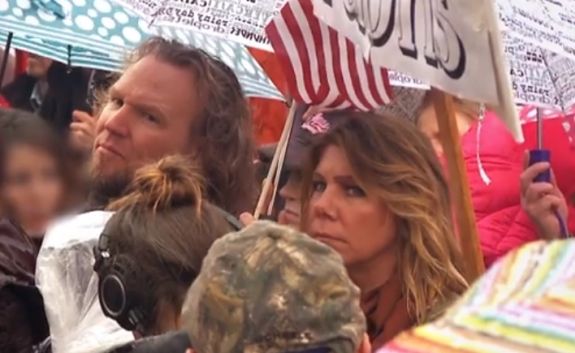 Kody, Joe and their group of a few hundred have gathered in front of the capitol building.
Never ones to miss out on the opportunity to protest (and/or show off their matching wardrobes) Mariah and her girlfriend Audrey, and their friend Nicole show up. Meri is moved to tears by their support.
Um…it's only fair that they trek a few miles to go carry a sign for Meri and Janelle. After all, Meri and Janelle carted themselves across the country, refrained from scratching each other's eyes out and risked urinary tract infections due to lack of bathrooms in order to support Mariah and her cause!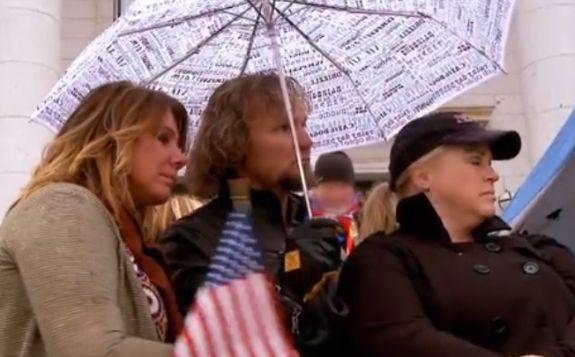 Everyone begins to chant. Kody is yelling that he's a father, not a felon. This may be true, but his hair is certainly a crime against humanity.
Meri must have been maxing out her craft store credit card, because everyone has shown up armed with painted signs explaining why polygamy is not wrong and whatnot. Some of the sign slogans are downright clever so, again, we know that Kody didn't come up with them.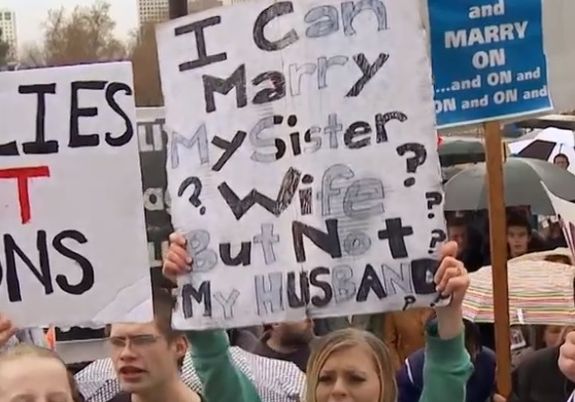 Joe asks Christine to make a speech since she grew up in a prominent polygamist family and married into a prominent polygamist family.
Joe, nooooo! Come on bro! Don't give Christine the microphone!
The crowd begins to chant, "Let's Make Utah Great Again" (which sounds a bit too close to "Let Me Call You Sweetheart" for comfort. She's going to think they're making a request!)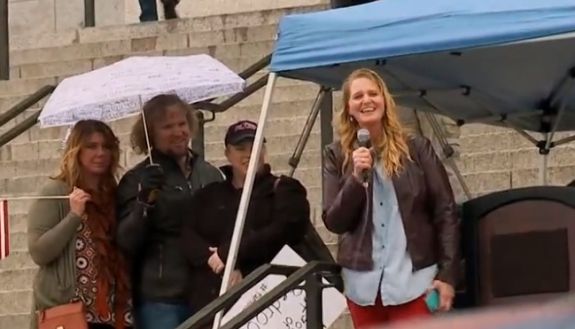 Christine takes the mic and starts buttering up Kody's bread in order to ensure he'll sleep in her hotel room that evening.
"So, I wanted you to know that I chose to marry badass Kody Brown," Christine says.
The crowd cheers, obviously because if Christine married him that means that no one else there will have to…hopefully.
Everyone is chanting and cheering and throwing up signs, but, in the end, their hard work is in vain. The anti-polygamy bill passes which means it's a felony to practice polygamy in the state of Utah.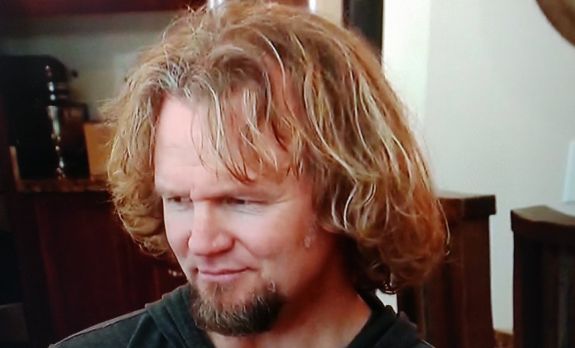 Kody and the crew are mad! They demand justice!
They won't get it next week, though. Instead, Meri and Kody will "go into battle" to save their marriage for the 5,000th time.
To read The Ashley's previous 'Sister Wives' recap, click here!
(Photos: TLC)