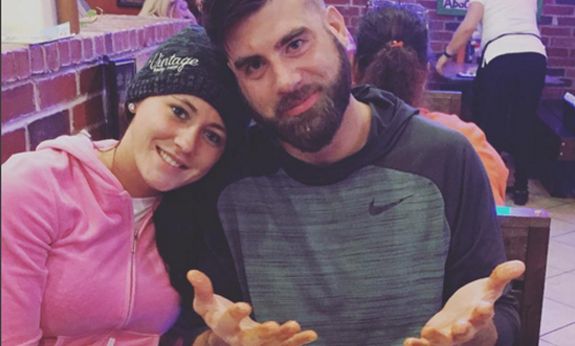 David Eason's second baby-mama Olivia Leedham is doing her best to keep the son she shares with David off "The Land" and away from the former Teen Mom 2 star and his wife Jenelle Evans. In court papers filed last week, Olivia– who is the mother of David's son Kaden–claimed that her ex's life has "deteriorated into chaos!"
According to Radar Online, the court papers state that Olivia does not want her son around David anymore. She listed David's "recent firing from his employment" [on 'Teen Mom 2'], as well as "potential substance abuse issues" and "marital strife" as some of the reasons she wants to keep Kaden off "The Land.""
[David] is exhibiting erratic and concerning behavior," Olivia, who has never appeared on 'Teen Mom 2,' claimed in her court papers.
David's relationship with his son (who is four) has been strained since the boy's birth. Olivia obtained sole legal and physical custody of Kaden after David was found guilty of having committed domestic violence against Olivia while she was pregnant with their son.
"[David] endangered the life of the child by pushing [Olivia] when she was eight months pregnant and leaving her in the middle of the road at night when she was seven months pregnant," the court papers from the incident stated. Olivia filed a restraining order, and David was not allowed to have contact with her or Kaden after that. In March 2016, David was arrested for approaching Kaden in a grocery store and violating the restraining order.
In February 2017, The Ashley broke the news that Olivia had a change of heart and was allowing Kaden to visit David occasionally.
"[David] and Ms. Evans appeared to be stable in both their own lives and in their relationship," Olivia wrote of that time period. "[They] appeared to be more focused on their children and…appear to be happy and to have a happy home."
In the paperwork Olivia filed last week, however, she states that David's life today is very different from how it was last year when she made the decision to allow him into Kaden's life.
Olivia stated that she has become alarmed by the change she's seen in David, both in "real life" and on 'Teen Mom 2.' She wrote that Jenelle and David both appear unstable and do not seem to have a happy home life. She cited Jenelle and David's televised fights as one of the reasons she wants Kaden to stay away from the couple.
"Despite knowing that he is being filmed for a nationally televised reality show [David] has regularly been seen arguing with Ms. Evans on the show," Olivia wrote. "[David] has allegedly become increasingly controlling of Ms. Evans and has alienated her from her family."
Olivia also stated that she feared David would get violent with Jenelle, just as he allegedly had with her.
"Based on her prior experiences with [David], or observations from the media, and her recent interactions with him, [Olivia] is concerned that domestic violence is likely to occur between [David] and Ms. Evans, especially in front of the minor child," the court docs state.
Olivia begged the judge not to force her to send Kaden to visit David.
"At this time it would not be in Kaden's best interest," Olivia wrote.
Radar confirmed that the custody case has been continued until April.
In addition to Kaden, David also shares one-year-old daughter Ensley with Jenelle, and nine-year-old Maryssa with his ex-wife. (In May 2017, The Ashley broke the news that David had been awarded full legal custody of Maryssa.)
David and Jenelle have yet to respond publicly to Olivia's newly filed paperwork.
(Photos: Instagram)