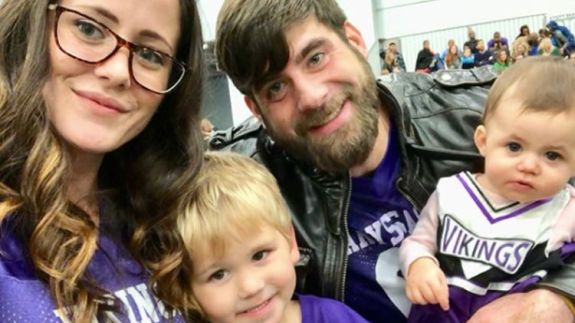 Jenelle Evans' husband David Eason won't be appearing on Teen Mom 2 anymore (due to MTV giving him the boot earlier this month), and now Jenelle is declaring that most of her kids are staying off-camera as well.
In a series of tweets posted Sunday morning, the 'Teen Mom 2' star (who has not been fired from the show and has not quit, despite tabloid reports saying otherwise), made the announcement about Ensley, the one-year-old daughter she shares with David.
"Ensley will not be appearing on 'Teen Mom 2' after this season," Jenelle wrote. "Keep up with me on IG for updates of the gorgeous little babe."
(Season 8B is basically in the bag. The other girls are currently filming the last few parts of the season, but Jenelle has not been filmed since David was fired several weeks ago. Ensley is featured prominently in the footage that was shot before.)
In another tweet (that has since been deleted for some reason) Jenelle stated that David's nine-year-old daughter, Maryssa (whom he has sole custody of) would not appear on the show any longer, nor would Kaiser, the three-year-old son she shares with her ex-soulmate Nathan Griffith.
"Nope [Maryssa will not appear], and not Kaiser either," Jenelle tweeted. "Maybe Jace but idk."
(Jenelle currently doesn't have custody of Jace, her oldest son. Her mother, Barbara Evans, is the boy's legal guardian and therefore would be the one to make the decision on whether or not he appears on television.)
Removing the children from 'Teen Mom 2' will result in the kids losing money. As The Ashley has previously reported, each child on 'Teen Mom 2' is paid independently of their parents for appearing. Most of the main girls have stated that, after eight seasons, their children are all financially set for college thanks to the money they've earned for appearing on the show.
As of right now, MTV has not announced if it will renew 'Teen Mom 2' for a ninth season or not; however, The Ashley will update this when she finds out!
To read the latest on Jenelle's employment status with MTV, click here!
(Photo: MTV)