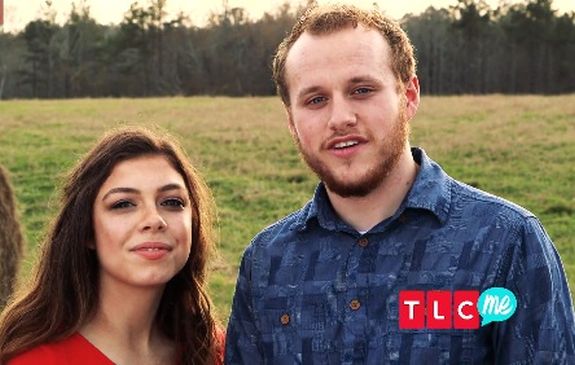 The Duggar Family is marrying off yet another one of their 19 children!
Josiah Duggar announced on Monday that he is now engaged to Lauren Swanson, the girl he's been courting for less than two months.
Us Weekly reported that Josiah proposed to Lauren on the exact spot that Lauren's father proposed to her mother.
"This is an exciting, big step in our lives, and the whole thing was very meaningful," Josiah told the magazine of the proposal. "There's a lot of family history on this property, making it a special place for Lauren."
Josiah will be the seventh Duggar child to get married (and the third in a one-year span!) Although he is 21 years old, his bride-to-be, Lauren, is only 18 years old.
Josiah and Lauren did not reveal when exactly they are planning to get hitched, but they've been spending a lot of time together over the past few months. In fact, Lauren accompanied Josiah and his family on a trip to Australia and New Zealand in January.
"I'm really excited to be getting married to Josiah," Lauren told Us Weekly. "Everything about the engagement was such a special moment for me. I'm especially looking forward to spending the rest of my life with him!"
Like Josiah, Lauren comes from a very large and very religious family. She is the daughter of Dwain Swanson, who is very connected to the Duggar's church through ministry. The Swansons have attended various Duggar events over the years, including the wedding of Jill and Derick Dillard.
Josiah's parents, Jim Bob and Michelle Duggar posted a congratulatory message to Josiah and Lauren.
"We are so excited to announce that Josiah and Lauren are officially engaged!" the Duggars wrote on their website. "We have prayed for many years that the Lord would bring the right spouses to each of our children. We have known Lauren and her family for a very long time and have seen how she has grown in her knowledge and understanding of the Lord. She is a wonderful, caring, compassionate young lady, full of zeal for Christ. We are very thankful for her.  We pray that their lives together will be full of joy and happiness and that God will use their lives for His service. We are looking forward to another Duggar wedding soon!"
Of course, this is not Josiah's first shot at finding a spouse. In 2015, the then-18-year-old Josiah entered into a courtship with 17-year-old Marjorie Jackson. The couple broke things off after just a few months of courting. (She was reportedly scared off by the massive scandal Josiah's older brother, Josh, brought to the family that year.)
Now that Josiah is seemingly off the market, there are only a few Duggar kids left who are old enough to get married. Twins Jana and John-David are both 28 and single, while twins Jedidiah and Jeremiah are single and 19.
To read all the stats on the Duggar weddings of the past, click here!
Watch Josiah and Lauren announce their engagement in the video below:
(Photo: TLC)