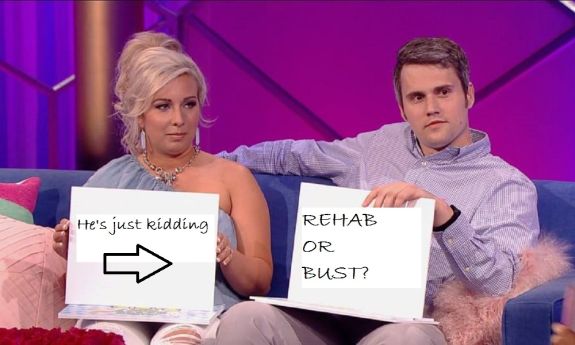 Mackenzie Edwards insists that her husband, Teen Mom OG dad Ryan Edwards, is still "just saying no" to drugs!
In an interview with Radar Online, Mackenzie shot down the rumors that have been flying around 'Teen Mom'-themed Facebook groups that stated that Ryan had relapsed and returned to rehab. 
"It's not true at all," Mackenzie told the site. "He's right here next to me."
The rumors stated that Ryan had failed a court-mandated drug test last week, and had gone to rehab on March 3.
"If Ryan had failed a court-ordered drug test, he would be in jail," Mackenzie added.
The Ashley can confirm that Ryan was, indeed, in attendance at the 'Teen Mom OG' Reunion taping last weekend, along with his parents and Mackenzie, which means he obviously wasn't in rehab at the time.
"He didn't stay long at the Reunion, though," one behind-the-scenes source told The Ashley. "His family was telling people he didn't want to be there, so that's why he left super early."
However, The Ashley has heard nothing that proves what the rumor stated– that Ryan relapsed, went to rehab and that Mackenzie lost custody of her son, Hudson, because of it. (To clarify: The Ashley is not saying this is true or false; just that her independent sources told her nothing that proved that Ryan relapsed/went to rehab/etc.)
Radar stated that the Hamilton County Court confirmed that there have been no new filings in the custody case between Mackenzie and her ex-husband over Hudson. (Had Mackenzie really lost temporary custody for any reason, it would have been filed with the court.)
The Ashley will update this story if she gets more information.
(Photo: MTV)