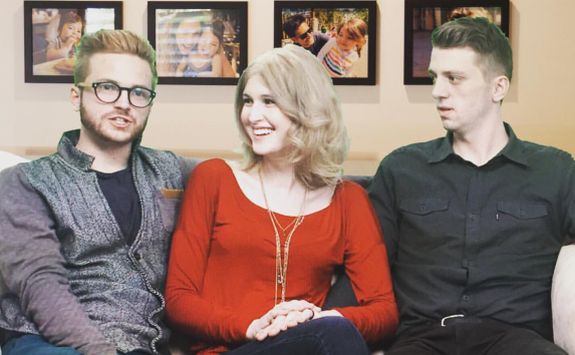 A little over a year ago, TLC aired Brother Husbands, a special about a "polyamorous" family. It starred Amanda Liston, who was married to husband Chad Liston, as well as husband Jeremy Johnston. Overall, Amanda had five children: triplets by Jeremy and two sons by Chad. The trio lived under one roof, and raised their kids as one family unit.
The 'Brother Husbands' special aired in February 2017, and the family got notice shortly after that TLC was not planning to turn it into a full series.
So what's happened to Amanda, Chad and Jeremy in the year or so since 'Brother Husbands' aired? In an exclusive interview with The Ashley, Chad gave updates on where his relationship with Amanda stands, and the shocking changes the family has experienced!
Chad, who first appeared on reality TV when he and Amanda got married on MTV's Engaged & Underage in 2008, says that things are very different from how they were when the family filmed 'Brother Husbands.'
"Amanda and I are divorced, and sadly Jeremy and I don't have any type of relationship," Chad told The Ashley. "Amanda and Jeremy are still together. They live together but are not legally married."
The split came as a shock to Chad, who had been with Amanda solo for years before Jeremy came into the picture.
"I was totally surprised by this, but hindsight is 20/20," he said. "[Since Amanda left] I have been able to process, understand and support the decision. It was crazy hard at first, but I've found out I'm stronger than I thought. I'm proud of where I'm at now."
While he is sad that he and Amanda are no longer together, he is happy for his ex-wife.
"It's not a good end result to be separated and it's even worse when children are involved," Chad said. "Neither Amanda nor I said our vows on our wedding day expecting this outcome. However, I'm not hurt that Amanda is still with Jeremy. I'm so glad she was able to find a person she felt she needed to be with."
Chad also revealed that filming 'Brother Husbands' added to the already complex nature of his polyamorous relationship.
"None of us had a good experience with the show. It placed a lot of added strain on all of our relationships with each other," he said. "Filming was forced. You have to be at a 10 even when you feel at a 1. It's rough and nearly impossible to maintain reality while filming. I wouldn't wish it on my worst enemy."
TLC has begun airing more and more reality shows about polygamous and polyamorous couples, and Chad said that, while a poly relationship didn't work for him, he still believes they can be successful.
"I think anything is possible, but I do believe everyone has to be on the same page," he said. "I do also think equality in the relationship is key.
"Amanda and I got married so young and we were such different people then. Our relationship has evolved many times since then. I feel this result, sadly, may have been inevitable."
Chad, who had previously lauded the perks of a polyamorous relationship, has sworn off being in any more trio situations.
"No more poly for me!" he said, adding that he is not against regular marriage. "I am dating. I have no idea what the future holds with marriage, but I learned a lot from my relationship with Amanda and I wouldn't swear off marriage. I still believe in love!"
Today, Chad is in a great relationship with Los Angeles artist Austyn de Lugo. (Chad and his sons have even made it into some of Austyn's art work. You can see some of it here!)
To find out what happened to some of the other 'Engaged & Underage' couples, click here!
(Photo: TLC)