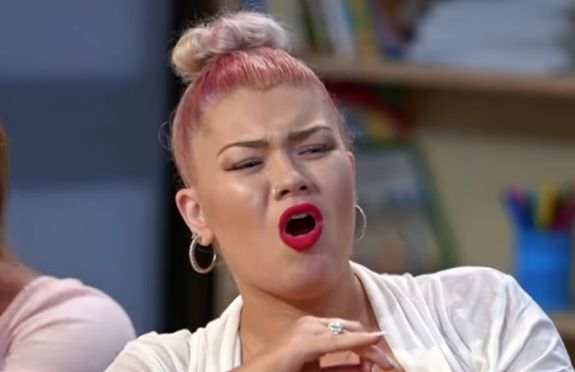 Amber Portwood came out swinging on Friday's Marriage Boot Camp Reality Stars: Family Edition premiere! The Teen Mom OG star showed some of her old personality traits during the episode, frequently swearing, screaming and starting trouble with her housemates.
In the episode, Amber even admits that she doesn't have the control over her anger issues that she once had. After it aired, Amber attempted to explain her actions, admitting that she was not sober last year while she was filming the show.
"I was heavily drinking on top of my bipolar and borderline medication," Amber tweeted. "Obviously something you shouldn't do with medications like that. However it happened and I went through hard times in order to be truly happy finally."
When Amber filmed the show last summer (right after her breakup with Matt Baier) some fans suspected that she had fallen off the wagon, due to her frequently going on social media and ranting into the wee hours of the night. On Friday, though, Amber reassured her fans that she was no longer the angry person they are seeing on 'Marriage Boot Camp.'
"No matter what struggles I went through a year ago on 'MBC'… I'm now happy, healthy and sober," she wrote. "The struggles & anger I went through are real & I'm happy to have ended such a horrific time in my life! Ready to live life clear headed and full of love. The future is finally bright."
Amber has stated that she had an 'awful' experience filming 'Marriage Boot Camp' and that she did not get along with most of the other people in the house, particularly reality star Brandi Glanville.
However, Amber can thank the show for one thing: she met her current boyfriend, Andrew Glennon, on the 'Marriage Boot Camp' set. They are now living together in Indiana and expecting a baby boy in May.
Watch Amber explode in this clip from the first episode of her 'MBC' season:
(Photo: WEtv)