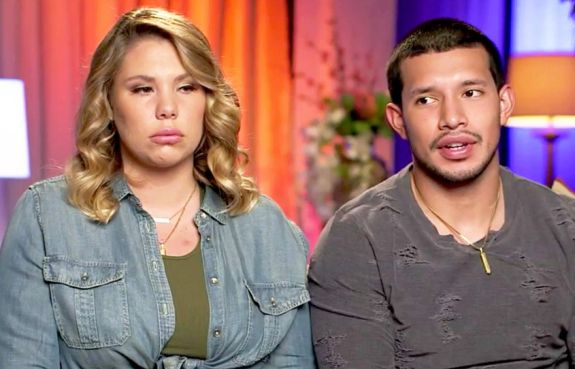 Teen Mom 2 exes Kail Lowry and Javi Marroquin have been getting along well since Javi split with Kail's rival (and co-star) Briana DeJesus in January; however, it looks like the former spouses' relationship may be going off the rails…again.
Kail was heated, and took her feelings to Twitter on Saturday after Javi shared a click-bait article that claimed he was "hinting" that he and Kail were back together. The article followed Javi discussing a possible reconciliation with Kail during a recent appearance on a 'Teen Mom'-themed podcast.
"We have our own private discussions, me and her," Javi said on the podcast. "But a lot happened between us in the past. On my behalf, I've moved on from all of that…it's just me, Kail and the boys."
Kail responded to the click bait articles that kept popping up after Javi made those statements, making it very clear that she and Javi are never (ever) getting back together.
"Javi and I are not getting back together so whatever you're reading is all bulls**t," she tweeted.
She followed that statement up with a series of tweets (some of which have since been deleted) about why she would never give Javi another chance.
"If you have a child with someone [I don't care] how bad it gets you don't let someone go after the other parent," she wrote, obviously eluding to what went down between her and Briana while Bri was dating Javi. However, that wasn't the only reason Kail gave for not wanting to try again with Javi.
"How can you get back with someone who didn't have your back when y'all were together?" she added before praising her first baby-daddy Jo Rivera. "And the only one who truly had my back was Jo.
"That all being said, I wouldn't go back to Javi," Kail tweeted (then deleted). "That man f**ked me over time and time again. And I've kept all his dirty little secrets, never defended myself when I should have…and then he has the audacity to go on Instagram and Twitter as if we're working things out. Well, my friends, I'm sorry that's not true. Don't click on those articles."
This is not the first time that Kail has had to shoot down rumors that she was reuniting with Javi, whom she divorced in 2016. In January 2017, she told fans the same thing, with Javi adding on Twitter, "I don't know where the rumor started about me and Kail getting back together. No. Never…Not tryna disrespect but we are much happier apart."
(Photo: WEtv)