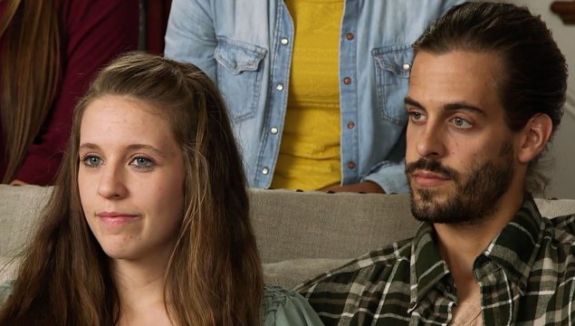 Derick Dillard might be removed from Counting On but he certainly isn't removing himself from any drama! The husband of Jill surprised the show's fans when he began to spill the tea on Twitter about how he was compensated (or rather, not compensated) for appearing on the TLC reality show!
Derick is infamous for firing off on Twitter. In fact, his tweets about transgender teen Jazz Jennings, and her show I Am Jazz are what led TLC to give him the boot from 'Counting On' last year. This time, however, his online musings consisted of spilling some Duggar family secrets in regard to how the adult Duggar kids are paid for appearing on the show.
According to Derick, they aren't!
In a series of tweets, he revealed that he and Jill were never received compensated for appearing on the Duggar family TV shows, or for the many magazine photo spreads and articles featuring him and his family.
When a fan called him out for collecting a paycheck from TLC until recently, Derick told the fan that statement was "false."
Derick then posted a few tweets (several of which have since been deleted) that have led fans to speculate on social media that Jill's parents Jim Bob and Michelle Duggar were paid by the network but chose not to share the profits with their adult children and their individual families.
Derick revealed that, when his son was born, the baby had to spend two weeks in the NICU. According to Derick, he and Jill were left to pay the medical bills after TLC refused to cover some of the cost, despite filming the event for 'Counting On.'
(Derick didn't specify if he was talking about his son Israel, who was born in 2015 or Samuel who was born in 2017. It is likely Israel, because Samuel's birth was never aired on TV.)
"We even requested that they help with some of the medical expenses from the birth that they made a pretty penny on, but they refused to help cover any of those costs," he tweeted.
"We could pay for it fine; I had a great job," Derick continued. "The point is, I thought that at least since they were making money off the birth special episode, they could help soften the burden a little.
He then tweeted a statement that raised even more eyebrows.
"As far as we could tell we were volunteers and hadn't been paid anything for the show," he wrote. "Like I said, for the year we were paying off our son's birth expenses, both Jill and I thought we had been volunteering our time to help out [the show]."
Derick implied that perhaps only some of the adults in the family are contacted by the network when it comes to money situations. (Fans seem to think that this one adult's name may rhyme with say… 'Rim Job!')
"TLC should approach all adults if they expect any obligation from them, so they can evaluate their own situation," Derick added. "Like I said, until recently, I assumed we were just volunteering to help out in filming where it would help out. I knew they didn't owe anything but I didn't think it was unreasonable to request some expense reimbursement under the impression we volunteered all the time.
"[The producers] were always asking for our time, so it seemed like a lucrative trade on their part, to make all the money they did and only be requested to help cover some expense. We paid it, but it seemed like a reasonable trade to request, considering what they asked of us."
(Derick later deleted most of the tweets that discussed money and the show.)
When a viewer pointed out that Derick should have spoken up and demanded compensation when TLC brought the Duggars back for Jill & Jessa: Counting On, Derick cryptically attempted to explain why he didn't.
"There is too little space and time on Twitter to explain my whole thought process over the course of the past 4+ years, but the point is, TLC should have handled all of it much differently. Doing the right thing should be more important than taking the path of least resistance," Derick wrote.
After Derick posted his controversial tweets that seemed to be aimed at his in-laws, his brother-in-law Ben Seewald unfollowed him on Twitter. (His sisters-in-law Jessa Seewald, Jinger Vuolo and Anna Duggar still follow him, as does the official Duggar Family account.)
He also posted his views on marriage, stating that he thinks "25 is a good age to marry."
"Finish college and get a few years under your belt with a real job to build a good foundation for a family," he added.
This came off as another dig at the Duggars, given that his comments came just one day before his brother-in-law, 21-year-old Josiah Duggar, announced he was engaged and would soon be marrying 18-year-old Lauren Swanson. His other brother-in-law, Joe Duggar, married Kendra Caldwell last year when he was 23 and she was just 19.
This is not Derick's first attempt to get himself (and Jill) out from under Jim Bob and Michelle's thumb. He recently moved his family to a new home. (As 19 Kids and Counting fans will remember that Derick and Jill moved into a giant house after they were married in 2014. That house is owned by Jim Bob. Late last year, the Dillards moved out of the house.)
When asked at the time about the move on Twitter, Derick said the rent was cheaper at the new house so "it made more sense…" (He did not specify if he paid rent to Jim Bob for the house he used previously, or if he meant what he wrote figuratively.)
After someone on Twitter accused Derick of "being cryptic" he shut down the Q&A session…but threw out the idea of writing the book many people have wanted to read for years: a tell-all about the Duggar family!
"Forget it. I'm not going to answer all your questions on Twitter," Derick wrote. "We should just write a book to set the record straight."
He hinted that he and Jill may not have been doing the shows on their own free will.
"The point is for ppl not to assume things," Derick wrote, "like compensation or what we did or didn't have a choice in, so they don't make careless judgments."
(Photo: TLC)