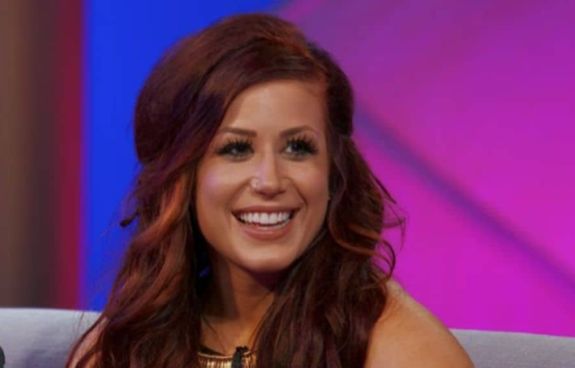 The stork is once again visiting Teen Mom 2 stars Chelsea Houska and Cole DeBoer!
Chelsea surprised her 5 million Instagram followers on Thursday night when she announced that she is pregnant with her third child. Chelsea somehow managed to keep her third pregnancy under wraps for a long time; in her announcement she revealed that Baby DeBoer will be arriving soon– and it's a girl!
"GUESS WHAT!" Chelsea captioned a photo of a sonogram she posted to Instagram. "A sweet baby girl will be joining the DeBoer clan in a few short months! We could not be more excited!"
Cole posted the same photo, along with the caption, "This proud dad is getting a new Bow ? and it's nailed my heart!"
Chelsea and Cole did not reveal exactly when their daughter is due, but 'Teen Mom 2' can expect her pregnancy to be covered in the upcoming Season 8B, which Chelsea and the other 'Teen Mom 2' girls have been filming for the last six months or so.
Chelsea's dad, Randy Houska, congratulated himself and Chelsea's stepmom for not spilling the baby beans.
"I would like official recognition from Chelsea that Rita Houska and I are the most awesome secret keepers #BOOM #1moreDeBoer," Randy wrote on Twitter.
This will be the second child for Cole (who shares one-year-old Watson with Chelsea) and the third for Chelsea who, in addition to Watson, has eight-year-old daughter Aubree with her ex, Adam Lind.
"Aubree did such a great job keeping this a secret and she said at school on Monday she's gonna walk in and start yelling it down the hallways!" Chelsea told MTV News.
Chelsea said that Cole is thrilled as well, and talks to her baby bump every night.
"I'm ecstatic to have another princess under our roof," Cole told MTV News. "The men in this household are standing their ground even though we are now outnumbered."
UPDATE! On Friday, Chelsea informed her Twitter followers that she's "about four months" along in her pregnancy (and due in September). She even posted a photo of her baby bump.
Here's the wittle bump since everyone's been asking lol this pregnancy has been a breeze so far and I feel pretty damn good! pic.twitter.com/WnmhIKv2Fn

— Chelsea DeBoer (@ChelseaHouska) March 16, 2018
(Photos: MTV, Instagram, Twitter)