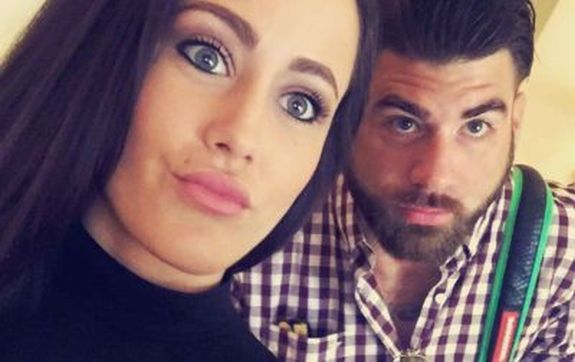 Teen Mom 2 star Jenelle Evans touched down in Los Angeles on Wednesday to attend meetings in regard to her clothing and makeup line, and was stopped at the airport by TMZ. As per usual, she was dragging her husband, David Eason, with her. The reporter wanted to discuss David getting fired from 'Teen Mom 2,' but the Easons insisted that David was not fired at all, despite MTV releasing an official statement on its social media accounts saying that he was.
The Ashley will explain what's going on here, but first let's look at what David had to say about his firing:
"MTV never fired me," David tells TMZ. "I don't know who posted the thing on Twitter from the MTV social media account but whoever runs MTV's social media is not the boss man!" (During David's speech, Jenelle looks incredibly uncomfortable.)
"That's not the person that makes the rules," he adds. "They said that and that's fine, but they never called me and said I was fired. They never told me that I'm not getting my money so they can do whatever they want, because it doesn't really matter to me. They have not treated me unfairly. They told me, 'Hey, we don't want to film with you for the next three episodes' and I said, 'Well, great' because I never wanted to film in the first place."
When asked if he will be on "next season," Jenelle pipes in and says "if we want to do it."
The Ashley went to her sources, who were able to explain things a bit more.
"David said that because he doesn't believe he got fired; he thinks he quit. Basically, he was on the phone with [the MTV producers] who were not going to fire him, but they needed to have him apologize for what he said [on Twitter]. David refused to do that, and started spouting off even more [hateful] stuff. So by not agreeing to do what they wanted, he knew he was going to be off the show. So he believes HE made that choice, not MTV."
The source also said that David will, indeed, be paid for all of the episodes he appears in that were filmed before the Twitter rant in mid-February, which is the bulk of the 8B season. (As The Ashley told you on Wednesday, Jenelle is set to resume filming for the season next week.)
Regarding what David said about only being fired for "three episodes," here's what The Ashley's source tells her:
"On this count, David's not really lying," the source told The Ashley. "They have footage of Jenelle with David for all but about the last three episodes [of Season 8B], so that's true. The girls don't know if they will be getting a Season 9 yet, so [the producers] told him that. But if Season 9 happens, he will not be part of it."
There were a few other gems in the interview, including David stating that he doesn't owe the LGBTQ community an apology for what he said about them (including comparing them to flea-covered dogs) because he doesn't deal with any LGBTQ people!
"I mean, I don't even know what [LGBTQ] means!" David said. "For gay people or whatever, if that's what that means, yeah, I'm sorry. But see, I don't even know. I don't study that.
"It's not in my life, it's not in my family's life to have to worry about something like that," David added. "If it become a problem, then we would focus on it then." (And, no, that's not a typo; David actually said it just like that.)
Watch the full interview below:
(Photo: Twitter)