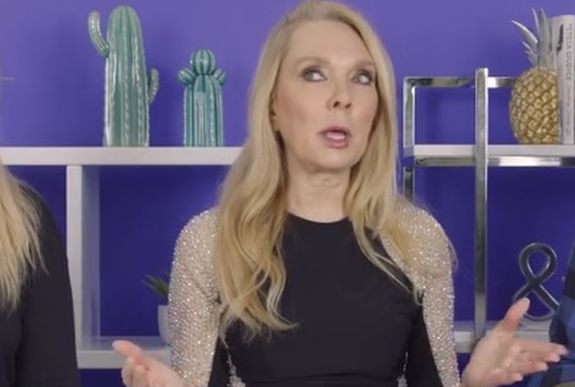 Farrah Abraham's behavior on Teen Mom OG (and various other reality shows) has caused viewers to often wonder 'What the hell is wrong with that girl?' Now, her mom Debra Danielsen is revealing what she thinks is the answer to that question!
In a new interview with Facebook talk show "Shot Talk," Debz OG discussed a number of topics, including Farrah getting the boot from 'Teen Mom,' as well her feelings on how the hole left by Farrah's firing should be filled (pun definitely intended). However, her thoughts on Farrah's mental state were probably the most interesting.
Here's what Debra had to say on a variety of 'Teen Mom'-related topics:
On Farrah's mental health status:
When asked straight-out if she believed her daughter suffered from borderline personality disorder and narcissistic personality disorder, Debra did not hold back.
"Yes I do," Debra said, adding that she believes Farrah thinks has those disorders as well.
"A lot of families in the United States today are plagued by mental health issues, and you will see some of that on 'Teen Mom OG' going forward," Debra said. "Mental health is a really big deal and there shouldn't be any shame around that. You just need to go get treatment…
"If you have borderline personality disorder, if you have narcissism, if you have any of these kinds of things, they're all highly treatable," she added. "All is not lost. I will say that, deep down inside, I know my daughter is kind, is loving, she is sweet and very compassionate. I think she works extremely hard. I think she needs to step back a moment and take some time and get healthy and take time for herself so she can heal."
On her husband Dr. David Merz's thoughts on Farrah:
"He loves Farrah…he also believes that Farrah needs to, you know, be more serious about [getting] counseling and really take the time out and maybe get away from the cameras for a little bit and just go focus on her and her health, just so she can be 1,000 percent," Debra said.
On Farrah getting fired from the show for being in the adult industry & treating production poorly:
Debz stated that she found out from the tabloids that her daughter got the boot!
"We were on the eve of my wedding, and we were all set to go and film, and everyone was coming… and then what happened was there was this huge blowout," Debra said. "Farrah and the firing and all that. I seriously thought I lost my mind there for a little bit. They did not film [my] wedding."
[Luckily for you, The Ashley did film at Deb's wedding! Click here to see a fun snippet!]
Deb also gave her thoughts on people freaking out about how Farrah treated her producers.
"People have brought this to my attention…I guess it's OK when she yells at me? Because everyone likes the drama of that, but when she turns and talks to someone else that way, it's like the whole world just melted?" Debz said.
On Mackenzie McKee replacing Farrah on 'Teen Mom OG':
(The Ashley would like to interject here and state that, despite what other media outlets are reporting, The Ashley has NOT confirmed that Mackenzie is getting Farrah's spot on the show. It is a possibility but The Ashley has not heard from her sources that this is 100% happening. The only thing The Ashley knows for sure is that MTV is filming a special about Mackenzie. THAT IS ALL.)
Debz is not a fan of bringing Mackenzie, who started on 'Teen Mom 3,' onto 'Teen Mom OG.'
"I don't know that her story exactly goes with the 'OG' group, because this is the 'OG' girls," Debra said. "We're the original girls, we started the whole franchise. These girls came from a really hard place. Looking at Mackenzie, I understand her mom is dying right now [of] Stage 4 brain cancer, and that is tragic. But when I look at the demographic of our viewing audience…it's just a little bit weird that she's a female body builder, and she's got a husband and she's got other children. She looks like a very happy, functioning person."
On which 'Teen Mom' star should get the boot if MTV were to combine the casts of 'Teen Mom 2' and 'Teen Mom OG':
"[I would cut out] Jenelle," Debra said. "I don't say that in a mean way, but if Jenelle is married to somebody that got fired, she's in a very precarious place. And then she just came out and said 'I'm not going to let my children film anymore.' Then what's the story?"
To watch Debz OG's full interview (and you really should because she talks about how, at 18, she was engaged to a man in his fifties!), click the video below!
(Photo: Facebook)