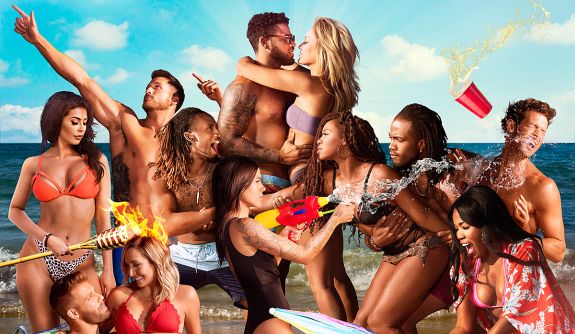 MTV has hauled its hit U.K. reality show, Ex On The Beach, across the ocean! The network announced on Thursday that the first U.S. version of the drama-filled dating show will premiere April 19!
For the inaugural United States season (and 11th season overall), MTV has stacked the cast with stars from The Bachelor, Are You The One?, The Challenge, and other reality TV shows.

The show, which puts singles looking for love (and/or more fame and Instagram FitTea deals) in a beach setting, allowing them to hook up in paradise. However, the cast will be surprised by a group of their exes, who are there with hopes of either rekindling their love…or just to cause trouble!
The season was filmed in Hawaii, and will be hosted by Romeo.
Us Weekly has released the cast list for the season, as well as the very first trailer! The singles hitting the beach this spring will be:
Cory Wharton ('Real World EX-Plosion' & 'The Challenge')
Jasmine Goode ('The Bachelor' & 'Bachelor in Paradise')
Chase McNary ('The Bachelorette')
Taylor Selfridge ('Are You The One?')
Paul Calafiore ('Big Brother 18')
Faith Stowers ('Vanderpump Rules')
Angela Babicz ('Bad Girls Club')
There will also be three random singles that aren't former reality TV stars on the season. They are: Chris Pearson (a DJ); Tor'i Brooks (a male model and college basketball and track star); and Victoria Alario (a style blogger from Staten Island, New York).
The Exes who are coming to the beach are:
Shanley Mcintee ('Are You The One?')
Derrick Henry ('Are You The One?' & 'The Challenge')
Cameron Kolbo ('Are You The One?')
Alicia Wright ('Are You The One?')
Andre Siemers ('Are You The One?')
Joe Torgerson ('Are You The One?')
There are also some unknown "Exes" appearing this season. They are: Marco Delvecchio (an actor); Haley Read (a 21-year-old actress and model); Marcus Rosenzweig; Skyler Mikkelson (a girl from Denver who originally auditioned for 'Are You The One?'– see her audition tape here;); Louie Rivera (a fitness fanatic from New York); June Robinson (a guy from Atlanta who likes to take pictures of his abs); Lexi Marsella (a 24-year-old from California); and Chelsea Thompson (a singer and actor– watch her acting reel here).
Watch the first trailer below!
It's a NEW kind of relationsh*t show ? ? ? #ExOnTheBeach premieres April 19th at 9/8c on @MTV pic.twitter.com/XtTSlcRa2k

— Ex On The Beach (@ExOnTheBeach) March 16, 2018
(Photo: MTV)