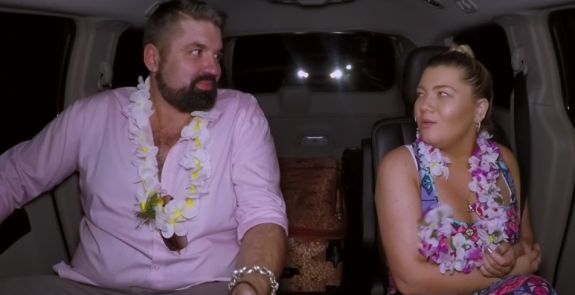 Amber Portwood might have moved on from her relationship with ex-fiancé Matt Baier rather quickly, but in a new interview, the Teen Mom OG star assures her fans that she's in a better place this time around… and so is her money.
As fans of the show may recall, during last year's reunion special, Amber accused Matt of stealing thousands of dollars from her from while they were together. (Apparently he never handed over that backpack 'o' Ambie cash he claimed to have?)
While the relationship may have resulted in a loss to her bank account, Amber says she gained some insight after getting burned and vows to not make the same mistakes with new boyfriend/soon-to-be baby daddy, Andrew Glennon.
"With Matt, we had joint accounts, businesses together, things like that, and I've learned my lesson," she told US Weekly. "My money is my money, and when we're together, we can help each other and be there for each other and take care of this child. But you know, Andrew is really good at knowing that we both have boundaries in certain things."
While Matt would have likely hightailed it if Amber had suggested such a concept during their relationship—in the "Mamber" Corvette, no less—Amber said Andrew actually admires her for being in control of her money.
"He's just happy to be with a woman that's able to support herself, even though he wants to take care of me," she said.
As The Ashley previously told you, Andrew is probably not hurting for cash, as he hails from a well-off Hollywood family. His late father James (whom Amber and Andrew are naming their son after) was an Emmy-award-winning cinematographer. Before Andrew moved to Indiana to be with Amber, he was living in the nearly $5 million home his family owns in Malibu, California.
Amber met Andrew during' Marriage Boot Camp: Reality Stars Family Edition where he was working on the show's crew.
Sure, Andrew is undoubtedly enjoying the perks of dating a reality TV personality, but at least there's proof that he held down a legitimate job at some point…unlike Matt, whose career experience includes being a professional conman and hunting down 'Teen Moms' on Twitter.
Now if Amber could just get rid of that "Mr. & Mrs. Baier" doormat she has…