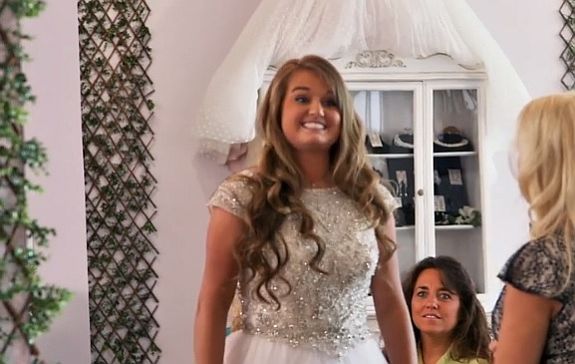 Now that everyone has calmed down from last week's episode of Counting On– what with the excitement of Jeremy's new bookshelves being installed and all– it's time to check back in with the Duggar crew to see what kind of thrilling fundie adventures they're getting into this week. (Wallpaper hanging? Lettuce chopping? GROCERY SHOPPING?! This show is one thrill after another, folks!)
This week's episode kicks off in Joy and Austin's love shack, which still looks like it was hit by some sort of atomic bomb or something. They're still living in the "Bang Bus," and they tell us that the process of fixing up their house has been going slower than expected. (Who has time to hammer nails when you could be nailing your new teen bride, eh, Austin?! Those blessings ain't gonna make themselves!)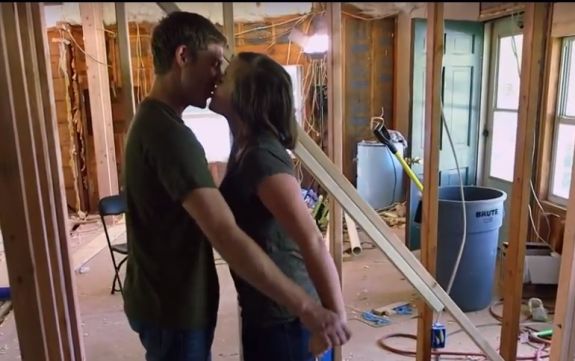 Joy is now predicting that she and Austin will be living in the showerless RV for six more months. They call over Joe to help them work on some wiring in the home. Even though Joe is incredibly busy picking bowties and hay bouquet arrangements for his upcoming wedding, he still makes the time to help Joy and Austin. (He probably knows that his sis will be rag-n-bucket bathing for the unforeseeable future if he doesn't pitch in.)
With Joe and Kendra a month out from their wedding day, Austin says that forcing Joe to do some free labor will help keep his mind off of everything. (He must have picked up that line from Jessa! 'Member when she made Joy clean baby barf off her couch to help "keep her mind" off of Austin?)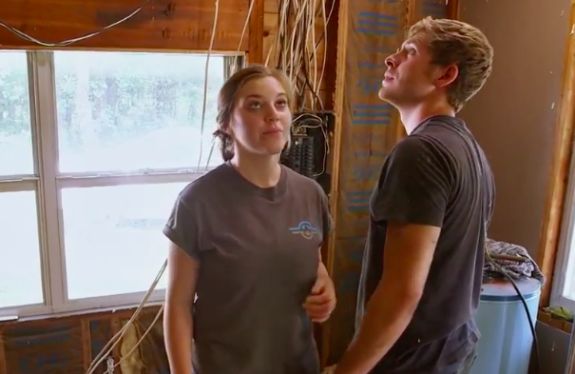 As for Joy and Austin, they've just hit their 50th day as husband and wife and Austin says he can't believe how fast time has gone. Well, you know what they say: time flies when you're not showering.
Joy and Austin then talk about "their choice" to save their first kiss for their wedding day. They act like they didn't just do that because every single one of Joy's siblings did it before her. The two agree it was a great decision and one that taught them self control. Joe and Kendra tell us that they're basically feeling like Jim Bob in heat, given that they're so close to the wedding. They state that Joy and Austin are great examples to them of how to keep it in your pants until you're married.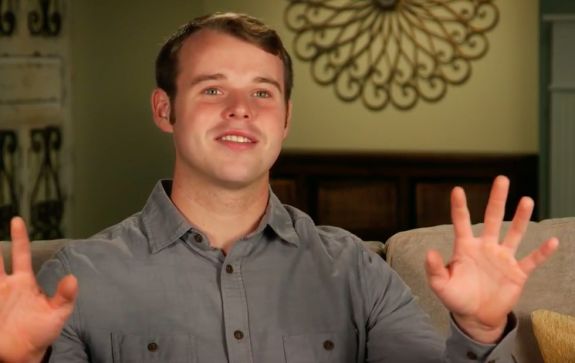 Like his siblings, Joe says he, too, is saving his first kiss for marriage, although a nosey producer wants to know a little more. Hey, who can blame him? He's probably  bored as hell like the rest of us! The producer wants to know how far Joe and Kendra have gone. He's also concerned that Joe may not know what hole to put stuff in. (And, no, we're not talking about disc golf here!)
"What have you guys done to prepare yourselves for the physical side of marriage? As far as education on such things," the producer asks.
Joe looks like he may faint at just the mention of the word "physical." He tells the producer he and Kendra don't have to educate themselves completely (or at all in this case) and if they have any questions about what goes where, they can ask always someone or check out a book from the library.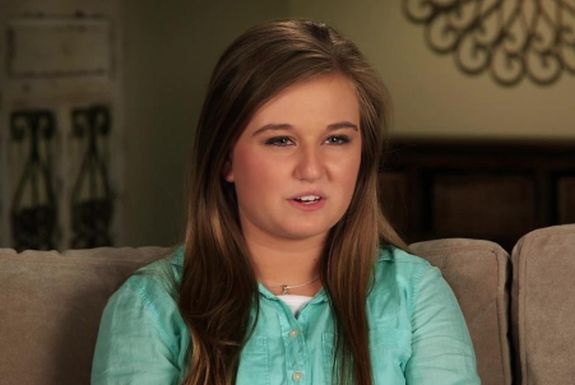 (Can you just imagine that scene playing out?! A sweaty Joe and a nervous Kendra walk into the library and attempt to discretely ask the librarian—who in my head is a portly woman spitting sunflower seeds named Trixie Anne—where the books on "The Sex" are. Kendra would get red-faced and ask in a whisper where she can find a book to explain why her "sacred lady love garden" hurts so much post-wedding night.)
Now that's an episode of this show I'd watch again and again!
Over in Texas, Jinger and Jeremy have taken a weekend off from the thrills of home repair to welcome their friends James and Seung Hye from New York. They'll be the first guests at Casa de Vuolo. Jing and Jerm head to the airport, armed with stereotypical Texan gifts designed to make their visitors look like rodeo clowns.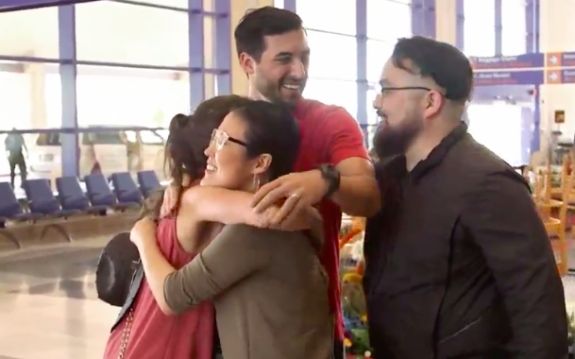 They have gifted James and Seung with giant straw cowboy hats to help them "blend in" down in Laredo. (Why not teach them some Google Spanish, Jeremy? That will really help them get in tight with the locals!)
James and Seung put on the hats (because they fear if they don't, the Vuolos won't let them stay at their house and they'll be forced to check into El Motel de Fleabag.)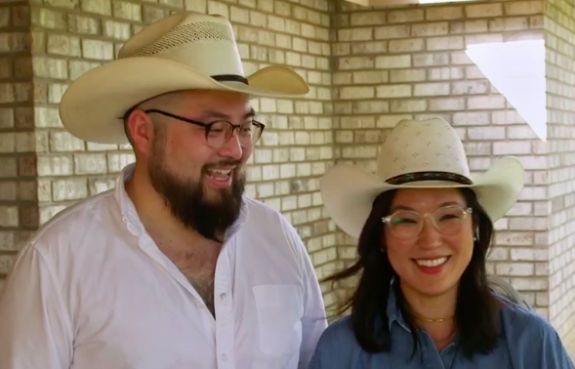 As they drive into town, Jeremy tells his friends that Laredo is "flat, hot and barren"—the latter of those being a forbidden word in Duggar world.
Jinger and Jeremy are kind and don't make their pals help them retile their bathroom. (They'll save that for Jana when she comes for her next visit!) Instead, they take their friends out to play some mini-golf.
Of course, no Duggar fan can ever look at a mini golf course again and not think of the horrific "Jim Bob humping Michelle during a game of putt putt" episode of 19 Kids and Counting. He basically took her right next to the windmill.
#NeverForget
The group decides to split into teams by couples, leaving Jinger to deal with Jeremy's competitive nature and all-too-serious game face. After reminding viewers that he's a former professional athlete, Jeremy stresses the importance of playing to win.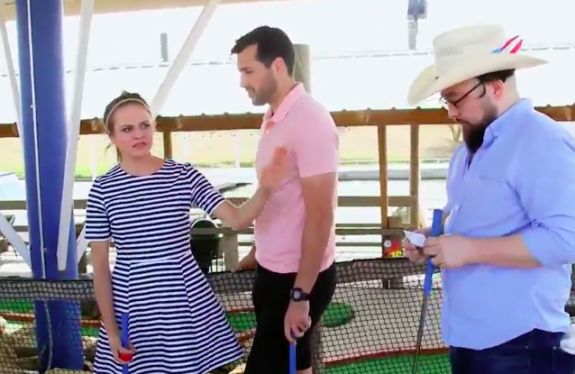 There are only two interesting nuggets in this mind-numbing scene: 1) Jinger's short and happenin' sailor dress and 2) the fact that Jeremy keeps slipping in what seems to be sexual innuendos about what goes down in the sack between him and Jinger.
"Like most things, Jinger performed better," he tells us with a sly smile, before telling us that Jinger is good with her hands (wink, wink).
Although it's hard, we have to tear ourselves away from the mini golfing so we can check in with Kendra & Co. Since no episode of 'Counting On' would be complete without at least one scene wedding-related scene, it's time for Kendra, the Caldwells and some Duggars to go find Kendra's wedding dress.
Naturally, the Dugs fly in style: they're having John-David fly them in their private plane to Kentucky. Kendra, her family, Michelle, Jana and a few other assorted Duggar kids are going on the journey.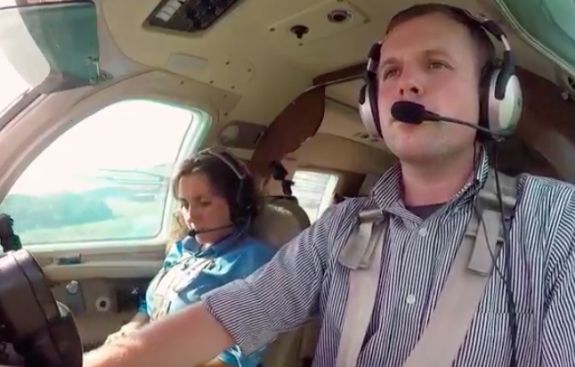 They are heading to Kentucky, where they'll be meeting with the dressmaker, Miss Renee. (She's the one who did the wedding dresses for Jinger and Joy, you'll remember. Poor Jill got stuck buying off-the-rack for her wedding…in addition to getting stuck marrying Derick.)
Kendra says she's bummed to be leaving Joe because she won't get to see him on her birthday. That's right: our Kendra is turning the ripe ol' age of nineteen just a month or so before her wedding. They're bringing poor Jana along, of course (after all, who would lug all the shopping bags if she didn't come?) Once again, she'll have to sit through a wedding dress shopping adventure with a girl that's nearly 10 years younger than she is.
Sigh.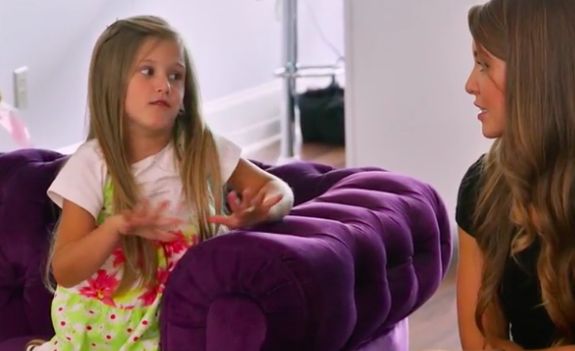 In an effort to surprise his fiancé on her birthday, Joe tells us that he's also planning to fly to Kentucky (on a commercial airline!) He's going to throw Kendra a birthday party. That's sweet.
#ThingsYouCanDoWhenYouDontHaveAJob
Once Kendra & Co. get to Miss Renee's bridal shop, we're treated to flashbacks of each married Duggar daughter's "say yes to the modest dress" moment. After watching the regurgitated footage, Miss Renee sits with Kendra and shows off her latest fashion plate designs. During their talk, Kendra receives a call from Joe who wishes her a happy birthday while pretending he's not two blocks away sitting in his car like a stalker.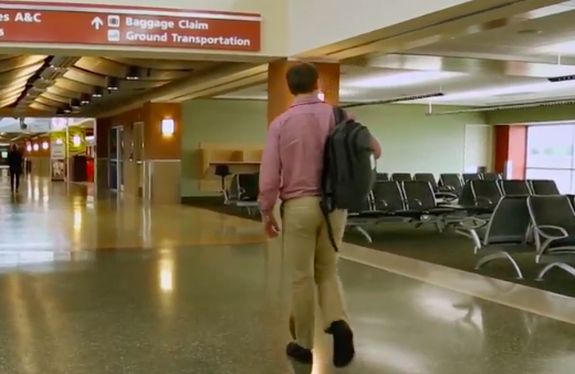 Kendra reminds us that she likes sparkles, sparkly things and happiness and that's what she wants in a dress. It's like they're asking Josie Duggar what kind of dress she wants to wear for her kindergarten graduation (if a Duggar were ever permitted to go to kindergarten, that is…)
After trying on the first dress, Kendra comments on how strange it is to see herself in a wedding gown. We give the camera crew some credit for only cutting to Jana a couple times during this scene. (During Joy's dress fitting scene, they basically had the camera two inches from poor Jana's face to make sure they didn't miss it if a single tear dripped down her cheek and onto her ringless finger. It was awful.)
While the girls are busy discussing levels of poofiness in the dresses, Joe sneaks into the bakery next to the bridal shop to pick out a birthday cake for Kendra. Joe gives us major runaway child vibes as he tells the cake baker what he's looking for, all while wearing a backpack.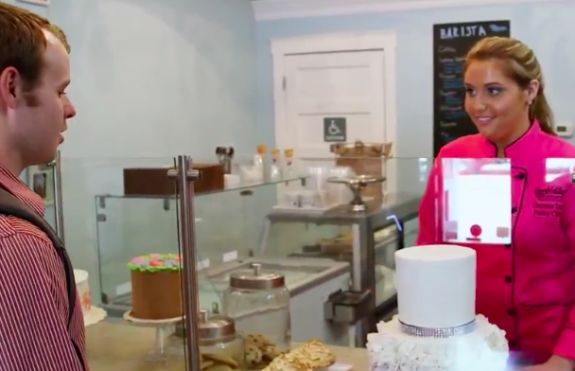 Let's take a breather from the excitement of Joe's birthday surprise, and head back to Texas. Somehow Jeremy and Jinger's boring hospitality and lame taste in extracurricular activities hasn't scared their guests away and they decide to stick around for a BBQ.
Still wearing their cowboy hats like the troopers they are, James and Seung Hye lend a hand in preparing food before the group sits down to eat and enjoy some small talk… which on this show, includes the contractually obligated topic of when Jeremy is finally going to knock Jinger up. (It can't be all book shelves and bad Spanish forever, guys! At some point Jinger's gonna have to squat out a poorly-named child or they're going to kick you guys off this show, Derick-style!)
Jeremy and Jinger tell their friends there's "no news at this time." (This could actually be a solid alternate title for this show.)
Back in Kentucky, Joe sets up for Kendra's birthday ambushing and enlists John-David's help in decorating because of his keen eye for style and detail (and the fact that he's literally just sitting there waiting to fly the troops back to the Duggar Compound.)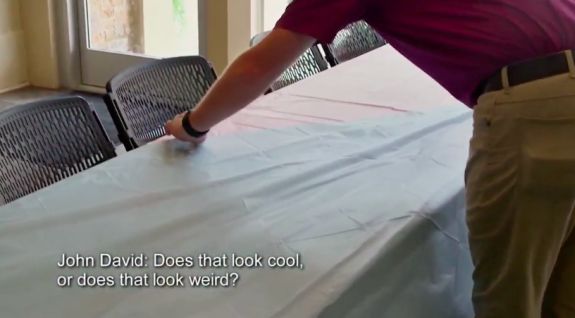 The brothers struggle with the disposable tablecloths. (Naturally, latex is a foreign material to this family.)
If only they had Jana here to explain to them how to put a tablecloth on a table! This is women's work, y'all!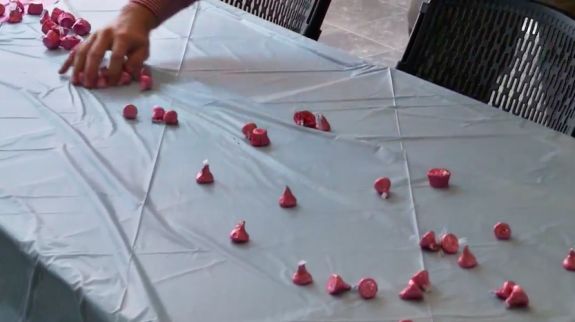 They manage to get everything together before Kendra and the girls make their way to the pizza place. Kendra is shocked by Joe's efforts. (We know this because she starts squealing.) Kendra rewards Joe for his hard work with a "three-quarters-of-the-way" hug, as Joe puts it.
DID THEIR KNEECAPS TOUCH!? Jesus, Mary and Jim Bob, somebody call Pastor Caldwell and have him start a prayer train to rid these heathens of their sins, pronto!
They then address their controversial show of affection by telling viewers they're now enjoying an unlimited amount of side hugs and sometimes get caught up in the moment.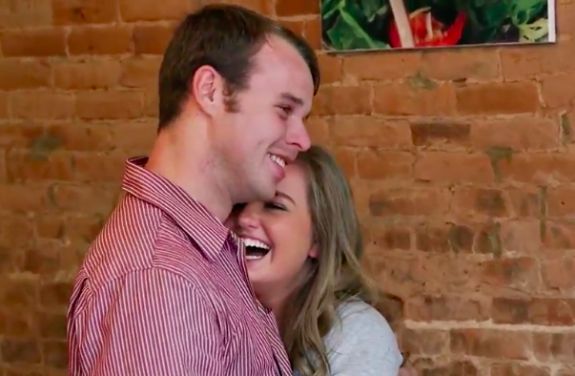 Jinger in a short dress and three-quarters-of-the-way hugs before marriage in one episode?! What's next, swimming without leggings?! TLC is going to have to bump up their rating of this show to "PG!" Look out!
On next week's episode, Joe and Kendra celebrate their wild bachelor/bachelorette party at Beaver Lake (how fitting); Jeremy and Jinger buy a coffee roaster (because this show is putting them to sleep, too); and Joy and Austin announce that their kitchen ants will soon have someone to play with.
To read our previous 'Counting On' recap, click here!
(Photos: TLC)