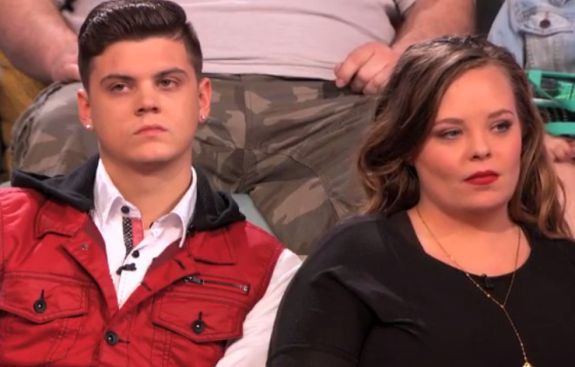 Teen Mom OG stars Catelynn Lowell and Tyler Baltierra have always been open about their mental health struggles, so it's no surprise that the longtime reality stars shared the new mental health diagnoses they each recently received.  The pair appeared on the Voices For Change 2.0 podcast earlier this week to discuss their battles with mental health issues.
Catelynn, who recently returned from her third stint at an Arizona treatment facility, revealed that she was diagnosed with Post-Traumatic Stress Disorder.
"My official diagnoses because I have a few…it's panic disorder, PTSD — I like to call myself a trauma survivor – and it's depression, but it's co-occurring depression or something like that," Catelynn said. "It will go away and it will come back with the panic disorder. But it kind of surprised me to know that I was diagnosed with PTSD. I was really shocked by it… but it makes a lot of sense too. That's my newest diagnosis."
As 'Teen Mom' fans know, Catelynn had a very traumatic childhood. Her mother, April, spent years dealing with substance abuse issues, and Catelynn has battled mental health issues throughout her time on 'Teen Mom.'
While his wife was away dealing with her issues, Tyler stated that he attempted to get more information about his own mental health struggles. He revealed on an earlier season of 'Teen Mom' that he first attempted suicide at age 11.
"That's where I first started feeling depressed," he said, explaining how he was acting out in school. "And, obviously, my dad going in and out of prison all the time. At 11, though, that's when I attempted suicide and failed. After that my mom started to take me to therapy. I was on anti-depressants a bit."
Tyler talked about his surprising new diagnosis.
"I've been diagnosed with depression here and there whenever I've gone back to therapy and whatnot throughout my whole life," he said. " Recently, I went to a new place and based on a couple of sessions I had with them, they said, 'Look, looking at the snapshot of your symptoms, we think you may be on the bipolar spectrum as well.'
"That was pretty shocking to figure out, but also it made a lot of sense back to when I was younger," Tyler added. "[I felt] this weird, random wave as a kid. But that was a lot to obviously digest that day. But getting back into therapy, I've been managing that stuff."
Catelynn also talked about why she was willing to share her mental health struggles on 'Teen Mom OG.'
"I talked a lot about it with my therapist when I was in treatment…my whole thing about me being vulnerable and sharing it [on the show]… I could have said no to the producers and the people who work on the show and they would have totally understood. If I was like, 'Listen I'm going through a rough time and I'm not filming it and I don't want it to be aired' I could have [not filmed it].
"But my whole thing is, if I can save somebody's life and show them that it's OK to not be OK sometimes and there's things that you can do to get help, that's the only reason I did it," Catelynn said. "I wanted to bring awareness to the mental health issues and show that it's real. Some people think, 'Oh you're depressed, get the hell out of bed' but, no, that's not how it works. I just wanted to shine a light on that."
Tyler and Catelynn will next appear on the  Coffee & Convos podcast, which is co-hosted by Teen Mom 2 star Kail Lowry.
(Photo: MTV)