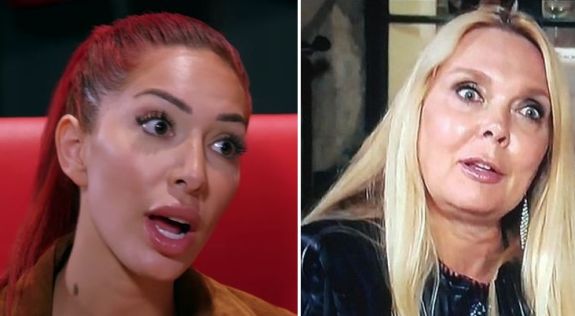 Debra Danielsen dared to make comments about her daughter Farrah Abraham's mental state… and Farrah is not happy about it! She came out swinging at her mom via an interview with People magazine that was full of A+ "Farrah Speak!"
The former Teen Mom OG star is denying the accusations made by her mother made last week regarding her mental health. (As The Ashley previously reported, Deb stated during an interview with Shot Talk that she believes Farrah is a narcissist who suffers from Borderline Personality Disorder.)
Farrah called her mother's claims "evil and alarming."
(We're low-key disappointed Farrah didn't accuse her mom of having a "belligerent, anti-Christ attitude" in her statement.)
Upon hearing Deb's thoughts on her mental stability (or rather lack thereof) Farrah told People she was sad her "own mother would say these untrue things about her own child."
"After all these years, I still have [my mom's] best interests at heart," Farrah added.
While Farrah claims to have her mom's best interests at heart, she didn't miss an opportunity to place the blame for some of her own problems on Deb. At least… we think that's what she was trying to get say via "Farrah Speak." (Farrah's quote has been left intact to preserve said "Farrah Speak.")
"Clinically and honestly, none of my TV show therapists and personal therapist have all said I'm balanced," Farrah told the magazine. "I started therapy in my past at the age of 14 due to my mother and I not getting along as our family therapist sided with me about my safety and my life choices that my mother has never been supportive or caring to help guide her own children."
Farrah added that according to her therapists, Deb is jealous of her.
"I always wish my mother the best as I attended her wedding supporting her," she continued. "Saying horrible things about your own child after I'm the only one who has ever strived to overlook her demons she fights daily against this brings sadness to our family and I wish her all the best for the sake of my health and safety I wish her all the best."
Umm… what?
The (now) former 'Teen Mom' star said her mom rode her coattails during their time with MTV.
"I hope she has enjoyed the Teen Mom MTV ride that Sophia brought to her as I'm moving on from that toxic environment she dwells in," Farrah said. "I hope she ceases talking about me since she does not love me she does not need to speak about me to stay relevant in a disgustingly hateful way. God Bless."
Farrah's father (and Deb's ex-husband) Michael Abraham came to Farrah's defense on Twitter.
"Debra has NO business throwing Farrah under the bus publicly…." Michael wrote. "If Farrah wants to discuss her life including her health that's her place NOT DEBRA'S."
Uh-oh…it sounds like Farrah & Co. could use another season of Marriage Boot Camp Reality Stars: Family Edition!
(Photos: MTV)