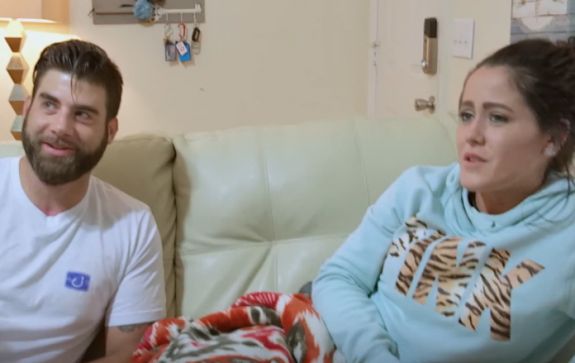 Score another victory for Jenelle Evans and her husband David Eason!
The Ashley has learned that David was victorious in his quest to keep custody of his son, Kaden, despite Kaden's mom, Olivia Leedham, filing emergency court papers last month in an attempt to keep the boy away from David and "The Land."
The Ashley can exclusively report that Olivia has closed her case in the New Hanover County, North Carolina, court and plans to comply with the custody order in place.
(In the custody papers she filed last month, she claimed that David was exhibiting "erratic and concerning behavior" and that she was scared to send Kaden to "The Land" to be cared for by David and Jenelle.
An insider close to David's second baby-mama tells The Ashley that it basically came down to cold hard cash.
"She doesn't have the money to go to court and fight [David and Jenelle] in court," the insider tells The Ashley. "She cancelled the scheduled mediation and court dates and is going to follow the schedule that was in place before she filed [the emergency custody papers] in February."
The insider tells The Ashley that Kaden has been on "The Land" visiting in recent weeks, getting to know his stepsiblings Jace and Kaiser, and half-siblings Ensley and Maryssa, but starting next week, David will be allowed to have Kaden for the whole weekend.
"David will get to have him for overnights which hasn't happened before," the source said. "The original rules will stay in place, and Kaden will not be filmed for 'Teen Mom 2.'
As The Ashley previously reported, David's relationship with his son (who is four) has been strained since the boy's birth. Olivia obtained sole legal and physical custody of Kaden after David was found guilty of having committed domestic violence against Olivia while she was pregnant with their son.
"[David] endangered the life of the child by pushing [Olivia] when she was eight months pregnant and leaving her in the middle of the road at night when she was seven months pregnant," the court papers from the incident stated. Olivia filed a restraining order, and David was not allowed to have contact with her or Kaden after that. In March 2016, David was arrested for approaching Kaden in a grocery store and violating the restraining order.
In February 2017, The Ashley broke the news that Olivia had a change of heart and was allowing Kaden to visit David occasionally. Things came to a head last month, though, when David was fired from 'Teen Mom 2' after going on a homophobic Twitter rant. That incident, among others, caused Olivia to file the emergency court papers.
"[Olivia] and her family are worried still," the source added. "Right now it's all new and a novelty for Jenelle and David to have him there, but it's too soon to say if things will stay all happy and fun."
(Photo: MTV)