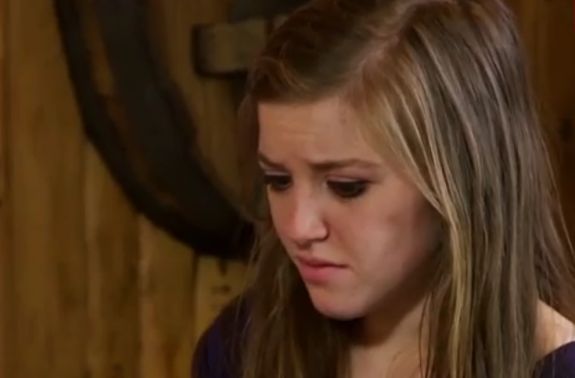 Joy-Anna Duggar Forsyth didn't always want to abide by the Duggar way of life and religion!
In a clip of the Counting On finale (obtained by Us Weekly) Joy is shown crying during her brother Joseph Duggar's wedding rehearsal dinner as she remembers a time back when she was a teenager that she wanted out of her parents' ultra-conservative religion. She credited Joe with helping her find her way back to the religion (not to mention courting and being "joyfully available" and whatnot).
"I can't speak and cry. It's terrible. First of all I want to say that Joe, I'm so thankful for you," Joy says during a speech made the night before Joe married Kendra Caldwell. "You really did change my life.
"Just through my teen years, I think I was having a hard time taking my parents' faith as my own and you really befriended me as an older brother, and [were] the first in the morning to say 'I love you' and 'What are you going to do today?' and stuff like that. It just really meant a lot to me."
Joy's husband Austin Forsyth also credited Joe for helping him and other young men to get back in touch with their religion, stating that Joe encouraged them to always read their Bibles.
This marks one of the first times a Duggar offspring has admitted to struggling to accept the religion their family abides by. Fans of 19 Kids and Counting had long predicted that Joy– a tomboy who seemed to have no interest in being a wife and mother– would be the Duggar daughter to "get away" from the cycle of constantly birthing babies. However, Joy eventually did fall in to place, and recently gave birth to her first child at the age of 20.
Watch the clip below:
To read our 'Counting On' recaps, click here!
(Photo: TLC)