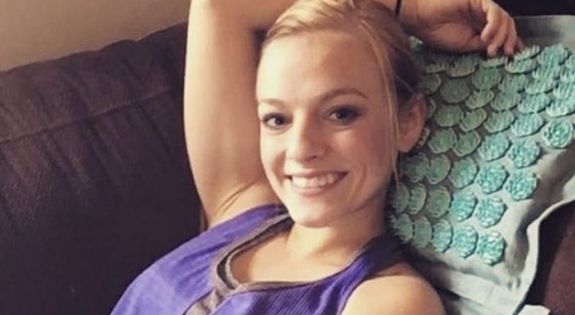 Mackenzie McKee got chatty during an appearance on Coffee Convos, the podcast co-hosted by Teen Mom 2 star Kail Lowry. The former Teen Mom 3 star opened up about everything from her mother's battle with Stage 4 cancer, to how she really feels about her former co-star Briana DeJesus.
Mackenzie also addressed the rumors going around about her getting Farrah Abraham's spot on Teen Mom OG.
(Just to note, although many other media outlets are reporting that Mac officially has the spot, The Ashley has NOT confirmed this, as her independent sources tell her that's not the case at all. Mackenzie is/was in the running, but, despite the media reports, it is not official. The Ashley will confirm it when her sources do.)
The one-hour podcast covered a ton of juicy topics, but The Ashley has highlighted a few of the most interesting. Here's what Mackenzie had to say…
On why 'Teen Mom 3' got cancelled: 
Mackenzie said she was as shocked as the viewers when she heard that MTV was pulling the plug on 'Teen Mom 3' after just one season.
"It happened so fast," Mackenzie told Kail and her co-host Lindsie Chrisley. "We had to wait a year for it to air and then they called and were like, 'We're done with you guys.'"
"Half of us wanted to [film] on and half of us really showed that they didn't want this life," Mackenzie added. "And this lifestyle isn't for everyone. It takes a strong backbone to read stuff about yourself. But we never really got a clear answer about why it got cancelled."
Kail said she was shocked when the spin-off got canned.
"I was a little salty that they were adding more girls, but I actually kind of like some of your stories, so I was surprised when I heard they were cancelling it," she said.
On life after 'Teen Mom 3' was cancelled: 
Mackenzie said the cancellation was actually a blessing in disguise for her.
"Right when we finished, my life went into a very dark place," Mackenzie said. "It was like the worst it had ever been. I got married, and that was beautiful, but then it went back to being bad. My relationship with [my husband] Josh got worse, and I just kept thinking to myself, 'I'm so glad this isn't on TV right now because this is the hardest time in my life.'
"It makes me respect [the 'Teen Mom' casts] so much more," she told Kail. "You guys went through the hardest times of your life being on TV for years with no break."
On her feud with Briana DeJesus:
Mackenzie was open about her strained relationship with her former 'Teen Mom 3' co-star and friend, Briana. (As we know, Briana was given the spot on 'Teen Mom 2' that Mackenzie was vying for.) She said things didn't turn sour between them until after Briana was back on TV.
"I think people think I hate Bri when I don't," Mackenzie said. "Me and Bri chatted about it and were like, 'We're really close, let's not let this get to us.' I told her I did not say any of the stuff [that was out there], and she was like, 'OK, I still love you, I'm here for you.'
"Then her TV thing airs and she says, 'Mackenzie's salty and says blah blah blah about me having multiple baby daddies'… I did not say any of that. It was ridiculous," Mackenzie said. "We haven't talked since." (This is the interview Mackenzie claims she didn't give, by the way.)
Mackenzie claimed that her last interaction with Briana was a negative one.
"The last time me and Bri talked she told me that I am a nutcase and that I need to get my tubes untied," Mackenzie said. "So we just kind of blocked each other from there and haven't talked since. It was just a mess. There's no hate now; I'm not going to let it consume my life…I don't know what it would be like if me and her were to run into each other. I thought about that…I hate having beef with people but that's the last time we talked, and those were her last words to me."
On returning to MTV in an upcoming special: 
As The Ashley told you previously, MTV was recently filming Mackenzie and her family for an upcoming special that will focus on her mother Angie Douthit's battle with Stage 4 lung and brain cancer.
"My mom got suddenly diagnosed with Stage 4 cancer," Mackenzie said. "She has so many masses in her lungs that they stopped counting at 40. One of them is the size of an orange. Then the cancer went to her brain. It was kind of a shock because she doesn't smoke, she doesn't drink, she's a marathon runner. She ran five miles in the morning, filmed three hours of cardio with me for my business and did a Crossfit workout that night. The next morning we find out she has Stage 4 lung cancer.
"She has had two rounds of radiation and lost her hair pretty much immediately…she does the new chemo pill, and she had a checkup the other day and the mass that was the size of an orange is half the size that it was," Mackenzie said. "We're getting good results."
Mackenzie said MTV came calling after her mom's diagnosis.
"As soon as that hit, she was an inspiration, she started to doing speaking and spoke out to people. So MTV decided to do a special about her story and her battle with cancer," Mackenzie said. "It's just a huge inspirational story. Have your tissues ready for this special."
Filming for the special recently wrapped up, Mackenzie added.
"We filmed our last session last weekend," she said. "They said [it will air] actually pretty soon. They said they want to wrap it up and start editing it. They said April, but that was pushing it, so it may be out in May."
On the status of her marriage to Josh McKee:
"We are still married with three kids," Mackenzie said. "Me and Josh had a very rocky marriage when it was just the two kids. We were like hot mess express all the way, couldn't get ourselves together. We could not even stand each other most of the time."
Things have gotten better for the couple in the last year or so. (Mackenzie and Josh are the parents of six-year-old son Gannon, four-year-old daughter Jaxie, and one-and-a-half-year-old Broncs.)
"It was harder having a rocky marriage with the two kids than it is [now] with the three with a good marriage," she said.
On whether or not she's joining 'Teen Mom OG': 
"My name is all over the place right now…I actually can't answer anything because everything is up in the air right now," Mackenzie said regarding her future with MTV. "I woke up and read all these articles [about me joining the show] that I didn't even know about! I know people saw cameras filming in the background on my Snapchat and thought, 'It's true, she is on OG' and I'm like, 'No this is for my mom's special.'"
Mackenzie said she's hoping to get the spot, though.
"I've missed sharing my life. I've always enjoyed sharing my life," Mackenzie said.
"There's a lot that I can't answer, but I would absolutely love to be part of the family again. It's in God's hands, if it happens, it happens. If it doesn't, I'm still going to continue doing my fitness stuff."
To listen to the entire episode of Coffee Convos (and you should because they talked about a lot of interesting stuff) click the link below!
(Photo: Instagram)