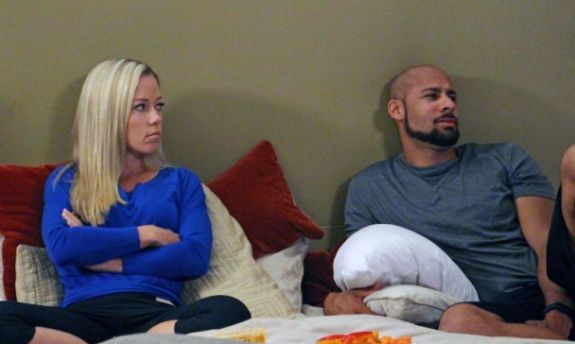 Kendra Wilkinson (and her drama-filled marriage) is once again back in the news, thanks to the Kendra On Top star posting some attention-seeking Instagram stories over the last few days. Kendra begged fans to pray for her, writing that "Life isn't making any sense to me right now."
The attention-seeking posts are almost certainly tied to Kendra's rocky marriage to Hank Baskett. The couple has been open about their marital struggles, appearing on Marriage Boot Camp: Reality Stars in an attempt to save their marriage after Hank was caught cheating on a then-pregnant Kendra with a transgender model 2014. The past few seasons of 'Kendra On Top' have also highlighted the problems in the couples' nearly-nine-year marriage.
A source close to the couple revealed to People that Kendra is almost certainly planning to file for divorce. (The magazine also reports that Kendra and Hank are no longer wearing their wedding rings.)
"They've been having a really tough time especially over the last three to six months," the source said. "She really lost trust in her marriage and she's realized there's no turning back." (Just to note, Kendra and Hank have not confirmed or denied these claims.)
In February, Kendra posted a long rant talking about her marital problems, scolding a tabloid for reporting that she and Hank were faking their strained relationship in order to secure another season of 'Kendra On Top.' At the time, she told fans that 2018 has been the hardest year of her life.
Earlier this week, she continued to give her fans a look at what's been happening in her private life.
"How much strength does it take to be strong? I try so hard to be good enough, but never good enough," Kendra wrote on Instagram.
Other eye-roll-inducing captions posted to Instagram included "Sometimes a hug is all I need, but I guess I'm covered in thorns."
Kendra even posted a sad-looking selfie with the caption, "Therapy is the birds."
So what does all this mean for Kendra? According to an insider who spoke to US Weekly, her marriage is not long for the road.
"She's been really unhappy and felt uncomfortable in the marriage and they have been fighting a lot," the source said of the former Playboy model.
Kendra and Hank have been married since 2009 and have two children together. WEtv has not announced if it has renewed 'Kendra On Top' for another season…yet.
(Photo: WEtv)